ESSAY:
Stage-managed Feminism: The Desi Double Standard


We have always been on the woman's side, at least in theaters. At home, it's a different story, writes Sujit Saraf in an acerbic essay.

---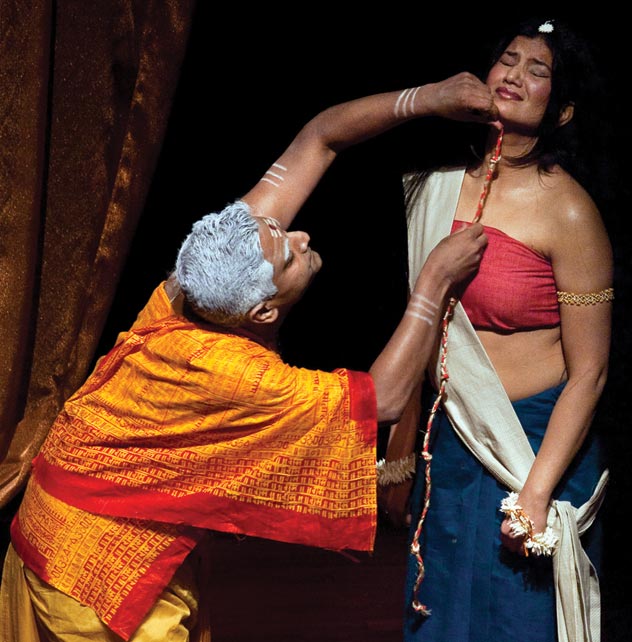 (Above): The royal astrologer (Harish Agastya) examines Madhavi (Sareeka Malhotra). [SWAGATO BASUMALLICK photo]
---
In February, Naatak staged Bhisham Sahni's Madhavi in Palo Alto. The play recounts and extends a tale from the Mahabharat: the sage Vishwamitra demands 800 ashwamedha horses of his disciple, Galav, who is duty-bound to honour the wish, however fanciful it may be. In distress, Galav seeks the assistance of the sage-king Yayati, who is known to never turn a supplicant away.

Unfortunately, Yayati's generosity is more than matched by his vanity. Unable to conjure up 800 horses yet eager to preserve his reputation, he says to Galav,

"I will give you my only daughter, Madhavi … Any king will gladly give you eight-hundred ashwamedha horses in exchange for my daughter."

Madhavi is possessed of two unique gifts — she will give birth to great kings, and she can regain her youth and virginity at will — which, says Yayati, will make her irresistible to the kings of Uttarakhand.

Galav first takes her to Haryashca, the king of Ayodhya, and makes his proposition: horses in exchange for Madhavi.

Haryascha asks: "Why should I believe that this woman is a princess, when she is dressed like a bhilni? And how do I know she will give me a son who will grow up to be a king? A transaction cannot be based merely on your claims."

Whereupon the royal astrologer proceeds to examine Madhavi. He measures the arch of her back, the length of her hair, the softness of her fingers and toes, the shape of her teeth, the redness of her tongue and lips, the expanse of her waist, the depth of her navel, the firmness of her breasts and declares: "The son born of this womb will possess the qualities of a great king."

Haryascha turns to Galav. "My stables hold 200 ashwamedha horses, no more. I will give them to you, but only after this young woman has borne me a son."

So the deal is struck, and Madhavi becomes the queen of Ayodhya. A year later, after being blessed with an heir, Haryascha gifts Galav his two-200 horses and releases Madhavi, who tears herself away from her infant son, regains her virginity and follows Galav to a second king for another 200 horses, and then another.

---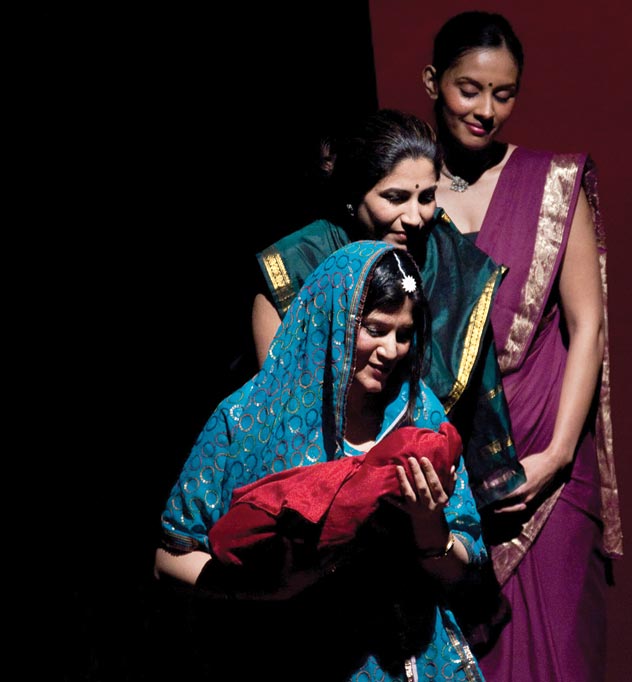 (Above): Madhavi (Sareeka Malhotra) gazes at her newborn son while her attendants (Ritu Vohra and Prathima Venkatesan) look on. [SWAGATO BASUMALLICK photo]
---
Thus, they all achieve their ends: Galav fulfills his duty to his guru; Yayati defends his reputation for generosity; and the kings of Uttarakhand beget heirs.

And what of Madhavi? She, the instrument of everyone's ambition, finds herself expended, and expendable. On seeing that Galav is now indifferent to her, she says, "You have fulfilled your duty, now let me fulfill mine. I will go away. In this vast world, there is certainly a place for me …"

We never find out what that place is.

One might ask: what does a play like this mean to us? What does it have to do with our lives, in this country and these times? During the play, when Madhavi was crudely examined by the royal astrologer, one might have expected the audience to squirm. No doubt some shared her humiliation while others felt guilty, but most of us in the audience laughed. And our laughter continued through the examination, growing louder in tandem with the examiner's effrontery.

Why did we laugh? Were the actors guilty of hamming it up, of not lending the scene the gravity it deserved? But Madhavi's distress was written plainly on her face. Perhaps it is difficult to take a play seriously when you are simply waiting for the interval, when you can buy chai and samosas in the lobby. Or perhaps people just want to have a good time no matter what is happening on stage — it is only a play, after all. Admittedly, the sight of a man holding a tape measure between different parts of a woman's body is amusing.

But of course there is a more significant reason, one that tells us much about ourselves: We laugh because we feel secure in our own broad-mindedness, knowing that "something like this could never happen among us." Maybe, we tell ourselves, such attitudes still exist in India (at this point, we allow ourselves a chuckle at Pramod Mutalik and Sri Ram Sena), but not amongst civilized people like us. All right, some Mutaliks may have made it across the oceans to the Bay Area, but surely they are not engineers or doctors? So there is no need to feel uncomfortable when watching Madhavi's humiliation, because no stretch of the imagination could make us the perpetrators of that horror. Indeed, we are all stage-feminists. And have been so for a long time.

The film Hunterwali was released in India in 1935, and was so successful that it spawned a Hunterwali series. Its star, Nadia Hunterwali, ran on the tops of moving trains, leapt from trees on to horses and could enter a lion's cage bare-handed. The audience was mostly male, but consider the few women in the audience, seated in a separate section: almost all illiterate, all subordinate to their fathers or husbands at home, yet clapping, laughing and cheering Nadia on as she whipped her adversaries — all men, of course — and floated down rapids in pursuit of villains. Not one husband or father — seated in the men's section — felt uncomfortable at this assertion of female power; not one wondered if this would change the equation at home. They were right not to wonder: what was "filmy" was never conflated with the real world, even by the women. Like them, we approve of feminism on stage and screen, and we like to keep it there. Why fight feminism when one can contain it? Let it run rampant on stage so we can keep it out of our homes.

This is how we have grown up: with films that defy every taboo we hold dear. The "liberalism" of our films runs unchecked: coolies marry heiresses, Hindus falls in love with Muslims, women get pregnant instead of married. We accept them all: rakes, lechers, fornicators, adulterers, bastards and children born of miscegenation, as long as they are projections on a screen. But above all, we accept loose women and unwed mothers: prostitutes, kothewalis, village belles seduced by devious men, spirited girls led astray by "bad company," demure damsels who let down their defences during a night of passion. We shower brotherly love on the unmarried woman who utters that time-worn cliché Main tumhaare bachche kii maa … Far from judging her, we sympathize with her plight, support her in her "liberal" quest, frown on the moral police arrayed against her, and are gratified when she delivers an impassioned speech that ridicules our values. And it never once occurs to us that the system our films decry is the one created and supported by us. We are on your side, we tell those women on the screen, even as they break every rule we set for women outside the theater.

And if feminism is the norm on the Indian screen, it is almost passé on the Indian stage. Consider this sample of plays (all except Kamala have been staged by Naatak): Vasant Kanetkar's Kasturi Mrig, Mohan Rakesh's Aashaadh Kaa Ek Din, Vijay Tendulkar's Shantataa Court Chaalu Aahe and Kamala … These are the types of plays that typically end with a spot of light on the lonely figure of a woman, forlorn, defeated by male aggression and, depending on the director's appetite for theatrical flourish, with tears streaking down her cheeks. Indeed, it is difficult to draw up a list of well-known Hindi or Marathi plays and somehow escape the vortex of feminism (if you do, you will quickly be sucked into the whirlpool of leftism, but more on that at another time).

Soon it will be time for Naatak to do another play. The odds are high that it will be about a woman treated selfishly by men. If it isn't, the odds are even higher that the script after that will. We will watch those plays with a clear conscience. Why shouldn't we? We have always been on Madhavi's side, at least in theaters. At home … now that is more serious business.