HEALTH:
Battling Heart Disease: SAHC Gala


The South Asian Heart Center is hosting a gala event that aims to draw attention to the rapidly escalating rate of heart disease among people from South Asia. A Siliconeer report.
---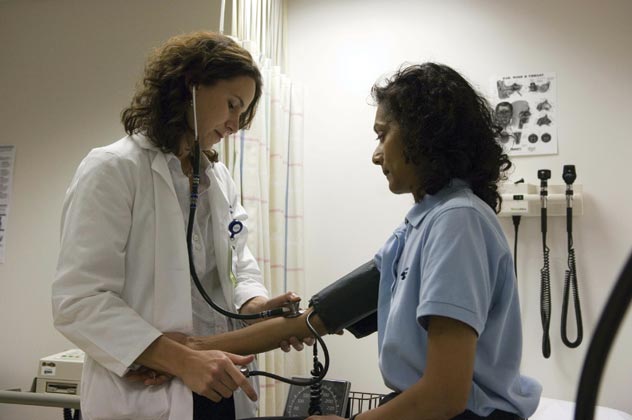 (Above): A patient being screened at the South Asian Heart Center. [South asian Heart Center photo]

---
South Asians have become increasingly familiar with terms like "Electrocardiogram (EKG)," "occlusion of coronary arteries," "angiogram," and "quadruple bypass surgeries."

"People have known for some time now that a greater proportion of Indians have heart disease and at an earlier age," says Dr. Padma Srinivasan, chair of the committee for physician relations at the South Asian Heart Center.

When the health of an adult family member is compromised the entire family is directly affected. When there is a recurring pattern of such incidences among families within one community, the community has no recourse but to facilitate a preventive process to stem such an outbreak.

The South Asian Heart Center is the community's response to arrest the prevalence and predomination of Coronary Artery Disease (CAD, or heart disease) within South Asians. Started in 2006, the center is a non-profit organization seeded by El Camino Hospital in Mountain View, Calif. To date, the South Asian Heart Center has assisted over 2,000 participants through a combination of aggressive screening, risk factor modification and counseling, and heart health coaching.

Faruq Ahmad, a Silicon Valley resident, decided to get screened at the South Asian Heart Center in early 2008. "I felt smug. I expected the news to be good," he recalls. "After all, I worked out daily at the gym and my annual physical had not raised any alarms."
He was in for a shock.

The SAHC screening process that the center initiated indicated that Ahmad was at increased risk for three of the most deadly afflictions: stroke, CAD as well as Type II diabetes.

Cases like Ahmad's, according to Ashish Mathur, executive director of the SAHC, are definitely those that the center would like to see. "It is not only people who've suffered a heart attack that need to be screened for heart disease, but all men and women over the age of 18, who have not had any incidence of heart ailment."

Research has indicated that there are many causes to the South Asian predisposition to CAD, which include glucose/insulin related metabolic abnormalities, lower HDL cholesterol and higher LDL cholesterol levels among others. The process of screening and testing at SAHC starts with a medical interview, leads to a physical examination, laboratory testing and results in lifestyle counseling and education.

On March 14 at the India Community Center in Milpitas, Calif., the South Asian Heart Center is hosting "Scarlet Night – An Affair of the Heart," an event that aims to draw attention to the rapidly escalating rate of CAD among people from India, Bangladesh, Pakistan, Nepal and Sri Lanka. This black tie/scarlet dress event is slated to feature a dazzling scarlet dress fashion show, musical renditions, dance performances as well as Bollywood melodies by a local artist. The evening's sumptuous banquet will feature cuisine prepared according to the center's nutrition guidelines for taste and nutrition.