HINDI FILM REVIEW:
Sweet and Sour: Khatta Meetha


Rating: ** (Mediocre)
Khatta Meetha

Directed by: Priyadarshan
Music: Pritam Chakraborty
Cast: Akshay Kumar, Trisha Krishnan, Kulbhushan Kharbanda, Rajpal Yadav, Asrani, Aruna Irani, Milind Gunaji and Johny Lever.

---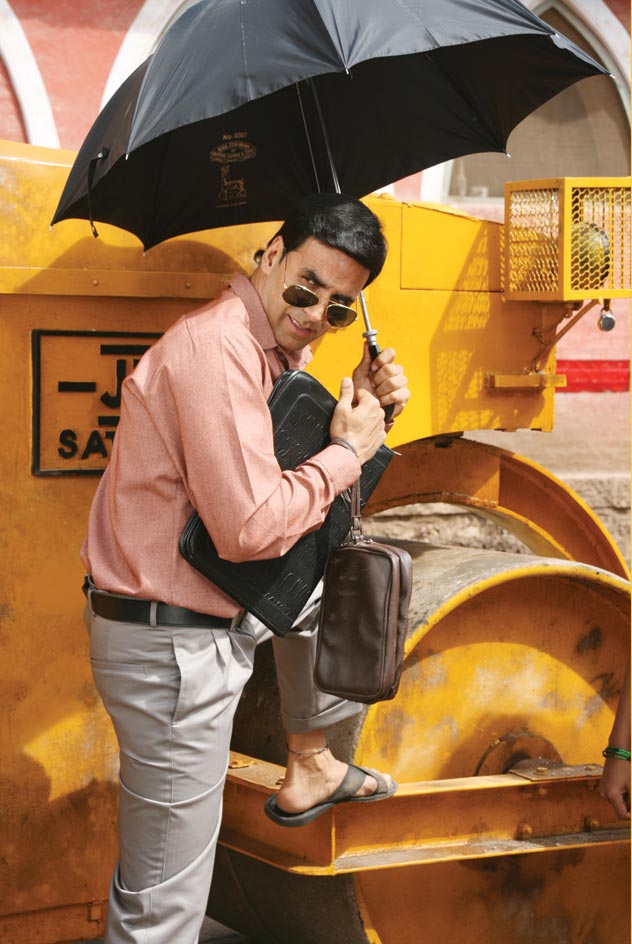 (Above): Akshay Kumar in "Khatta Meetha."

---
Seeking an artistically evolved work of craft from a Bollywood masala film is apt to be as frustrating and unrealistic as expecting Mughlai gastronomic finesse at a dhaba.

But still, one can surely hope?

The fact is canny and skilled filmmaker Priyadarshan gives reason to hope, because like his fellow Southern filmmaker Mani Ratnam, the man definitely has the skill and talent.

Take his latest film Khatta Meetha. The production values are quite good, the sets are and background is impressive, the cinematography fluid but it's the content which condemns the film to being far less than the sum of its parts.

Now to give credit where credit is due, the film is head and shoulders above the run-of-the-mill Bollywood potboiler.

That is the reason our hopes soar, but in this film at least, those hopes are dashed.

---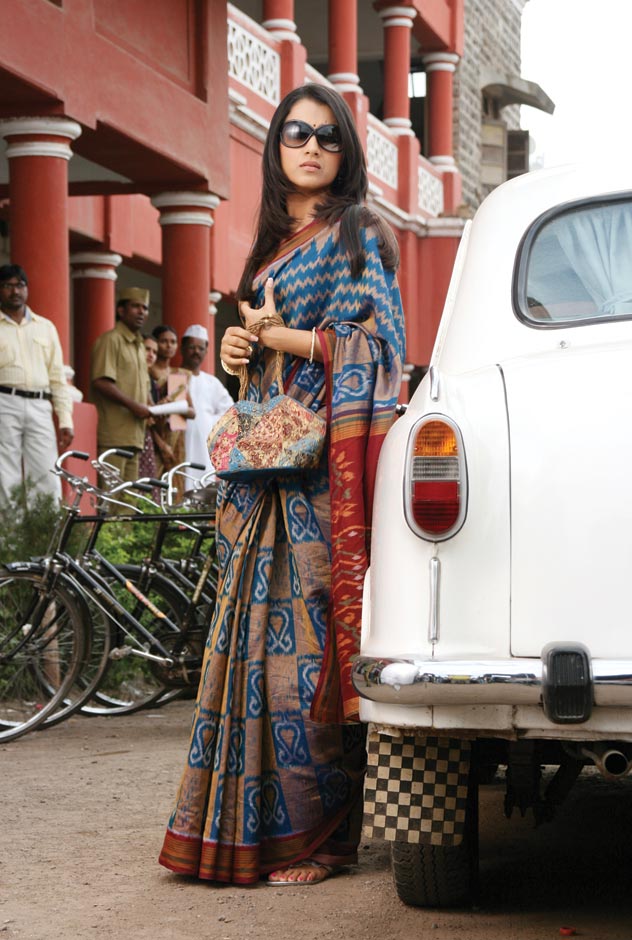 (Above): Trisha Krishnan in "Khatta Meetha."

---
The key problem with this film is one of genre. Is it a wacky comedy, a thriller of white collar crime, a family drama or a social commentary? Priya can't seem to be able to make his mind, and so the film becomes a hodge podge, though it has soom great nuggets buried in it.

Certainly the film opens in a comedic mood, and Priya has a wicked, witty eye. Sachin Tichkule (Akshay Kumar) to the abiding disgust of his family and neighbors, is given to loud prayers to Krishna at the crack of dawn, and of late his prayers seem to be getting longer.

When we take a close look at his prayer, it turns out that there isn't anything the slightest bit spiritual about his quest. Sachin, a roads construction contractor, is having a hard time working the (corrupt) system, and since the system is corrupt, the financial math dictates that he also cut corners.

That's great as far as it goes. However, the film takes on a darker hue as we get a chance to see the other members of this family. His brothers are deeply involved in the corrupt system themselves.

---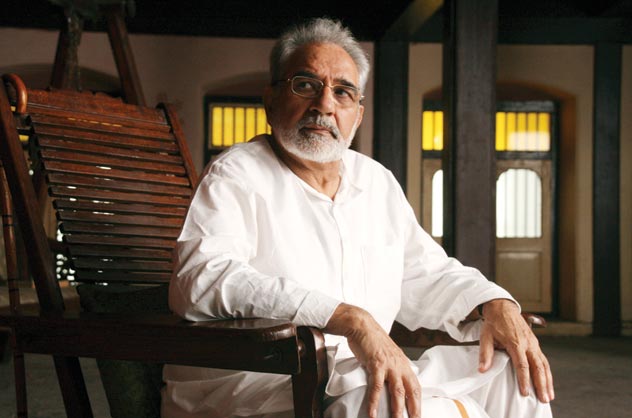 (Above): Kulbhushan Kharbanda in "Khatta Meetha."

---
Their disdain for the ne'er do well Sachin rings a bit hollow when we learn that their own success has come through outright cheating.

So the story careens form subplot to subplot, with occasional humorous turns as his inept workers get involved in one fracas after another. Things get serious when Sachin confronts the municipal commissioner Gehna Ganpule (Trisha Krishnan), who wants to clean up the whole system. This is Bollywood, were no coincidence is too outlandish—so it turns out the commissioner is an old flame of his.

---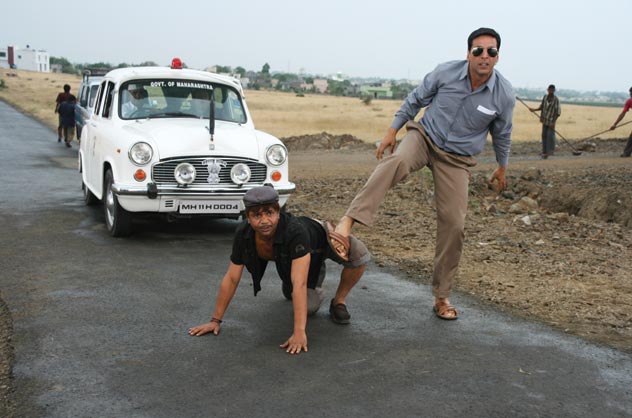 (Above): Rajpal Yadav and Akshay Kumar in "Khatta Meetha."

---
Can Gehna change the system? Is Sachin going to remain the buffoonish charlatan? Throw in a murder, some serious shenanigans, and then a melodramatic denouement, and you get a very odd mixture that doesn't work terribly well together.

Yet the film has promising touches. The humor mostly avoids slapstick and is never lewd, two common pitfalls of Bollywood humor. There are some occasional zingers in the dialogue. When Sachin is asked to be patriotic, he retorts: "Where are Indians? Go to America you will find Americans, go to Germany you will find Germans in France you will find French, but in India all you will find are Marathis, Gujaratis, Punjabis, Malayalees and Bengalis. You will find Indians only during an India-Pakistan match."

It's certainly not an awful film, just one that falls way beyond what it could have been.