RECOGNITION
Celebrating a Nobelist: Charles Townes

Nobel Prize-winning scientist Charles Townes found common cause with activists working on the environmental challenges of Bengal and Himalayan basin. Activists celebrated Townes life and work at an event in Berkeley. A Siliconeer report.
---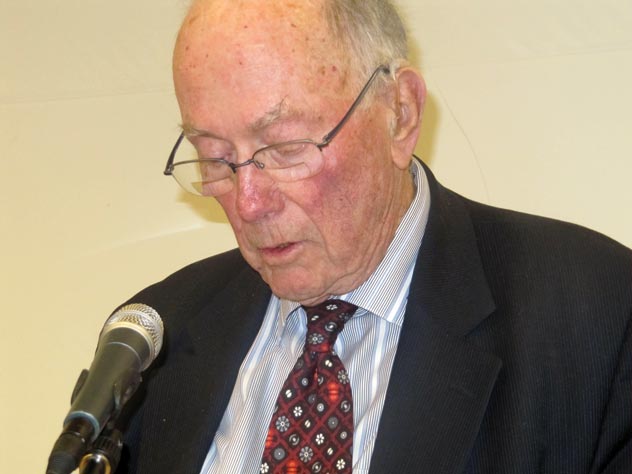 (Above): Nobel laureate physicist Charles Townes speaking at an event organized by the International Institute for Bengal and Himalayan Basins in honor of his work.
---
What does Nobel laureate physicist Charles Townes, a pioneer in quantum electronics, have in common with the environmental problems of the Bengal and Himalayan basins, a region halfway around the world?

Call it a beautiful Berkeley moment.

Charles Townes, whose groundbreaking work in physics at Bell Labs has made him a legend, is also remarkable human being. His interests go way beyond the esoteric world of physics—he won the prestigious Templeton Prize for improving understanding of religion.

His connection with the environmental issues of Bengal and Himalayan basins is the result of another passionate environmental scientist — Dr Rashbihari Ghosh, who founded the International Institute of Bengal and Himalayan Basins.

There is something especially heartwarming about the transcendent humanity that brings together different people and different causes, however diverse and disparate, and the celebratory event in Berkeley July 24 did just that.

---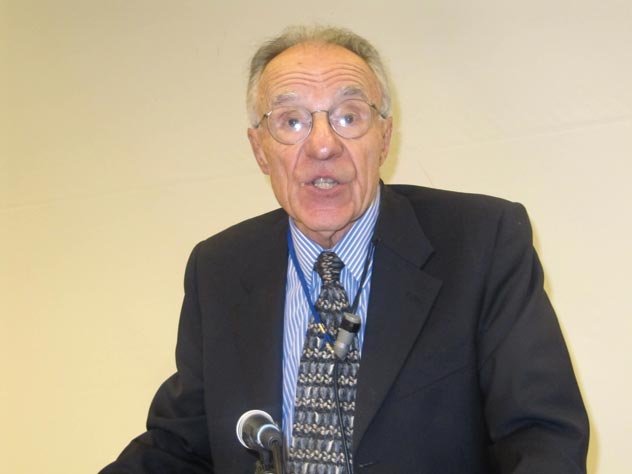 (Above): Nobel laureate Arno Penzias, a student of Charles Townes, paying tribute to his teacher.
---
Hosted by the International Institute of Bengal and Himalayan Basins, in association of the School of Public Health at the University of California at Berkeley, the event honored the remarkable scientist on his 95th birthday.

Townes' student Arno Penzias, another Nobel laureate, gave a passionate, emotional speech recalling the time when he took a test given by Townes on optics. There were five questions—and he could answer only one—and he was one of the few who did really well!

Penzias spoke at length not only of the pathbreaking scientific work of Townes but his humanity and greatness.

When Townes came to the podium, the most remarkable thing was that he did not speak a word about himself. Spry, modest with a self-effacing charm, Townes spoke about Ghosh, the founder of IIBHB and the work needed for the environment in the Bengal and Himalayan basin region.

---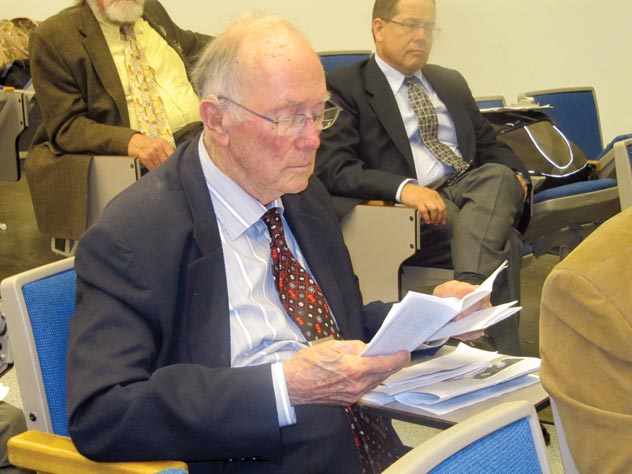 (Above): Nobel Prize-winning physicist Charles Townes has been associated with environmental issues of the Bengal basin.
---
Townes was born in Greenville, South Carolina, on July 28, 1915. He attended Furman University in Greenville, where he completed the requirements for the Bachelor of Science degree in Physics and the Bachelor of Arts degree in Modern Languages, graduating summa cum laude in 1935, at the age of 19. Physics had fascinated him since his first course in the subject during his sophomore year in college because of its "beautifully logical structure."

Townes got his Ph.D. at the California Institute of Technology in 1939.

A member of the technical staff of Bell Telephone Laboratories from 1933 to 1947, Townes worked extensively during World War II in designing radar bombing systems and has a number of patents in related technology. From this he turned his attention to applying the microwave technique of wartime radar research to spectroscopy, which he foresaw as providing a powerful new tool for the study of the structure of atoms and molecules and as a potential new basis for controlling electromagnetic waves.

At Columbia University, where he was appointed to the faculty in 1948, he continued research in microwave physics, particularly studying the interactions between microwaves and molecules, and using microwave spectra for the study of the structure of molecules, atoms, and nuclei. In 1951, Townes conceived the idea of the maser, and a few months later he and his associates began working on a device using ammonia gas as the active medium. In early 1954, the first amplification and generation of electromagnetic waves by stimulated emission were obtained. Townes and his students coined the word "maser" for this device, which is an acronym for microwave amplification by stimulated emission of radiation. In 1958, Townes and his brother-in-law, Dr. Arthur Leonard Schawlow showed theoretically that masers could be made to operate in the optical and infrared region and proposed how this could be accomplished in particular systems. This work resulted in their joint paper on optical and infrared masers, or lasers (light amplification by stimulated emission of radiation). Other research has been in the fields of nonlinear optics, radio astronomy, and infrared astronomy. He and his assistants detected the first complex molecules in the interstellar medium and first measured the mass of the black hole in the center of our galaxy.

---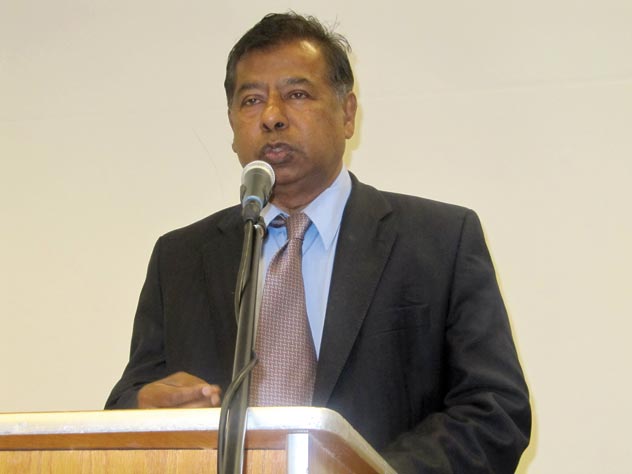 (Above): Environmental scientist Dr. Rash Bihari Ghosh, founder of the International Institute of Bengal and Himalayan Basin.
---
In addition to the Nobel Prize, Townes has received the Templeton Prize, for contributions to the understanding of religion, and a number of other prizes as well as 27 honorary degrees from various universities.

He was appointed University Professor at the University of California in 1967.

Of the various presentations in the evening, one of the more substantive was that of Dr Sukomal Modak, a structural engineer who has donated his personal time to devise a septic tank for use in Bangladesh, which is a large part of the Bengal basin.

Modak has worked on developing a low-cost high-performance groundwater non-contaminating septic system using indigenous material for rural sanitation. The technology is low-tech, but could revolutionize the public health situation if it can be implemented—an exemplary instance of appropriate technology at its best.

The main inspiration of the organization that hosted the event, IIBHB, is the indefatigable Dr. Rashbihari Ghosh.

Dr. Ghosh has arranged a number of international conferences concerning: the impact of toxics on water resources and the environment; the developing mitigation measures to reduce the impact of global warming and sea level rise on the world's most vulnerable populations; sustaining secularism and religious tolerance; and preserving the rights of women as well as religious and ethnic minorities.

"Though these conferences as well as twenty five years in the field developing models for the mitigation of water pollution, protecting water resources, and developing watershed management, Dr. Ghosh has earned trust of the governments of five nations: The United States, Britain, India, Nepal, and Bangladesh," IIBHB says in its flyer.

---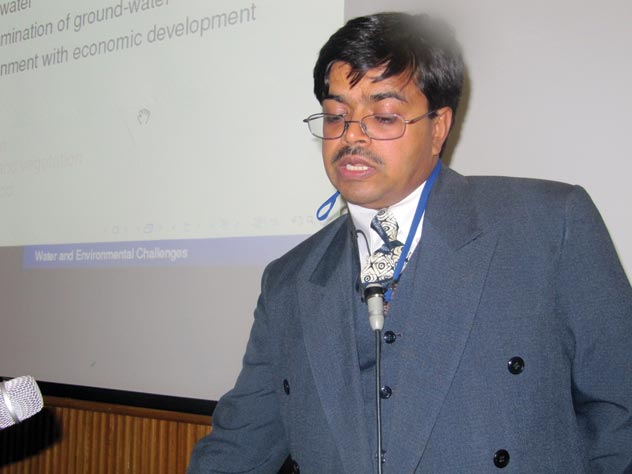 (Above): Dr. Sukomal Modak speaking on an affordable septic tank he has designed for rural areas of Bengal.
---
In describing its mission, IIBHB says: "The International Institute of the Bengal and Himalayan Basins is committed to the bettering of drinking-water resources around the world. We realize that our mission will succeed only with a mutual exchange of local and international knowledge and respect, so we bring together scholars of diverse nations and disciplines in the sciences, humanities, and religion to ensure the best possible understandings between peoples. Currently we are gathering direct human data on arsenic poisoning in the Bengal Basin, the worst toxic crisis in human history affecting over 300 million people."

It would be churlish not to give credit to such a long history of commitment, but perhaps the time has come for Ghosh and IIBHB to do some serious re-examination of where IIBHB is headed. Ghosh's heart is in the right place, but IIBHB definitely needs to streamline its act if it is to go anywhere.

The flaws of IIBHB organization, alas, were all too evident, and not for the first time: An overly long list of speakers, some speakers having little to contribute but taking an inordinately long time doing it, the schedule going completely out of whack, and last minute ad hoc changes.

IIBHB needs to get its act together if it wants to have a lasting impact.