SUBCONTINENT
Why Naxals Thrive: A Social Critique

Horrific socio-economic disparity, marginalization, and a lack of peaceful avenues to agitate for redressal are root causes for the growing threat of Naxal violence, writes Sandeep Pandey.
---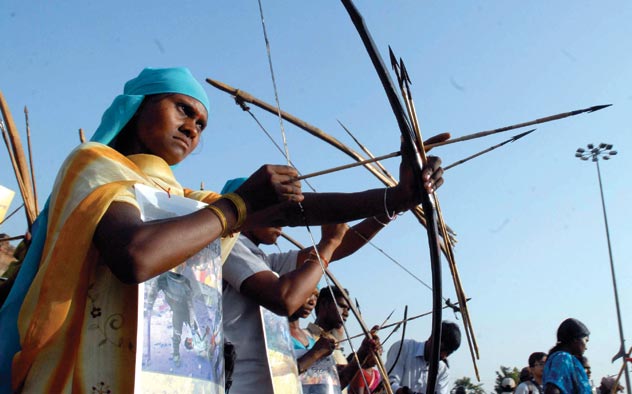 Adivasi Naxalite protesters in Lalgarh, West Bengal.
---
If we take a look at the areas which are under the influence of Naxalism there is a common feature. It is often believed that Naxalism thrives in areas in which economic development has been ignored. In addition an atmosphere which has not witnessed any political organization is also conducive for the growth of Naxalism. This political organization could be in the form of people's movements or political parties.

People's movements which believe in peaceful struggles and largely agree to operate within the constitutional framework of our democracy give a channel to people where they may express their angst, resistance, political aspirations or fulfill any of their demands. Political parties offer the added advantage that they are in a position to influence policy making.

In our country, where the ruling elite which took over power from the British came from upper caste and class, it was very difficult for poor people and marginalized communities to find political voice. The ruling elite had taken the responsibility of representing them and it was not even felt necessary that the marginalized participate in the democratic process. Until the implementation of Mandal Commission's recommendations it was the upper caste and class leaders who dominated all political formations. It was only after this that organic leadership from backward classes and dalits emerged in their own right. This phase also saw the growth of many parties which were formed to take up the case of particular caste communities. Many of them are still around although they may have diluted their original stands for the sake of participating in coalition politics necessary for government formation.

A good example is Bahujan Samaj Party in Uttar Pradesh which represents the interests of the dalits, the most marginalized community in our society. Through BSP dalits have a voice and participation in the political process. It is quite likely that if UP had not seen the growth of BSP then Naxalites might have been able to make further inroads from the south eastern border or Maoists might have spilled over from across the northern border. A dalit in U.P. is more likely to redress his/her grievance by seeking the patronage of BSP rather than aligning himself/herself with the some armed group like Naxalites. There is no denying the fact that mainstream political parties have been taken over by criminal and corrupt elements and there is very little possibility for a common person to fulfill his/her aspirations or sometimes be merely heard there. It may also be argued that parties like BSP may be blocking or delaying the overall transformation of society which will eventually finish feudalism and imperialism and establish a more egalitarian order. However, the question is how long the poor who is being denied his/her quota of subsidized food grains and other benefits through various government developmental and social welfare schemes will have to wait before he/she gets a chance to lead a decent dignified life? An associated question is why should it be always the poor who in the process of challenging the system has to sacrifice?

Since most of the political parties represent the interest of ruling elites and increasingly that of national-international industrialist/capitalist class, there is little scope for common masses to fulfill their aspirations at these forums. The leadership of marginalized classes in some cases, for example that of tribals in Jharkhand, has been co-opted by the elites to the detriment to the interests of masses. In fact, tribals are one community which has been failed by its leaders like no other community. Every marginalized community has some visible leadership which asserts itself politically and fights for the interest of their people. But it is amazing that in Chhattisgarh with 30 percent tribal population there is no vocal demand for a tribal chief minister and a non-tribal from outside the state has perched himself at the helm.

When the marginalized communities don't see a scope for their political participation they tend to be swayed by campaigns like those of Naxalites, especially if they have faced tremendous exploitation. The Naxalites give them some degree of relief from this exploitation thereby creating a base for themselves. This role could have very well been fulfilled by a peaceful people's movement or even a political party participating in electoral politics.

Given the sorry state of governance in this country we should be thankful that Naxalism has not spread to the extent it could have. Because of a strong tradition of non-violent peaceful movements from the time of Mahatma Gandhi and up to Jayaprakash Narayan, a number of people's movements sprung up at almost every place where people are being deprived of their rights over natural resources, on which their lives and livelihoods depend. Left to themselves, the forthright response of people to any state oppression is peaceful unless the police provoke them into violence. It is well known that police, as a strategy, provokes people's movements to become violent so that it may give them an excuse to crush them.

People are still by and large peaceful if we take a look at the various people's movements going on throughout the country. It is only when the state provokes them, unnecessarily most of the time, or when police repression becomes too brutal at times, that there is a reaction. The mindset of the poor of this country is to suffer rather than strike back. If you look at the living conditions of the majority of poor people in this country one is, in fact, amazed at their tolerance towards the state. The epitome of this tolerance is Irom Sharmila, who is now fasting for ten long years in Manipur, demanding repeal of the draconian Armed Forces Special Powers Act.

The security forces have used violence illegitimately, like in the recent killing of Azad and journalist Hem Chandra Pandey, and indulged in gross human rights violations. To club ordinary tribals and poor with Naxalites and prepare to launch a military campaign called Operation Greenhunt is quite foolhardy. The government's strategies are all aimed at provoking violence from people so that they get an opportunity to use more violence. This is certain recipe for growth of resentment among people.

---

Sandeep Pandey, a Magsaysay award-winning activist, is India editorial consultant for Siliconeer.