EDITORIAL: Patriot Everywhere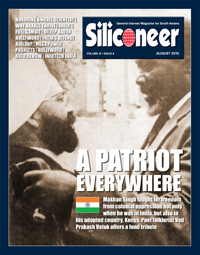 In the pantheon of Indian heroes, it is unlikely that the name of Makhan Singh will figure anywhere at all in popular Indian consciousness, whether in India or abroad. Yet we believe he was the exemplar par excellance of what an expatriate Indian's values should be, and that is the reason we chose to profile him in the month of August, the month of India's independence.

To be sure, millions of Indians all over the world will get misty-eyed with emotion thinking about India's independence. Nothing wrong with that at all. However, is it not also incumbent upon Indians to shower at least some of that affection on the country where they have chosen to live?

Makhan Singh exemplified that. He moved to Kenya with his family when he was quite young. He grew up there and soon pioneered the country's labor movement.

"Makhan Singh is among a select pantheon of Indian settlers who not only made Africa home but also became one of its leading anticolonial freedom fighters," wrote Kenya Human Rights Commission chair Makau Muthua and deputy executive director Steve Ouma. "But what distinguished Singh from many legendary leaders—including even the great Mahatma Gandhi—was the conscious multiracialism of his politics. He refused to accept the colonial apartheid that classified black Africans and Asians in a humiliating hierarchy."

Singh paid a heavy price for his patriotism. The British jailed him when he visited India, and jailed him when he was in Kenya. The offered him a deal—if he pledged to leave Kenya, they would let him go. Singh refused to accept it. He refused to betray Kenya, the country which he had made his home.

For expatriates Makhan Singh offers a model worth emulating—to love the land and the people of your adopted country as if it were your own, because it is. Poet folklorist Ved Prakash Vatuk offers a tribute to this great Indian and great Kenyan.

You could call it a beautiful Berkeley moment. A 95-year-old Nobel Prize-winning physicist would appear to be far removed from the environmental travails of the Bengal and Himalayan basins. In fact, Charles Townes lives halfway around the world from it. Literally.

Yet this remarkable man is more than a scientist, he is a deeply caring human being engaged with the world around him, and has offered his support to activists who have been working to create more awareness about environmental issues of the region.

On July 24, at the University of California at Berkeley, the International Institute of Bengal and Himalayan Basins expressed its appreciation with an event to celebrate the life and work of Townes with a series of lectures and a dinner. On hand was Arno Penzias, another Nobel laureate and a former student of Townes, who paid a passionate and emotional tribute.

Dr Rashbihari Ghosh, a Bangladesh-born environmental scientist who founded IIBHB, was also on hand. Ghosh and his organization have been working for over two decades to build up awareness of the environmental challenges faced by the region, hosting many conferences in India and Bangladesh.

Siliconeer presents a report in this month's issue.

The Maoist menace is now a hot topic in Indian political circles, and Indian Prime Minister Manmohan Singh has identified it as one of the greatest security threats to India.

Every new instance of mayhem brings howls of protest in the media and calls to crush these "anti-social" elements, and the rebels continue to be demonized further.

But Sandeep Pandey, our India correspondent, takes a different view. He takes a closer look at the socio-economic realities of India, and doesn't like what he sees.

The reality in India is quite harsh, he writes in an article in this issue. The ruling elites in India have often failed the poor, and the deep socio-economic divisions have resulted in a political system that no longer responds to the need of the poor.

In many parts of India, however, grassroots organizations step in to fill the gap. There are avenues of peaceful resistance, which at least gives a voice to the dispossessed.

But in many of the areas where Naxalites are now active, there is no scope even for that.

"When the marginalized communities don't see a scope for their political participation they tend to be swayed by campaigns like those of Naxalites, especially if they have faced tremendous exploitation. The Naxalites give them some degree of relief from this exploitation thereby creating a base for themselves," Pandey writes in an article in this issue.