SUBCONTINENT
Defense Buildup: India's Shopping Spree


India is spending a fortune on defense acquisition and modernization, and global defense firms are casting a covetous eye on huge deals on offer, writes Siddharth Srivastava.

---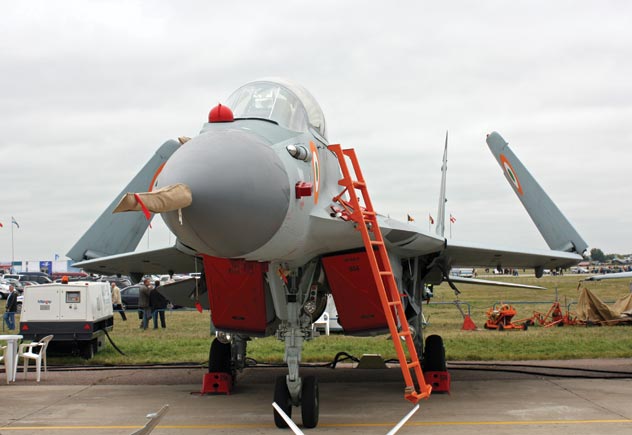 MiG-29K in Indian Navy colors at MAKS Airshow.
---
Given its politically comfortable situation unencumbered by the Left parties, the Congress-led New Delhi government has been looking to push through key reforms and changes in sectors that span education, retail, infrastructure, fuel pricing oil and gas.

One more key area has been defense acquisition and modernization.

New Delhi has recently allocated 500 billion rupees ($11 billion) to build and buy six new-generation submarines in what will be one of the biggest military contracts that India has signed.

The Times of India has reported that the Defense Acquisitions Council, chaired by federal Defense Minister A.K. Antony, took the decision on the deal.

The submarine spending will match the $12 billion that New Delhi is likely to spend to the purchase of 126 multi-role fighters for the Indian Air Force.

Six global aerospace companies, Lockheed Martin, Boeing (American), Dassault's Rafale (French), Gripen (Sweden), MiG (Russian) and Eurofighter Typhoon (a consortium of British, German, Italian and Spanish companies), are bidding for the jackpot deal.

India has also announced plans to purchase 29 more MiG-29K fighter jets for the Indian Navy for around $1.2 billion from Russia.

A fresh contract for aircraft carrier Admiral Gorshkov's refit for over $2.3 billion is also being negotiated with Moscow.

---
Indian Defense Minister A.K. Antony on LCA Navy Trainer during the roll out ceremony at Bangalore July 6. Chief of Naval Staff Admiral Nirmal Verma is also seen. India is on a massive defense spending spree.
---
New Delhi also recently sanctioned the development of Tejas Light Combat Aircraft, the development cost of which has crossed the Rs 130 billion mark.

Other purchases in the pipeline include a $4.5 billion artillery modernization program and $4.5 billion to acquire 800 military and high utility helicopters.

America has been looking to sweeten defense deals with India to bag the jet deal. "Pentagon is working with India to put three foundational agreements in place with New Delhi that would allow American frontline technologies to be shared with the country," top Pentagon official Michele Flournoy was quoted as saying recently.

In the past couple of years India's defense purchases from America have comprised C-130 J Hercules transport aircraft, P-81 maritime reconnaissance aircraft and the proposed sale of heavy-lift C-17 Aircraft.

France, Israel, Russia and Britain have been the usual military suppliers to India in the past.

The domestic Indian political sanction to the above acquisitions is also a response to perceived threats following the Mumbai terror attacks.

---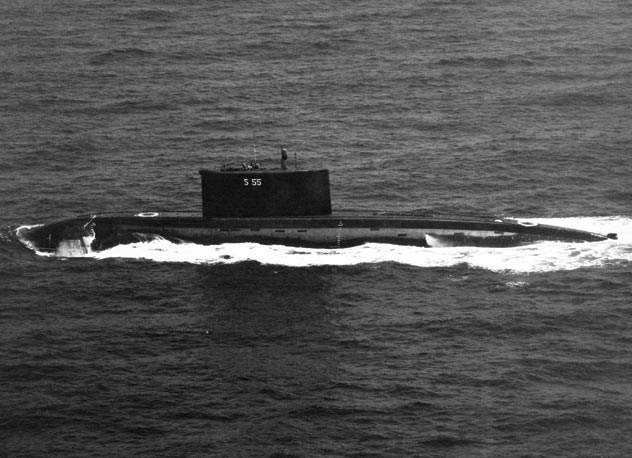 INS Sindhughosh en route to India. It is a Soviet-built Kilo class submarine. New Delhi has recently allocated $11 billion to build and buy six new-generation submarines.
---
India's defense budget (2009-10) was raised by 34 percent to $30 billion, while officials say that defense modernization expenditure should easily scale over $100 billion between the years 2000-2020.

Over $10 billion has been set aside by the government for net capital expenditure for this fiscal (2009-10), clearly indicating the impact of the Mumbai attacks.

India's new Defense Procurement Policy 2009 came into effect Nov. 1 last year and aims to bring in transparency and probity into arms purchases that have hitherto been mired in red tape and allegations of corruption that have delayed acquisitions.

The DPP 2009 envisages an enhanced role of independent monitors to inspect complaints relating to violations of Integrity Pact.

Antony has said, "The review in the procurement policy aims at promoting and facilitating Indian industry and transparency and integrity in defense acquisitions.''

Last year, Anthony said, "Over the next five to six years, the total budgetary provision for capital acquisition is likely to reach $50 billion.''

Observers in India say that events such as the Kargil incursion in 1999 during which the country nearly went to war with Pakistan and the November 2008 Mumbai terror attacks have only heightened India's quest to stockpile arms, mostly acquired from abroad.

Indeed, the conflict situation between neighbors India and Pakistan in South Asia and the push for strategic space between India and China in the Asian region have caused an arms race of big proportion.

Top government officials say that Kargil 1999 was a threshold year in terms of arms acquisition deals by India as prospects of an all out conflict with Pakistan became a near reality at the time.

Such a possibility was repeated again following the Mumbai attacks.

In the decade that has followed Kargil India's total arms purchase deal value (from domestic state owned armament companies and abroad) has crossed $50 billion, with every sign of such momentum being carried over the next decade and crossing $100 billion.

Interestingly, India's arms acquisitions have more than doubled over the last five years from 2004-2009 ($35 billion) compared to 1999-2004 ($15.5 billion), as defense plans of the earlier period due to the Kargil conflict have been followed to fruition.

The Stockholm International Peace Research Institute, a reputed arms trade monitor, in its report for 2009, has said that India is the world's second-largest arms buyer over the five-year period from 2005-2009, importing 7 percent of the world's arms exports.

---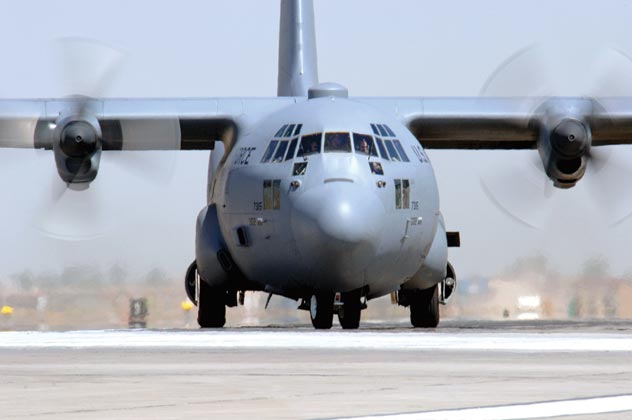 A C-130 Hercules aircraft. The C-130J is the latest addition to the C-130 fleet and will replace aging C-130E's.
---
The top spot went to China. India could well take the number one spot as China is turning self sufficient in arms, while the former's procurements continue to rise.

Pakistan and China, the two countries from whom India perceives maximum threat also have their big military agendas in place.

Pakistan, as a former Cold War ally of America and now partner in its war against terror, has continued to receive military aid that has included state of the art F-16 fighters. Pakistan is also assisted by China, whose military prowess is far ahead of India.

In 2006 Pakistan clocked import deals over $5 billion compared to India's $3.5 billion. China's officially declared defense budget is nearly two and a half times that of India. So it should be no surprise that India is expected to spend $100 billion in the next decade on its military.

There is an intense competition among foreign arms merchants for a slice of that market and key players gathered in New Delhi for the four-day India Defense Exhibition.

Defense Minister Antony says he expects military spending, currently 2.5 percent of gross domestic product, to substantially increase as the nation's robust economy continues to grow.

That is welcome news at this biennial defense show for the dozens of countries pitching their armaments and other military equipment to India's armed forces.

But the defense minister cautions India's ultimate goal is self-reliance. "We want to produce equipment for the armed forces internally, domestically. We want to strengthen our defense industries in India. India needs a strong defense industrial base," he declared.

That has the international defense industry scrambling to find Indian partners. For the time being, foreign entities are still the source of 70 percent of India's military acquisitions. Russia remains the top supplier but has slipped since the end of the Soviet era.