RECIPE:
Chinese Delight: Vegetable and Egg Fried Rice


This Chinese dish is a perennial favorite, and it's quite easy to cook, too. Sanjay Patel shows you how to make it.
---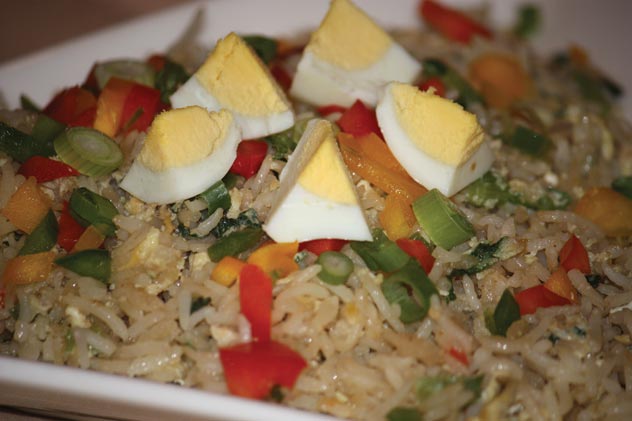 (Above): Vegetable and Egg Fried Rice. [SILICONEER photo]

---
Ingredients

2-3 cups cooked basmati rice

3-4 eggs, beaten

1 cup carrots, grated or crushed in a food processor

1 zucchini, peeled and cut into small cubes

5 pieces of baby corn, sliced

½ bell pepper, diced

5 pieces of mushroom

2 tbsp extra virgin olive oil

1 tbsp low sodium soy sauce

Chopped cilantro or parsley

Chopped green onions

1 boiled egg for garnishing

Method:

Saute green onions in olive oil in a large sautéing pan. Add eggs and cook like the way you would make scrambled eggs. Don't cook it all the way, it should still be a little runny. Add cooked rice and mix well to evenly coat the rice surface with eggs. Add carrots, baby corn, pepper, mushroom and zucchini. Cover and lower heat. Stir occasionally. Once carrots and zucchini's are softened, add soy sauce and mix well. Add cilantro or parsley. Cut egg into pieces and garnish before serving.