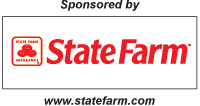 AUTO REVIEW:
Dressed Workhorse: 2010 Acura MDX


Completely re-engineered in 2010, the Acura MDX adds value to an all-wheel drive vehicle packed with safety and performance features, writes Sally Miller Wyatt.
---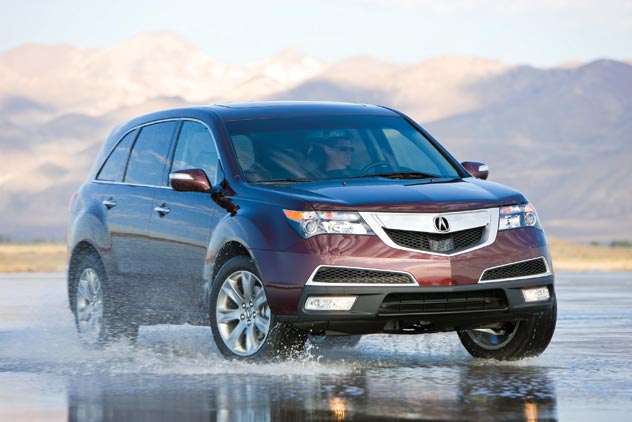 (Above): The 2010 Acura MDX

---
Regular readers of this column know I take issue sometimes with the term "luxury SUV." I may be among the minority, but I wouldn't leave a luxury SUV at some of the backpacking trail heads we've visited. Some of those "la-di-da" vehicles would seem more at home navigating the city's pothole-carved streets than mountainous roads.

Now while that may be true for some luxury SUVs, it's not really the case for the Acura MDX, and hasn't been for years. While Acura does classify its MDX as a luxury SUV, it continues to be an unpretentious ride, an all-wheel drive vehicle so packed with safety and performance features that it assures you the ability to go all places in comfort. Let's call it a very well dressed workhorse.

The Acura MDX has been completely re-engineered for 2010, and for this model year it gets a fresh new exterior with a restyled front and rear bodywork; a revised powertrain and re-tooled six-speed automatic for improved fuel efficiency, refinements to the chassis and the addition of many top-of-the-line technological components.

---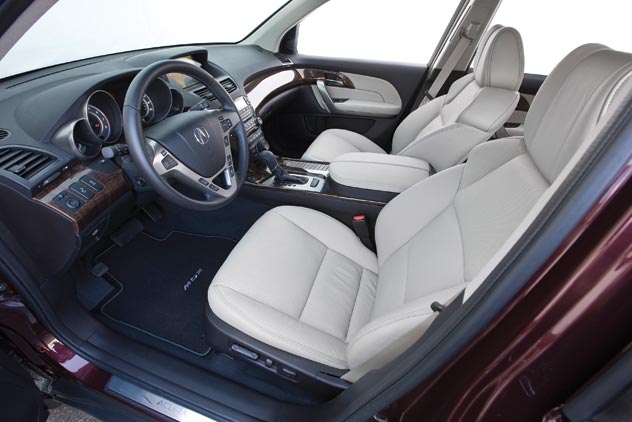 (Above): Interior view of the 2010 Acura MDX

---
It can also accommodate seven passengers, and what Mom wouldn't agree that is the ultimate luxury for those who are always driving a pack of kids to an array of activities?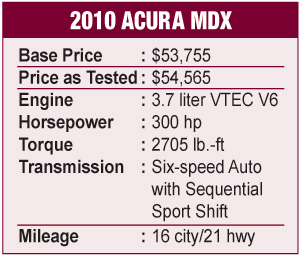 The Acura MDX's 300-horsepower VTEC V-6 engine has been teamed with a six-speed automatic transmission that offers better performance and gas mileage than previous models. Acura's Super Handling All-Wheel Drive system is a full-time, all-wheel-drive system that distributes the optimum amount of torque between front and rear axles as well as left and right rear wheels. This package improves traction and cornering ability. When working in conjunction with the MDX's Vehicle Stability Assist, the MDX can adeptly handle roads that are rutted, rocky, wet, dry, covered in snow or are icy. A new advance package offers a revised Active Damper System with 19-inch wheels and tires that uses a high-tech system of dampers to individually adjust shock absorbers, which in turn smoothes out those rough roads even further. Drivers can select either a Comfort or Sport mode with this new enhancement.

Safety features start with Acura's Advanced Engineering Body Structure, or ACE. It uses a network of interconnected front frame structures to absorb and redirect crushing forces away from the passenger cabin. ACE also has improved its crash compatibility with vehicles of different sizes in frontal crashes. Designers added a special frame below the MDX's front bumper so that fender benders between cars of different sizes won't be so damaging. Your insurance company should love that.

---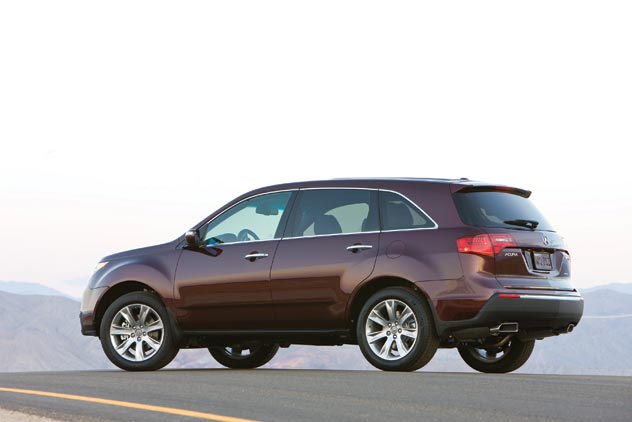 (Above): The 2010 Acura MDX

---
There are also side air bags, side curtain air bags with rollover sensors, front active head restraints to minimize whiplash risk, and side impact door beams. All this has earned the MDX a five-star rating in government's front impact crash tests.

The 2010 Acura MDX also has an all-new blind spot information system, Adaptive Cruise Control and a Collision Mitigating Braking System. This helps the driver reduce the likelihood of a collision by sounding an alert if it seems a collision is inevitable, and then activating brakes tightening the seat belts. The 2010 models have also been designed to far surpass the government's roof crush test standards.

Inside the passenger cabin, you'll find plenty of leg room for your seven passengers, and comfortably firm leather seats that are heated and ventilated. Seats in the second row are also heated, which is a very nice feature.

---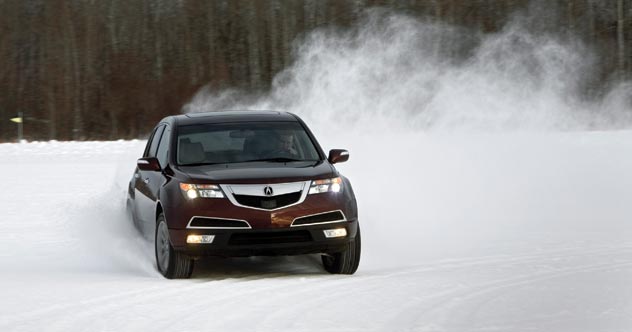 (Above): The 2010 Acura MDX

---
Standard interior features include XM Satellite Radio, MP3 input jack, driver recognition memory, a 10-way power seat for the driver and eight-way power seat for the front passenger, Bluetooth HandsFreeLink wireless telephone interface, an Acura Navigation System with Voice Recognition with Real-time Traffic and Weather, and a surround-sound music system with 10 speakers.

Overall, we found the 2010 Acura MDX to be a comfortable, accommodating SUV. It is really packed with many top-of-the-line touches and family-friendly safety features. Whether at freeway speed or on rutted roads, the MDX was a pleasure to drive.

---
Sally Miller Wyatt is a freelance writer who writes family-oriented auto reviews for newspapers, magazines and the Web.