EDITORIAL: Ground Zero Dilemma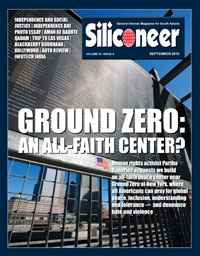 As the economy tanks, jobs get scarcer, and more and more people are out of work, it's open season in the U.S. on foreigners, people of color, Muslims, you name it. Overt violence has been mercifully rare but not unheard of. It's the rhetoric that's ugly now. Yet a recent stabbing of a Muslim cabbie in New York suggests that actual violence may not be far.

So what else is new? In Margaret Thatcher's Britain in the 1980s, when Britain was reeling from massive unemployment, skinheads went after Asians. (The term refers to desis there). In post-communist Eastern Europe, Vietnamese have been targeted in what used to be East Germany, and the Roma community have been attacked in a number of countries.

In the U.S. anti-Hispanic sentiment is virulent. Arizona passed a draconian law where any Hispanic can be accosted by law enforcement personnel and asked to prove that he/she is not undocumented.

It is in this broad, unsavory context that the huge controversy over the so-called Ground Zero mosque controversy should be viewed.

First things first — it's not a mosque that's being planned, but a community and cultural center along the lines of a typical YMCA, with an area for prayers, to be sure.

The sorry spectacle of Republicans enthusiastically jumping on the hate-mongering bandwagon is bad enough. What's worse is the spineless acquiescence of too many Democratic leaders. Those Democrats who are in hiding, morally speaking, should grow a spine and learn from the refreshingly principled stand taken by Minnesota Democratic Sen. Al Franken and New York's Republican-turned-independent Mayor Michael Bloomberg.

Human rights activist Partha Banerjee, himself a resident of New York City during 9-11 who had to deal with the trauma of that time, offers a cogent appraisal and analysis in this month's cover story.

One cannot wish away the substantive issues that fuel Indo-Pakistani discord. India's grievances are well known. Terrorists with sanctuary, if not outright government backing from across the border, have unleashed murderous attacks in Mumbai and the Indian Parliament in the recent past. India's struggle to control a restive Kashmir is complicated, Indians will point out, by long-standing Pakistani support, mostly clandestine, to extreme and violent Islamist forces.

Pakistanis, on the other hand, have a long-standing grievance on Kashmir, believing that they were cheated out of the region after partition and angrily say it is the behavior of the Indian army and security forces that invites the wrath of the Kashmiris. After all, 60,000 people have died over the years in the conflict.

Having said that, there is no way any mutually acceptable arrangement can be arrived at without lessening the tension between the two countries.

A remarkably courageous and heartwarming step was taken this year by a group of humane Indians to at least rekindle people-to-people goodwill between the two nuclear-armed South Asian neighbors.

A 10-member peace caravan went from Mumbai to Lahore, stopping en route at the Indo-Pakistan border in Wagah for festivities.

Of course, festivities are the last thing in the mind of Pakistanis who are reeling from the worst floods in their nation's history.

To their enormous credit, the visiting Indian delegation participated in a fundraising drive on the streets of Lahore and raised Rs. 100,000, of which Rs. 25,000 they had brought with them from India.

Sandeep Pandey, our India editorial consultant, was part of the delegation and he writes about it in this month's issue.

We tend to get too caught up in our own worries and concerns to take a closer look at what our young people think. In a fast-changing world, they are tomorrow's movers and shakers — it is to them that we will bequeath our success and failure, our fears and dreams.

This month Siliconeer takes great pride, and even greater pleasure, in presenting two youthful perspectives. Zareef Anam is a high school student preparing for college in Dhaka, Bangladesh. Anam offers his views about Bangladesh's future. Only a harsh and heartless judge will expect a seasoned, adult analysis. However, we think that Anam shows a degree of thoughtfulness and substance well beyond his tender age.

Vansh Gupta, all of 9 years, has written before, and offers somewhat lighter fare in this issue — he writes about a recent trip to Las Vegas.