COMMUNITY RIGHTS
Unkind Cut: Social Security Administration Loses Lawsuit

A class-action lawsuit brought by the National Senior Citizens Law Center forced the Social Security Administration to reinstate about 250,000 vulnerable Americans after denying them benefits simply because their names appeared in a database of felony warrants. Suzanne Manneh reports.
---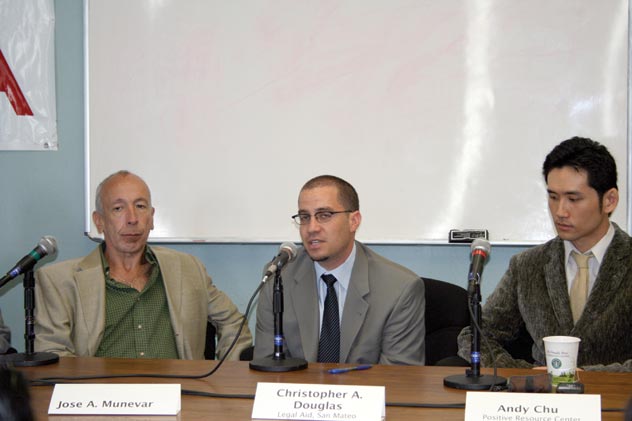 (Above): At a recent New America Media briefing in San Francisco (l-r): Gerald McIntyre, an attorney with the National Senior Citizens Law Center; Jose Munevar, whose benefits were illegally stopped by the Social Security Administration, and Andy Chu, an attorney with the Positive Resource Center in San Francisco. [PHOTO: New America Media]
---
Jose Munevar prides himself on being as independent as possible, despite his cerebral palsy. So when the single father of two teenage girls became one of a quarter million elderly, poor and disabled Americans wrongfully cut off from their only financial lifeline, it became "the biggest nightmare of my life."

The Social Security Administration stopped Munevar's Social Security Disability Insurance assistance in 2008 because of a bureaucratic snafu involving a $300 check — overdrawn by only $15 — he'd written on a trip to Las Vegas the year before.

A Shock in the Hospital. Munevar received a shock while lying in a California hospital. As he recuperated from reconstructive knee surgery, he opened his mail to discover a notice from Clark County, Nevada, saying there was an arrest warrant out for him because of the bounced check.

Before Munevar could resolve this minor infraction, the case escalated when SSA severed his disability insurance because of the warrant — and did so illegally.

Munevar would eventually benefit from a class-action lawsuit brought by the National Senior Citizens Law Center that forced SSA to stop this unwarranted practice and to reinstate about 250,000 vulnerable Americans, because their names appeared in a database of felony warrants.

Along with NSCLC, co-counsels in the Martinez v. Astrue case were Disability Rights California, the law firm of Munger, Tolles, and Olson LLP, the Mental Health Project of the Urban Justice Center and the Legal Aid Society of San Mateo County.

But under the court settlement, people victimized by the former policy must contact SSA to get reinstated or reimbursed. Countless beneficiaries are still unaware of the court settlement, and some will only have a limited time to contact SSA, said NSCLC attorney Gerald McIntyre, also the lead attorney in the class action suit.

SSA recently calculated that it held back almost $700 million in benefits during the past decade. Many, McIntyre said, have already received from $10,000-$40,000 in past benefits—"enough to stabilize their living situations."

Fleeing Felons. McIntyre explained at a recent New America Media briefing in San Francisco that over the last decade, SSA had misapplied a 1996 law intended to keep "fleeing felons" from receiving Social Security benefits, including those for retirement, disability, Supplemental Security Income and Special Veterans Benefits.

Even though the 1996 law only applied to felons trying to escape or flee prosecution, "which amounted to less than 1 percent of the recipients," McIntyre said, SSA began halting benefits or denying applications for people with offenses that local police found too minor to pursue.

Many people who lost their benefits are hard to locate. "Those who lost their benefits were more likely to move — move in with friends, relatives, or even become homeless," McIntyre said. One couple in their 70s, whom he met in Los Angeles, ended up living in their car.

Because of the address changes, McIntyre explained, it will be difficult to ensure that all of those who need to be reached ever will be, especially because these notices include a form that must be completed and returned within 60 days of their issue date in order to ensure reactivation.

Effective outreach is key, he said, underscoring that not enough people are aware of their rights to reclaiming their benefits, and in addition may not know what their rights are.

Mistaken Identity. In some cases, people lost their financial assistance because of mistaken identity. That was what happened to Rosa Martinez, who became the lead plaintiff in the class action lawsuit, Martinez v. Astrue. (Michael J. Astrue is the U.S. Social Security Commissioner).

Martinez, of Redwood City, Calif., found her benefits illegally terminated because SSA confused her with another Rosa Martinez, in Miami, a woman with an outstanding warrant from 1980 for illegal possession of prescription drugs. The California Martinez was also eight inches shorter and had never been to Miami.

---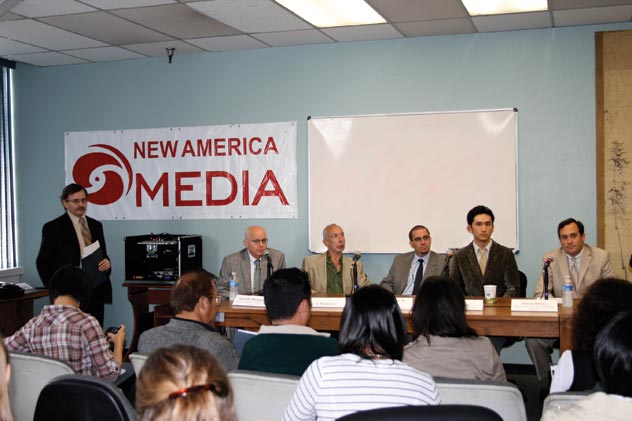 (Above): At a recent New America Media briefing in San Francisco (seated, l-r): Gerald McIntyre, an attorney with the National Senior Citizens Law Center; Christopher A. Douglas, an attorney with Legal Aid of San Mateo; Jose Munevar, whose benefits were illegally stopped by the Social Security Administration; Andy Chu, an attorney with the Positive Resource Center in San Francisco; and Steven Weiss, a staff attorney with the Alameda County Bay Area Legal Aid. [PHOTO: New America Media]
---
Like many others, according to McIntyre, Social Security told Martinez that she couldn't appeal, which is false, said McIntyre. SSA wrongly told her she had warrant vacated, which meant flying to Miami when she had no money for rent much less a plane ticket and hotel.

Many, such as Martinez and Munevar, were determined to settle their legal situations.

Munevar repeatedly phoned legal authorities in Las Vegas to clear up his case and vacate the warrant. But the attorney for Clark County "never returned any of my calls," he said at the media briefing.

After his SSDI stopped in September 2008, Munevar had to borrow money "left and right" from relatives and friends to support his family. Although he is an accountant and financial consultant, he said that the recession sharply limited his ability to earn a living and support two teenagers.

Finally, Munevar turned to Legal Aid of San Mateo for help. Attorney Christopher Douglas, who also represented Martinez, quickly resolved the Clark County warrant and got Munevar $14,000 in retroactive benefits and reinstated for SSDI.

Taking action. Also speaking at the media briefing, Steven Weiss, staff attorney with the Alameda County Bay Area Legal Aid, noted that immigrants he represented who lost benefits had cultural barriers to receiving help.

"Most immigrant groups are deferential to governments. If you fled the government to come to the U.S., you are more likely to think, 'The government says I'm ineligible? Okay, I don't want to fight it,'" he said.

In addition, said Andy Chu, an attorney at the Positive Resource Center in San Francisco, many immigrant, non-English speaking communities are at a disadvantage because information from the SSA is only available in English.

Regardless of one's language or situation, Munevar said, if they are affected, they must take action and defend themselves, even if they have a disability.

"People think that they're less disabled than they are. And they can be taken advantage of because of that [attitude]," Munevar said. "But I say speak up and don't let your disability get in the way of making a difference."