SUBCONTINENT
Independence and Social Justice: India's I-Day Celebration

Indian elites celebrated 64 years of freedom from the British Raj with great pomp and fervor, but to make freedom more meaningful, the nation's leadership needs to address the desperate needs of its underprivileged millions whom economic progress has passed by, writes Priyanka Bhardwaj.
---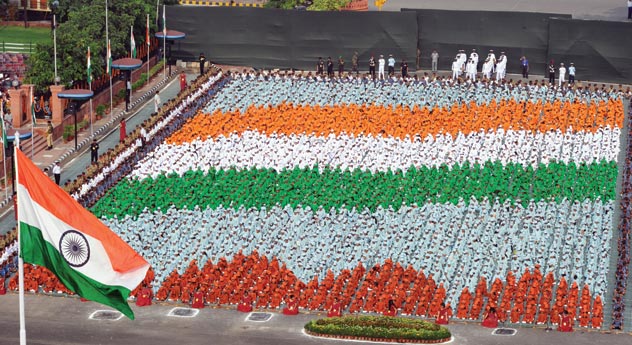 (Above): Children in tricolor formation at the historic Red Fort on the occasion of Indian Independence Day in Delhi Aug. 15. [Photo: PRESS INFORMATION BUREAU]
---
Thunderous applause greeted celebrations Aug. 15 for the successful completion of sixty-four years of independence by India from the British Raj.

Heartening reports have added to the cheer. Morgan Stanley has said in a report that India will be the fastest growing economy by 2013-15 and is geared to grow at 9-9.5 percent over 2013-15.

In the past thirty years the country had an average GDP of 6.2 percent and rose seven times to $1.2 trillion.

But this congratulatory din seems to be coming from the direction of the urban upmarket janta.

The less privileged masses who make up the rural segment and a section of whom live in urban squalor, which make for more than 60 percent of India's population, remain inhabitants of a different world altogether, untouched by this progress.

---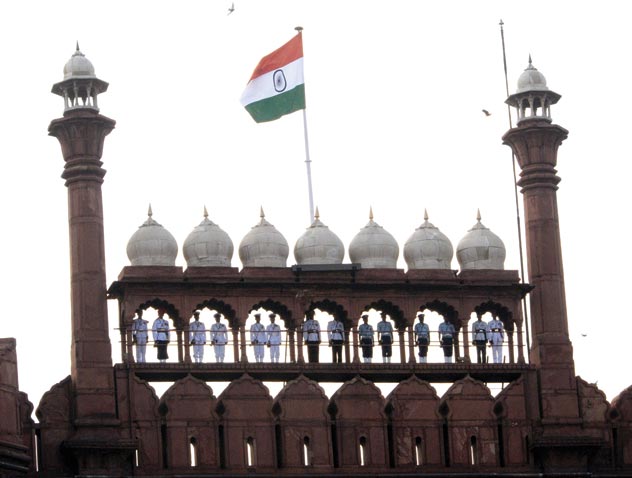 (Above): The tricolor being waved at the historic Red Fort on the occasion of Indian Independence Day in Delhi Aug. 15. [Photo: PRESS INFORMATION BUREAU]
---
For all its blistering economic growth, the nation failed a 230-million-strong populace that remains yoked to hunger, poverty and deprivation even on the day of this significant celebration.

A United Nations World Food Program report said that more than 27 percent of global impoverished people live in India, with 43 percent of its children (under 5 years) underweight.

These figures are higher than those of sub-Saharan Africa or the global average (25 percent).

The report also points at 70 percent or more children (under 5) suffering from anemia and notes that this has grown by 6 percent in the last six years. Plus, every third adult (15 to 49 years) is weak due to starving and malnutrition kills 50 percent of children.

Scary figures as these reflect a dismal state of affairs and has earned India the 94th place in the Global Hunger Index of 119 countries.

Now how did we achieve such high figures and ranking in all the wrong categories?

The answer is the sheer neglect of rural India by its political-bureaucratic and social elites.

The entire politico-administrative machinery remains obsessed with refurbishing cities and fighting insurgencies from within (Maoism) and without (threat from terrorists and neighboring hostile nations).

The story remains one of managing symptoms rather than addressing the root cause of this disease.

---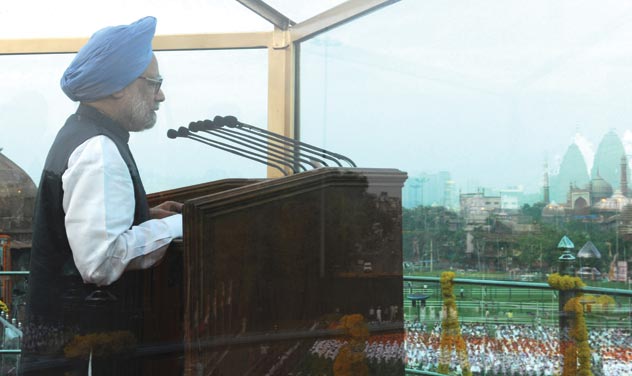 (Above): Indian Prime Minister Manmohan Singh addressing the nation on the occasion of 64th Independence Day from the ramparts of Red Fort in Delhi on Aug. 15. [Photo: PRESS INFORMATION BUREAU].
---
For the power wielders inflation is all about happy single digit figures.

Last month news wires carried reports of overflowing food granaries and rotting grain which could have been easily distributed into public distribution systems and on time.

Recently at Harlagora village in the eastern state of Jharkhand a mother committed suicide along with her three kids by jumping into a well. The woman survived but not her children. The quartet had been hungry for a week.

The northern province of Uttar Pradesh is witnessing large numbers of small time landowners and villagers demanding adequate compensation from the state government for loss of their land and livelihood to make way for construction of expressways.

The deploring fact is that both the government and the news media have paid scant attention to agricultural issues, agrarian reforms, farm subsidies, rehabilitation, land reforms, international trade and impact of WTO trade norms on the Indian farm sector.

---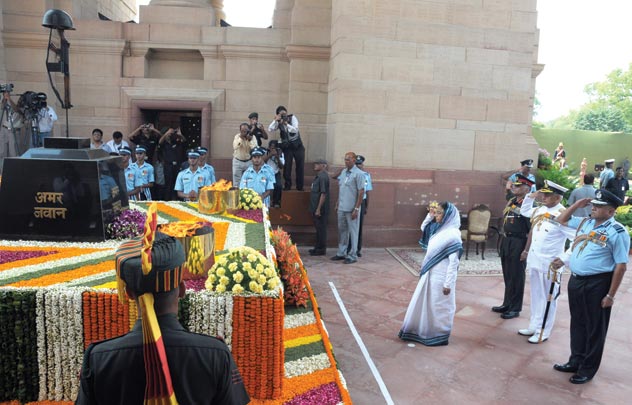 (Above): Indian President Pratibha Devisingh Patil paying tribute at the Amar Jawan Jyoti, India Gate, on Indian Independence Day in New Delhi Aug. 15. [Photo: PRESS INFORMATION BUREAU]
---
Most round-the-clock news channels have shown a remarkable reluctance in covering suicides by farmers or even narratives of persons and communities affected by suicide clusters.

Studies suggest that though agricultural credit has increased over time, there has been discernible drop in the level of agrarian distress.

Agricultural credit from commercial banks and rural banks increased from 30.1 percent in 2000 to 52 percent in 2007 due to indirect finance to agriculture. Yet 16,196 farmers' suicides were reported in 2008 by the National Crime Records Bureau.

Maharashtra topped this list of states, with 3,802 suicides, and 67 percent of these suicides were committed in the "suicide belt" comprising provinces of Maharashtra, Andhra Pradesh, Karnataka, Madhya Pradesh and Chhattisgarh.

The role of debt in such suicide clusters is an oversimplification of a more complicated issue.

Experts enumerate urban biased policies and degradation of the organizational form of farmers' struggle that led to a loss of a sense of identity and belonging, transition to market oriented agricultural crops, erosion of soil fertility, intense use of hybrid crops, growing susceptibility of crops to diseases and pests, as some causes that have led to these suicides.


---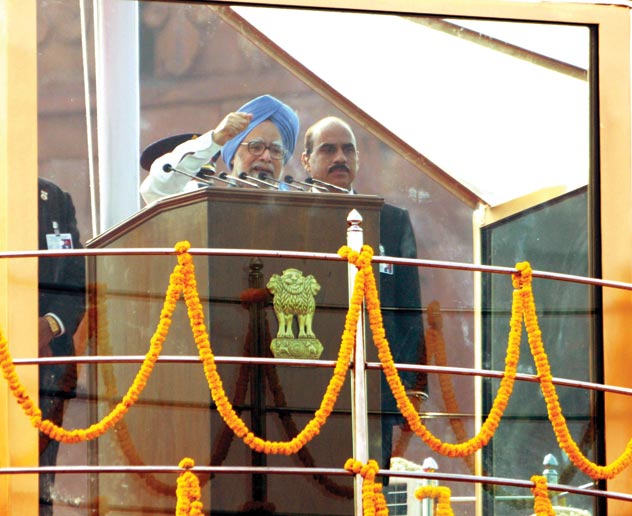 (Above): Indian Prime Minister Manmohan Singh chanting "Jai Hind" from the ramparts of the Red Fort on the occasion of Indian Independence Day in New Delhi Aug. 15. [Photo: PRESS INFORMATION BUREAU]
---
It is rather sad to see duly elected Minister for Agriculture Sharad Pawar so embroiled and engrossed in political intrigues of cricket bodies when the nation suffers silently.

Highlighting this discourse is the latest Bollywood film, Peepli Live, which discards star power for the powerful impact of rural-indebtedness that drives the central character to the verge of suicide.

A strong visual attempt at vicious interplays of politics by government functionaries and media vis a vis suicide, it highlights the extreme savagery of circumstances following the failure of repayment of loans, while all the while news-channels are obsessed with increasing their viewership ratings.
The film has its critics, however. Farmers in Vidarbha, Maharashtra, the place where such suicides have been very high, have alleged insensitive portrayal.

Their complaint is that the story centers around greed and not the real economic distresses of farmers.

---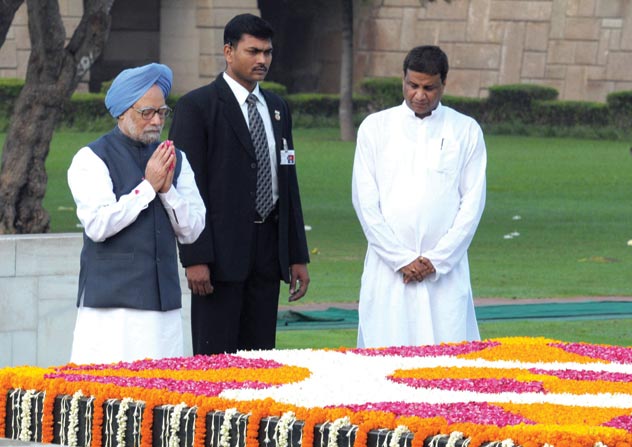 (Above): Indian Prime Minister Manmohan Singh paying homage at the Samadhi of Mahatma Gandhi at Rajghat on Indian Independence Day in New Delhi Aug. 15. [Photo: PRESS INFORMATION BUREAU]
---
Voicing their complaints, Kishore Tiwari of Vidarbha Jan Andolan Samiti protests, "Our objection is to a scene in the film which shows a brother telling a farmer to commit suicide so that he can avail of a hundred rupees compensation by state government. . . . Despite the huge package promised by center and state, only 8 percent of farmers' families availed of the compensation. . . . In villages, nobody is so insensitive. Nobody is going to kill an 85-year-old father or a mother for this amount."

Be that as it may, India's state of affairs and apathy of its rulers and policymakers have made the once famous slogan "Jai Jawan Jai Kisan" (Hail the Soldier Hail the Farmer) a cruel joke.

India's tryst with destiny will not be a genuine success unless its elites figure out a way to make economic and social progress far more inclusive than it is today.

---

Priyanka Bhardwaj is a reporter with Siliconeer. She is based in New Delhi.