YOUTH PERSPECTIVE
Bangladesh: The Promise and the Challenge

Bangladesh faces many challenges, but if it also has potential to change for the better, writes Zareef Anam, a high school student in Dhaka.
---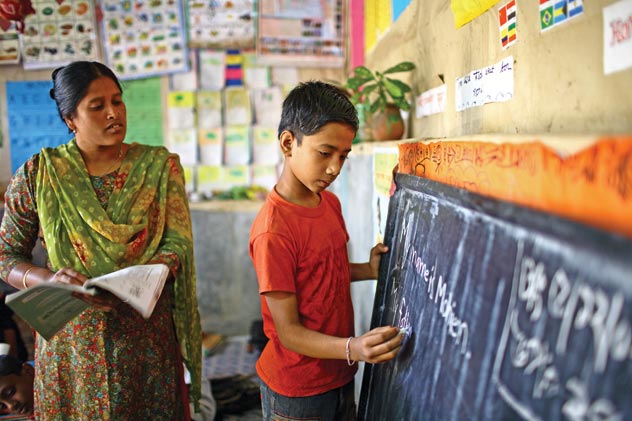 (Above): A schoolboy practices an English lesson in a Bangladesh classroom as his teacher looks on. The overwhelming majority of schoolkids attend schools that are woefully underfunded and terribly administered.
---
Bangladesh is a nation that faces many challenges. In addition to poverty and natural disasters, It is ranked 7th on the list of most corrupt countries in the world. Its capital, Dhaka, is one of the most polluted cities in the world. The government lacks transparency and despite considerable international assistance, it has been unable to eliminate mass poverty and hunger. Changes in government only harm the economy by making it more unstable. Political parties do not work together to further development but rather fight over power, aiding at undoing progress made by their predecessors. The country is perhaps neither an exotic tourist spot nor the ideal economy. However, what's less well known is that its potential is enormous — there are strong cases which are suggestive of the excellence it is capable of.

Bangladesh, like most South Asian countries, is heavily populated. Whilst overpopulation has its fair share of disadvantages, a large work force provides a country with tremendous growth potential. The new generation brings much promise: a staggering 55 million of the population are aged between 15 and 34. To compete globally however, it is necessary that the work force is skilled. Bangladesh's 48.5 percent (2008) literacy means more than half the population can neither read or write and are therefore far from being sufficiently qualified.

The education system in Bangladesh is three tiered. Even though the net primary school enrollment rate is 86.4 percent, only half the students complete primary education. Public schools are largely underfunded, especially in rural regions, and the quality of education is poor. The education sector gets only about 2.3 percent of the GDP, which is one of the lowest in Southeast Asia. Parents themselves are probable a more significant deterrent is perhaps the parent themselves. Fully 63 percent of the population works in farming, many barely survive on what they earn. Farmers would rather have their children stay at home and help them earn for the family than go to school. Children, though eager to learn, respect their elders' decision.

Of course, massive improvement of the quality of schooling is the only answer, but perhaps television can help too? A British Council survey showed that television ranks at the top in its ability to touch the lives of Bangladeshi citizens. It is a powerful tool not only for its entertainment value but for its ability to reach far and wide.

The television show Sisimpur, the Bengali version of the critically acclaimed and hugely successful American children's education television program, Sesame Street, has shown much promise. With a curriculum defined by Bangladeshi educators, the series emphasizes not only literacy, math and science, but also helps foster values such as self-respect, empathy and cooperation. With support from non government organizations such as USAID, the program may help accomplish educational goals that the government has so far failed to achieve.

A well-schooled generation of young children will become tomorrow's skilled labor force. But an economy and a nation also needs sharp leaders, intelligent executives and smart entrepreneurs who can use this work force immediately compete in the global marketplace.

---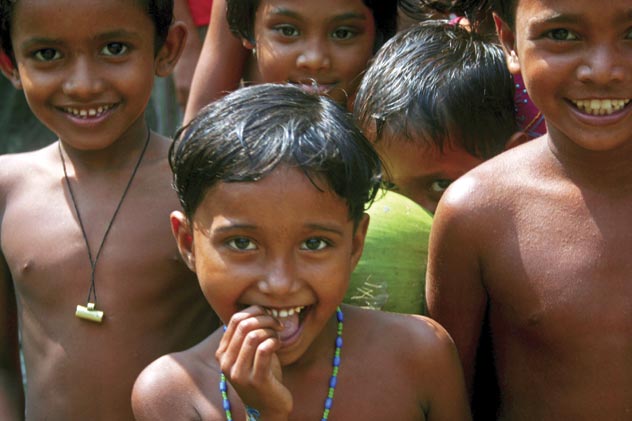 (Above): Happy children smile at the camera in Barisal, Bangladesh. Their future is in the hands of the government, which needs to thoroughly overhaul its poorly administered primary education system.
---
Can Bangladesh produce that kind of excellence?

At the top end of education, it is interesting to notice that among those privileged enough receive a top-quality privatized education, some perform exceedingly well. Top English medium schools in Bangladesh like Sunbeams, Mastermind and Green Herald generally follow the British system of schooling and prepare their students for the Ordinary (O) and Advanced (A) level curriculum endorsed by British Examination Boards Edexcel and Cambridge. An alternate, albeit relatively less popular, International Baccalaureate curriculum has been on offer at selected English medium schools since 2004. Both systems are highly competitive and demanding. This year, 1,118 O and A level students were honored by The Daily Star (a leading English daily newspaper in Bangladesh) for achieving As in 6 or more O level subjects or 3 or more As in A level subjects. Amongst these, 31 O level candidates secured highest marks worldwide in 14 subjects. The respective numbers for A level candidates were 21 in 6 subjects. Such impressive figures suggest that Bangladeshi students have the potential to excel on a global level. When provided with the best possible resources, they have proven to be highly competent. Having graduated from Sunbeams myself, I believe that it is at a par with some of the best schools in the world. Students get offers from top notch universities as Oxford, LSE in the United Kingdom and Princeton in the U.S., for example, . every year.

However, for all its formidable excellence, these schools are expensive and therefore, such a high standard of schooling is only available to an extremely miniscule wealthy part of the population. It is necessary for the government to invest more extensively in human capital.

More public schools should be opened, especially in remote and rural regions, to make quality education more accessible. For a country as densely populated, the number of schools offering first-rate education has been extremely low and more importantly, money driven. The government should to take it upon itself to ensure that the education system is much more meritocratic than it is now. Alternatively, education should be highly subsidized to make it available to all.

Even if education does improve to help Bangladesh compete globally, for sustainable development, several broader socioeconomic issues need to be addressed. These include increased transparency and accountability. The decision making process should be explained and public should be made aware of components of government expenditure; better judicial procedures and enforcement of the rules of law, e.g., tax collection should be closely monitored, and there should be severe penalties for tax evasion; government and civil society must come together to create an atmosphere that allows entrepreneurs to flourish.

---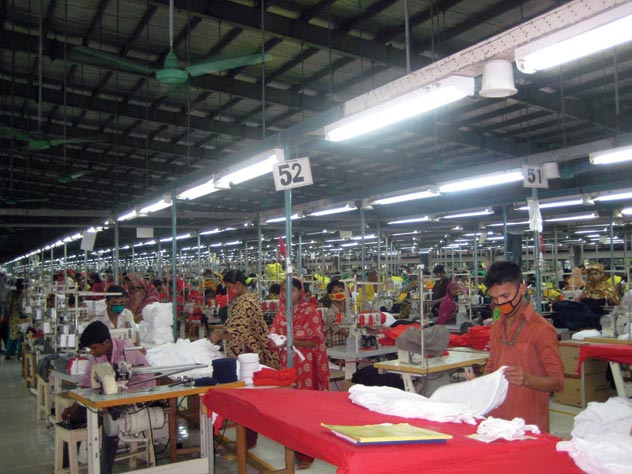 (Above): A garments factory in Bangladesh. The South Asian nation is the fourth largest garments exporter in the world after China, Eurozone and Turkey.
---
Bangladesh's tremendous entrepreneurial potential is demonstrated by the ready-made garments industry. Up until early 1980s, Bangladesh ea very rigid trade regime known as the Multi-Fiber Agreement which had quotas for export. While the intention was to provide protection to domestic manufacturing units in the importing countries from the more efficient producers in developing countries, the regime gave preference to less privileged countries like Bangladesh. When the MFA was withdrawn, analysts predicted Bangladesh that without the backing of export quotas, it would not be able to compete with more nimble competitors. However, Bangladesh has proved those analysts wrong, and has experienced phenomenoal growth in the last 20 years. At present, it is ranked the fourth largest garments exporter in the world, after China, EU-27 countries and Turkey. The industry contributes about 75 percent of the country's export earnings. The sector has created jobs for more than two million people, 70 percent of whom are women.

However, the industry has been subject to much labor unrest. Workers are often exploited by the employers and are made to work for long hours for wages so low that they can barely make ends meet. While wages to garment workers in Bangladesh are amongst the lowest in the world, its export industry has been burgeoning. Garment exports last year surged above $12 billion.

Recently, the national minimum wage has seen an increase from $23 to $75 a month, amid protests by workers and violent clashes with police. However, unions and charities such as ActionAid have calculated that a living wage in Bangladesh of about $150 per month would be needed to allow garment workers to afford nutritious food, health and education for their families so the increase will little effect.

While the RMG industry does demonstrate the potential of Bangladesh, the country is too dependent on the industry for its exports. The government needs to encourage investment in other sectors so that the economy is more diversified. The country imports much of its raw materials for garments as cotton, thread, dye, etc. and political problems with any of such countries can be prove to be dangerous.

There is, then, a lot to be done. Having said that, from bright school kids competing successfully on a global level to garments entrepreneurs thriving in the global marketplace, there is good reason to be optimistic that if the government and society gets its act together, Bangladesh's future can be substantially brighter than its present.

---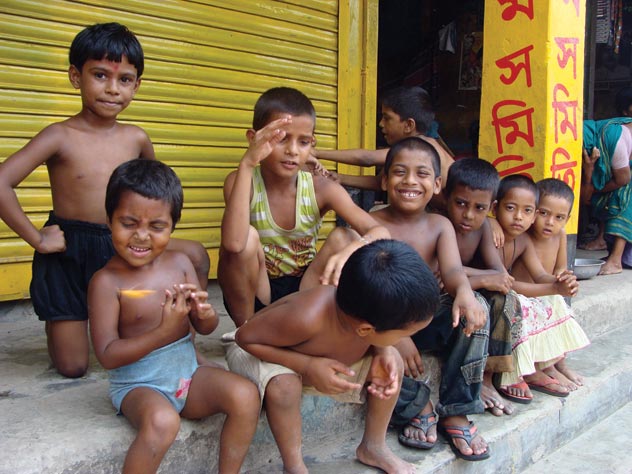 ---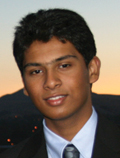 Zareef Anam is finishing high school in Dhaka. Educated in the British system, he got As in eight O level subjects. Later, he got an A Star in mathematics and As in the first-part of three A level subjects.