RECIPE:
Okra Delight: Bhindi Jaipuri


The humble okra becomes a delectable dish with a dash of flair from chef Sanjay Patel.
---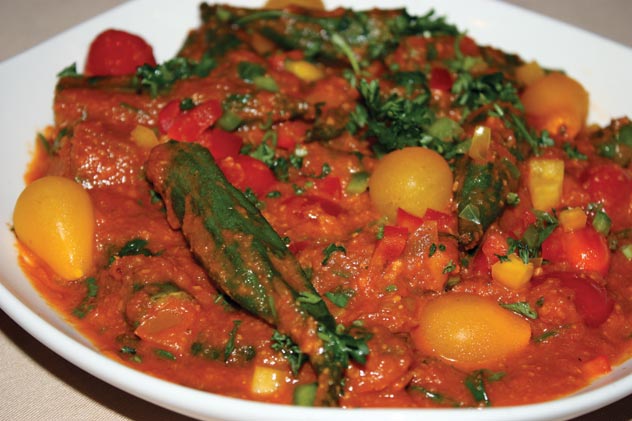 (Above): Bhindi Jaipuri [SILICONEER photo]

---
Ingredients

2 lbs okra

3 tbsp canola oil (or any neutral oil)

1 yellow onion, chopped

1½ tsp ginger garlic paste

3 medium-sized ripe tomatoes

1 jalapeño pepper

juice of a lemon

¼ tsp turmeric powder

½ tsp red chili powder

½ tsp garam masala

¼ tsp black pepper, freshly ground

3/4 tsp salt

1 tbsp cilantro, for garnish

Yields six servings.

Method:

Preparing the jalapeno: Stem the jalapeno pepper. Using a paring knife, create a 2-inch incision in the side of the whole pepper.

Prepping the okra: Trim the stems of the okra but don't remove them completely; you don't want to pierce the vegetables. Wash them, remove as much water as possible and drizzle with half of the lemon juice. Set aside.

Prepping the tomato: This step is optional but I find tomato skin unpleasant to chew. Here's a neat method to peel tomatoes. Make a small, shallow criss-cross cut at the bottom of the fresh tomatoes using a bread knife (I use a bread knife because the blade won't bruise the fruit). Fill a small saucepan with cold water and bring to a boil. Place the tomatoes in the water and wait for at least 30 seconds. Remove the tomatoes quickly (I use a large strainer or a slotted spoon), then transfer to an ice cold bath to stop the cooking process. The skin will come right off. Coarsely chop the flesh. Set aside.

In a saucepan, cook the okra in boiling water for about 4 minutes until they change color, then drain and pat dry on a paper towel. Cut each okra in thirds. Season with salt.

In a deep saucepan, heat the oil. Add the onions. Cook for about 5 minutes until the onions become translucent. Add the ginger garlic paste and whole jalapeño pepper to the onions. Stir well. Add the tomatoes, garam masala, red chili powder, turmeric and a little water (about ½ cup). Bring the liquid to a boil, then lower the heat to medium-low and cook for about 8-10 minutes; add more water if necessary (up to 1 cup). Add the okra to the tomato masala sauce, drizzle with the rest of the lemon juice and cover with a lid and cook for about 5-8 minutes. Check the seasoning. Add more salt (if necessary) and black pepper.

Serve warm with roti.