BOLLYWOOD | Film Review
Slapstick Comedy: Kya Super Kool Hain Hum


Directed by: Sachin Yardi
Produced by: Ekta Kapoor & Shobha Kapoor
Starring: Riteish Deshmukh, Tusshar Kapoor, Neha Sharma, Sarah Jane Dias and Anupam Kher
Music by: Sachin-Jagir, Meet Bros, Anjaan

Reviewed by: Joginder Tuteja
Rating: **1/2 (Mediocre)

---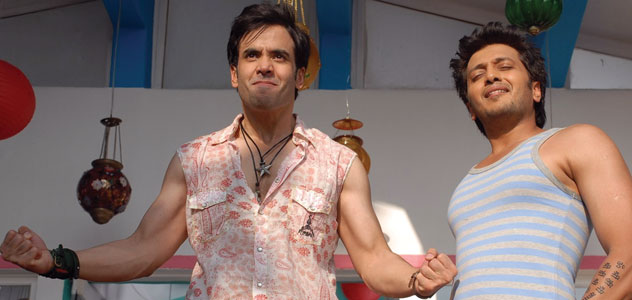 (Above): Tusshar and Riteish in "Kyaa Super Kool Hain Hum."

---
You have to give credit to Kyaa Super Kool Hain Hum. With no storyline, it could be a challenge for any filmmaker to spin something enjoyable that manages to grab your attention in bits and pieces, at least.

However, this Sachin Yardi film does take up the challenge and keeps the viewer entertained for most part of its 140 minutes length.

This is remarkable, considering the fact that it doesn't have anything from the storyline perspective except for a basic paper-thin plot. At the end of it all, the film does make you laugh with quite a few jokes reverberating in your mind even as end credits roll.

It is actually tough to even arrive at a basic synopsis of the film.

Is it about two struggling youngsters Riteish Deshmukh and Tusshar Kapoor? Is it about their love life, or the lack of it, when they come across Sarah Jane Dias and Neha Sharma? Is it about a father (Anupam Kher) who goes insane and starts believing in pugs being his parents? Is it about the pug that is forever on Viagra? Or is it about a series of joke books that came writer-director Sachin Yardi's way, giving him the joy of a kid with numerous candy bars in his hand where he struggles to decide which one to pick?

Perhaps, that was the case because at the end of it all, Kyaa Super Kool Hain Hum turns out to be a film which is basically a series of gags, double entendres, extended scenes depicting comedy of errors, really short takes, that could well be limited character Twitter jokes or standalone pieces that may be a status update on Facebook. Yes, a few jokes are oddly placed and don't really make you fall off the seat. However, there are many sequences where it is tough not to burst out laughing.

This wouldn't be possible if not for the comic timing of the actors, and for that, one has to give credit to Riteish Deshmukh and Tusshar Kapoor for doing their bit as comic actors, a genre that comes to them naturally. As friends who find themselves in the middle of silly situations time and again, they also elevate some fun-ridden lines that are available to them on a piece of paper.


---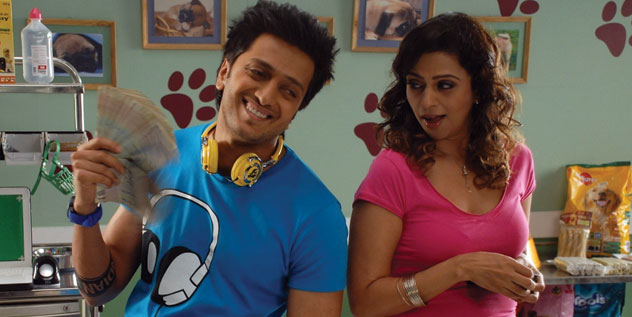 (Above): Riteish and Neha in "Kyaa Super Kool Hain Hum."

---
On the other hand, it is actually a pleasant surprise to see Neha as well as Sarah to be actually enjoying good screen time. One would have expected the girls to be mainly decorative pieces with kool boys picking up the best lines and scenes. However at the core of it, the film is basically a love story of these two couples, which means the girls never really go out of the picture. Moreover, they play their part well while also indulge in reasonable skin show that keeps all segments of the audience happy.

While it would be hard to ignore Sarah's walk in a bikini, Neha would gain some fans of her own for her cute-n-hot girl act.

However what would be remembered most, are some of the many jokes shared at the expense of a dog or the names that people in Anupam Kher's family hold. At times, this leads to some outrageous situations that does bring the house down. 

What doesn't quite succeed are two episodes featuring Chunky Pandey and Kevin Dave. The former still has some part to play in the film's plot but has been handled in an amateur manner. One almost expected a fight sequence involving Chunky in the film's climax but thankfully there is not even a slap in the film. On the other hand, Kevin doesn't solve any purpose in the film, makes you wonder what really made the makers hold on to his part at the script level itself.

It was totally unnecessary, if you ask me.

The same goes for the songs as well. Despite being tuned well, with "Dil Garden Garden" being the pick of the lot, each of the three songs in the narrative (and fourth in the end credits) is totally avoidable. In fact, they only slow down the film's pace at regular intervals.

An experiment on the lines of Delhi Belly where songs played only in the background could have helped.

Though the film's pace is more-or-less even, the interval point isn't really the kind that makes you roll with laughter. Moreover, there is a portion in the middle of the second half that just doesn't work even with the one-liners injected.

---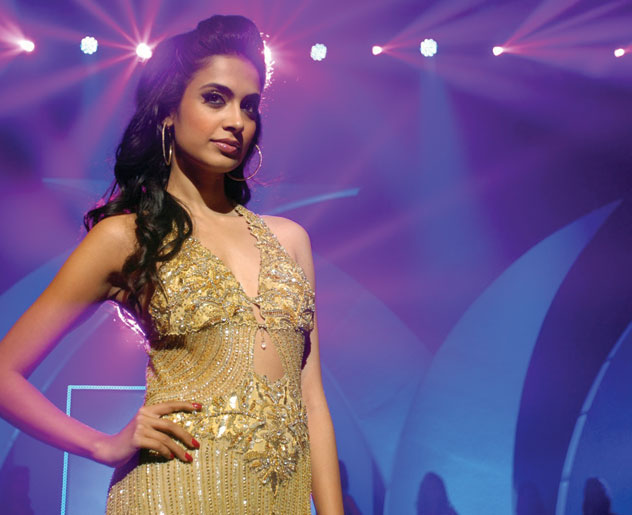 (Above): Sarah Jane Dias in "Kyaa Super Kool Hain Hum."

---
Thankfully, the pre-climax and climax sequences are strong and Sachin deserves credit for not allowing the film to get into the Priyadarshan/Anees Bazmee genre. Despite the entire cast coming together on the same platform, there is no commotion sequence added that would have otherwise led to deja vu. Instead, there are jokes that continue till the very end, hence bringing Kyaa Super Kool Hain Hum to a satisfying end with laughter roaring all over.

Having said that, this laughter is for those who fully acknowledge the genre laid out for them and are happy to pick and choose from the crudity that is spread wide open. For those who have issues with jokes related to sex, caste, creed, color or social standing, they are better off staying away because frankly, the film is not meant for them in the first place.
However, those who simply want two-and-a-half hours in theatres to go by in a jiffy with funny jokes and double entendres that are actually as straight as it gets, and women who provide eye candy, Kyaa Super Kool Hain Hum is a promising bet.