TRIBUTE
India's Invincible Hercules: Dara Singh (1928-2012)


India lost its invincible Hercules, Dara Singh in the early hours of July 12. He was indeed an angel for he strove to rise high only through sheer merit, hard work and honesty and not a measure of deceit of arrogance, writes Priyanka Bhardwaj.

---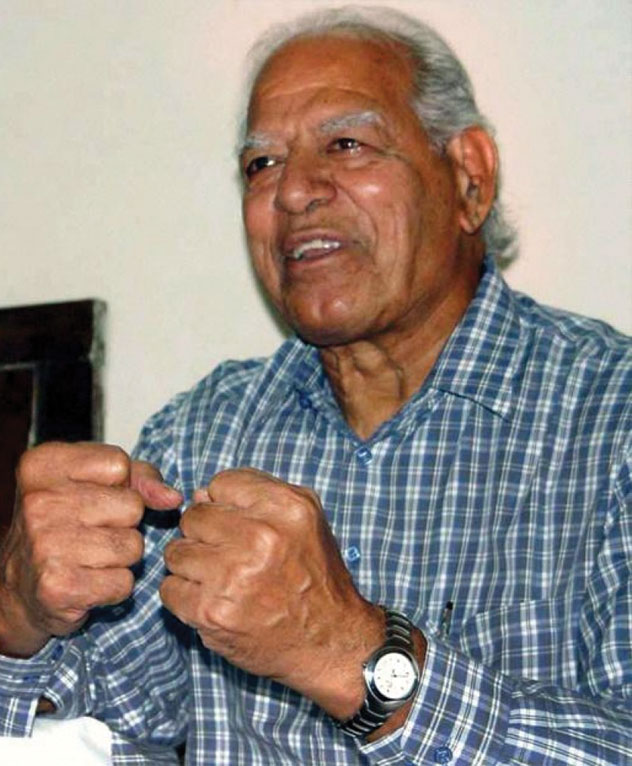 (Above): A recent picture of the legendary wrestler and actor Dara Singh.
---
Born on November 19, 1928 as Deedar Singh Randhawa in Amritsar village of Dharmuchak in British Punjab, Dara's life as a world class wrestler and actor was nothing less than an unending celebration.

Evident during his funeral was the fame that he had achieved, juggernaut crowds thronged for a last darshan (look) of this beautiful soul weaved into the tapestry of earthly existence with God-like qualities.

Due to his massive physique (at 6'2" and 132 kg) he was encouraged to learn pehalwani (Indian style of wrestling) for which he would entertain princes and masses at melas, akhadas (place for wrestling) and tournaments.

A trip to Singapore, in 1947, in search of work, catapulted him on to the stage of international wrestling. He defeated Tarlok Singh to win the title of 'Champion of Malaysia' in Kuala Lumpur.

Then there was no looking back as he achieved the enviable feat of remaining unbeaten in 500 wrestling matches till 1983 when he retired from the wrestling scene. It was Dara who destroyed the myth of invincibility of King Kong, the great hulk from Hungary. Dara lifted him in the air, rotated and threw him out of the ring like a rag doll.

Veterans recall how King Kong was left shouting that this was not in the rulebook to the referee called Lee.

Awe, admiration and adulation had to have base in a combined sense of enigma, myth and reality, but then who cared. For a young nation there was this Dara who won at the Canadian Open Tag Team Championship in 1958, Commonwealth in 1959 and World Wrestling Championship in 1968.

Some of the world-class wrestlers he trounced were George Zybisco, George Godianko, Flash Gordon, Yukon Eric and Lou Theze, in such thrilling professional wrestling matches, it left the crowds enthralled.

Dara was among the 120 inaugural inductees to be honored by the 'Wrestling Observer Newsletter Hall of Fame' started in 1996. He straddled both the worlds of wrestling and acting simultaneously with as much élan and won heights of success and fame.

As an entertainer no one matched him – he was handsome, strong, simple, charming and funny – all of which were ingredients for an Indian box office hit.

---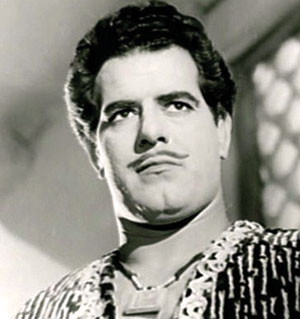 (Right): Dara Singh in the early years of acting.
---
Sangdil in 1952 marked the beginning of his successful film-innings and he starred in over 115 Hindi and Punjabi films. Dara's initiation into the world of cinema was a chance when a film producer on the look out for a wrestler for a fight sequence saw him defeating rivals in a ring.

With a family to support, a sum of Rs.1,000 for each day of shooting or a remuneration of Rs.450,000 for every movie he acted in only added to his interest in movies.

Dara's cinematic repertoire comprised King Kong, Samson, Lutera, Faulad, Sikander-e-Azam, Rustam-e-Rome, Rustom-e-Hind, Tarzan Comes To Delhi, Sher-e-Watan, Watan Se Door, Awara Abdulla, The Thief of Baghdad, Aaya Toofan, Balraj Shri Krishna, Dara Singh The Ironman and Rustom-E-Baghdad.

Mumtaz, a hit actress of 1960s and '70s, humbly acknowledged her break into Hindi films as a lead actress to the good favor of Dara. Both fired the screen with sixteen ventures that included Veer Bhimsen, Samson, Hercules, Tarzan Comes to Delhi, Sikandar E Azam, Raaka, Boxer and Daku Mangal Singh.

This alpha male was indeed the first action king of Hindi film industry and he could tear apart fire-spitting lizards, throw other champions like pieces of brick and jump from moon to the earth and introduced new moves in fight sequences. One can refer to him as the trendsetter of ripping the shirt open to reveal a well-toned physique.

Perhaps the reigning Bollywood superstar, Salman Khan's antics of a similar kind was a derivative from that of Dara Singh.

His movies were as much a feast to the ears – who can forget the lyrics of "Abhi kamsin ho, nadaan ho, jaane jaana" from his movie Aaya Toofan.

What however remains unanswered is why his movies were never reviewed by mainstream film critics.

Nonetheless when it came to adeptly stealing popular Indian imagination even his directorial ventures were not far behind. He directed seven Punjabi films — Sawa Lakh Se Ek Ladaun, Nanak Dukhiya Sub Sansar (National Award-winning movie), Dhyanu Bhagat, Rab Dian Rakhan and two Hindi films: Bhakti Mein Shakti and Rustom.

He also produced eight films, was scriptwriter for seven and developed Dara Studio at Mohali, Punjab that continues to operate even today.

---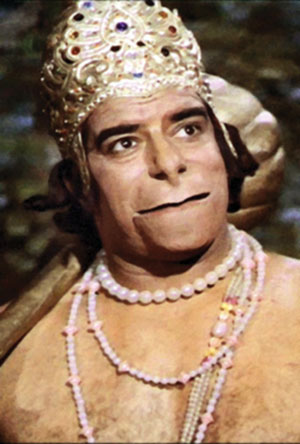 (Right): Dara Singh as Hanuman in Ramayana.
---
To the present generation he is most recognizable as Hanuman, Monkey God of Hindu pantheon.

In the ever popular 78-episode television series Ramayan (an adaptation of Hindu epic Ramayana) produced by Ramanand Sagar in 1987-88 that drew a record hundred million Indian viewers each Sunday when the episode was aired, his convincing depiction of the avatar translated into his pictures (in that guise) being used for worship by many a household and small temples across the country.

(In the epic Ramayana, Hanuman is greatest disciple of Lord Rama of Ayodhya and his resourcefulness is crucial for Rama's triumph over Ravana of Lanka)

His last memorable venture was as the benevolent, strict patriarch in Imtiaz Ali's Jab We Met in 2003.

As for any superstar lucrative endorsement offers came by the dozens but he opted for only those products that were in agreement with his belief.

His life was embellished with a fruitful political stint as distinguished member of the Upper House or Rajya Sabha of Indian Parliament from 2003 to 2009.

Despite all this, our invincible action man succumbed to the law nature that snatches away every being that takes life.

The larger than life, Dara Singh is survived by a wife and six children, three sons and three daughters.

His eldest child, Vindu Dara Singh reminisces, "He was indeed an angel for he strove to rise high only through sheer merit, hard work and honesty and not a measure of deceit of arrogance."

As it was aptly said, "Jata hai to jaa O jaanewale, jaa mere man se, dhadkan se, tu jaa sake to jaa" – (King Kong 1962). [You may go from my world but then can you leave my breath, my heart…]

May his soul rest in peace.