EDITORIAL: Happy Birthday, India!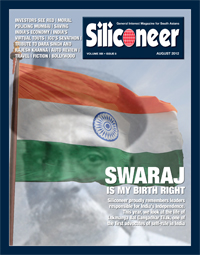 It's August and another birthday for India is coming up. As always, in this month's cover story, Siliconeer proudly remembers leaders who shaped India's independence.

This year we take you through the life of Lokmanya Bal Gangadhar Tilak, who was one of the first advocates of self-rule in India.

An Indian nationalist, teacher, social reformer, lawyer and independence fighter, he was the first popular leader of India's Independence Movement and was conferred with the honorary title of "Lokmanya."

As the Indian government was being pursued by international business and finance giants to make its policies more constraint free, U.S. President Barack Obama also made subtle suggestions at India's need to unleash its second wave of economic reforms to make it globally more competitive as its investment climate is fast deteriorating, but India's corporate affairs minister has a very different outlook, writes Priyanka Bhardwaj.

Mumbai was once India's nightlife hub, but in recent times partygoers are reeling under the fear of raids by Mumbai Police for the slightest violation of laws. Some think of it as a welcome sign, while others argue that the 'no-no' list seems to be growing, while more demanding issues are left unattended, writes Siddharth Srivastava.

Expectations are high that Prime Minister Manmohan Singh, a trained economist, and now also the finance minister of India, could finally make a mark in his second stint as head of government. The stock markets that have been in doldrums for long are buzzing again, writes Siddharth Srivastava.

It was no secret, and now it's official. India is ranked among nations with the worst incidence of corruption, with lower government officials, referred locally as babus, some of the biggest perpetrators of such illegal activity. The tout-babu nexus that has existed for generations in India is not easy to break as both feed off each other, writes Siddharth Srivastava.

Altough it is a month of celebration for India, there are some who left us for the inevitable journey beyond time.

We fondly remember Dara Singh and Rajesh Khanna, both much loved, but for different reasons as Priyanka Bhardwaj and Joginder Tuteja write.

On a lighter note, coming back to summer's favorite activity, we take you through a trip down memory lane in this month's travel feature.

The Wolfe Memorial Home and the Biltmore House were an enormous main course to the real reason our party was in Asheville. We were a large party of automotive writers and photographers assembled to put the newest generation of Audi motorcars to a test on the demanding highway that winds its way through the celebrated Blue Ridge and Smoky Mountains. A dessert worthy of the Southern Hospitality, starter and main course we had feasted on earlier, writes our travel editor Al Auger.

Jai Hind!