SUBCONTINENT
Virtual Touts Hold India Hostage


India is ranked among nations with the worst incidence of corruption, with lower government officials, referred locally as babus, some of the biggest perpetrators of such illegal activity. The tout-babu nexus that has existed for generations in India is not easy to break as both feed off each other, writes Siddharth Srivastava.

---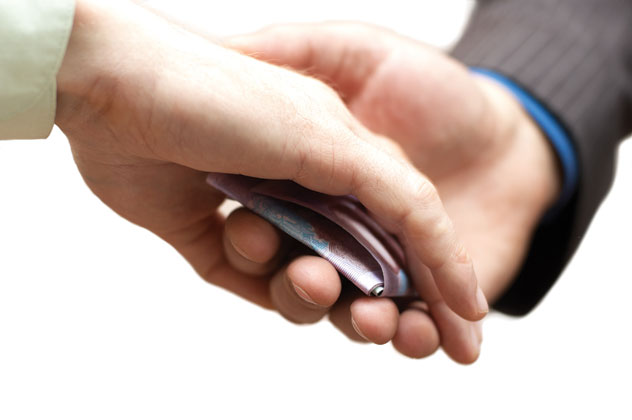 ---
The modus operandi is well worked out — usual administrative processes are turned so unfriendly, harassing and time consuming that anybody seeking a government service is forced to commit an illegality by seeking a tout. The common tax-paying citizen has no choice but to pay extra for a service that should be routine. The collections are then divided among the protagonists of the crime.

The evidence is documented. According to Transparency International, India's Integrity Score continues to decline to 3.1 in 2011 from 3.5 in 2007, 3.4 in 2008 and 2009, and 3.3 in 2010.

India's rank on TI's Corruption Perception Index (CPI) has dipped to 95 out of 183 countries surveyed in 2011 from 87 out of 178 countries in 2010, indicating a serious problem.

In the recent past, Indians have vented their frustrations against corruption by pouring out on the streets in thousands to join civil unrest campaigns. Yet, one important method to improve administrative efficiency is technology or e-governance that reduces scope of human interference and interface.

The process, however, is not turning out to be as simple as envisaged, as recent events demonstrate. They relate to the issue of confirmed rail tickets and passport, both obviously handled by the government and impact many on a regular basis. The touts and babus are in the spotlight, given the added rush of customers due to summer holidays and students preparing to head abroad.

It seems their misplaced ingenuity knows no limits, even virtually. Playing perfect hackers, touts have monopolized the online processes. The Web systems meant to eliminate unauthorized agents simply do not work. Rail tickets are not available. Appointments at the passport office via official website are impossible to come by.

The new age computer savvy e-touts have devised various methods to beat the system – rail tickets are booked on fictitious names while the time slots at the passport office too are taken up by bogus entries. These are then sold or auctioned to real customers for a price. There are also reports of special software, codes and server access illegally procured by touts to skew online processes.

---
---
Of course, all of this is not possible without the babus playing along by leaking confidential database while making it as difficult as possible for citizens to avail over-the-counter facilities. Extended tea and toilet breaks are usual, even as people await their turn in serpentine queues in the ongoing heat wave. For passports, there are unreasonable requests of last moment documents that are not listed. Minors and senior citizens are asked to be personally present.

Exasperated by failed efforts, the citizen is forced to seek the ever-obliging sweet-talking tout that turns the same process seamless, in air-conditioned comfort, home delivery offered at a higher price.

Indeed, given the big business prospects of such black money, touts are abound in India with the offer to fix any matter – driving license, passport, ration cards, property registration, birth and death certificates, PAN card, new gas connections, filing income tax returns, fixing incorrect electricity bills, rail tickets and more.

With economic liberalization, some of the earlier money-spinners such as new telephone connections, opening a bank account, airline tickets or buying a new car, stand eliminated. But there are new openings and options too.

The more enterprising lot of touts set up offices, advertising their services, employ staff dealing with separate subjects, including keeping the babus happy. Some have set up multiple offices in the same city and turned it into a family business. They boldly set up outlets and kiosks near government offices and distribute fliers informing of their existence at the vantage points.

The really successful touts grow into middlemen, managing bigger government deals such as mining and road contracts, gas stations, telecom spectrum, defense deals and more. This does not impact the common man directly, but does affect the overall progress of the nation, that is collectively a setback.

Solutions need to be found. The Indian media has been playing a stellar role in highlighting the problems, conducting sting operations, forcing authorities to sit up, as again happened just recently. The slothful babus were made to work weekends and extra hours to get rid of the huge passport backlog.

The queues disappeared given the large presence of TV crews.

Structural changes, however, still need to be implemented. The touts-babus will be back in business once the media glare subsides.

India does have a long fight ahead, against corruption.