COMMUNITY
Walk for a Cause: ICC's Sevathon 2012


ICC table tennis champions Ariel Hsing and Lily Zhang opened Sevathon 2012 with a spectacular march that had hundreds walking to the tunes of Mahatma Gandhi's songs at Baylands Park in Sunnyvale, Calif., July 15. A Siliconeer report.

---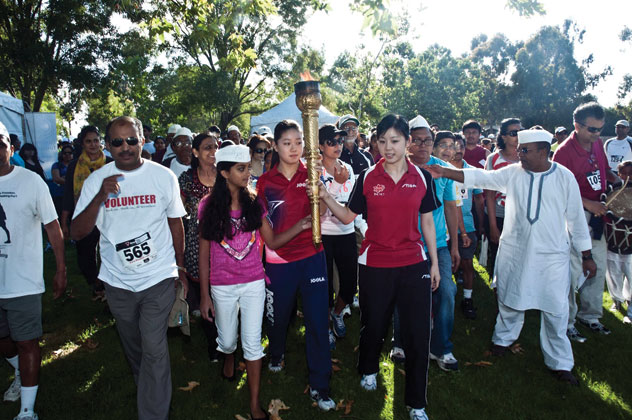 (Above): ICC table tennis champions Ariel Hsing and Lily Zhang, who will be representing USA at the 2012 London Olympics, opened Sevathon 2012 at Baylands Park in Sunnyvale, Calif., July 15. [All photos: ICC]
---
Over 3,000 people attended the walk/run and the cultural extravaganza that ran in parallel. Deriving its name from the Sanskrit word seva (service), Sevathon brought together 62 Bay Area non-profits as collectively thousands of members joined in the walkathon to celebrate the spirit of service.

Hsing and Zhang, dressed in their team gear, arrived to a cheering crowd and led to crowd to the start point carrying with them the seva torch that has traveled through San Francisco Bay Area cities over the last three months raising awareness about the various participating non-profits. The inspiring ceremony, now a Sevathon ritual, is a tribute to Mahatma Gandhi, whose Dandi March across India became the turning point of India's independence struggle.

---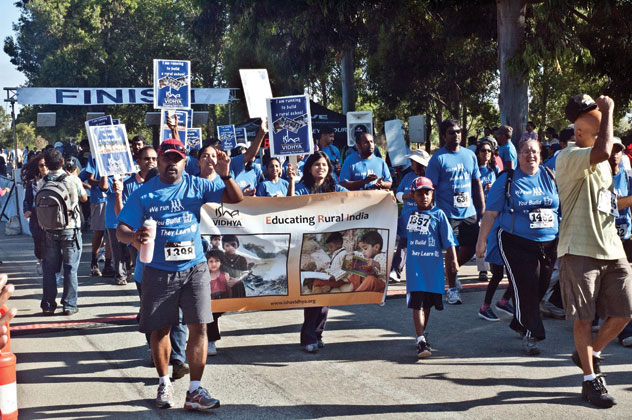 (Above): A non-profit group walks displaying their organization's cause. [All photos: ICC]
---
"My 5k run does not even come close to what Gandhi ji did but it will help someone in need and that's my inspiration. He inspired a nation then and he continues to inspire now with Sevathon. My little gesture of seva is the right step," Sree Sreenivasan, a Cupertino resident, said as he watched in awe the massive crowd follow the torch.

At Sevathon, the walkers/runners can choose to raise funds for any of the participating non-profits. Sevathon partners work at home and across the globe from bringing solar lights to the villages in Africa, promoting literacy in rural India to helping domestic abuse victims right here in San Francisco Bay Area.

---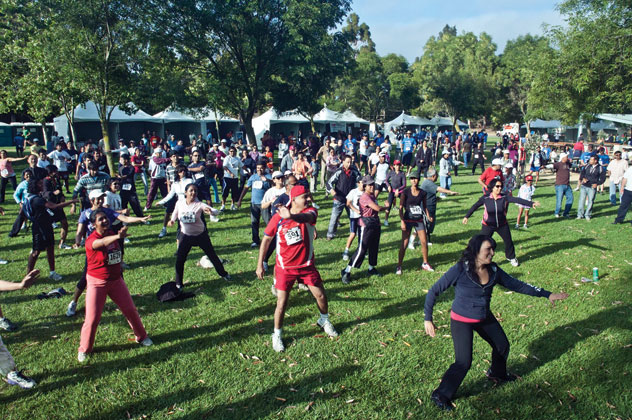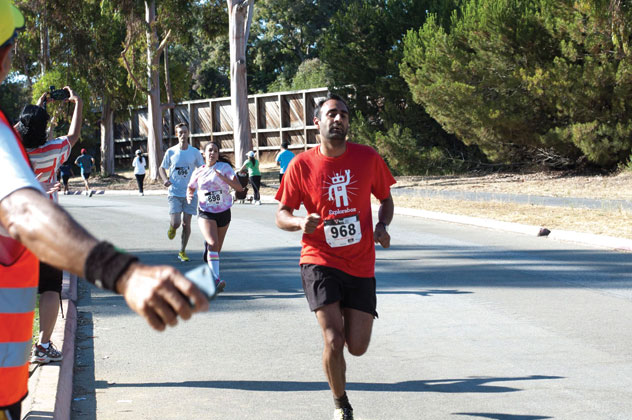 (Above): (Top): Hundreds take part in the warm-up dance and exercise at the Sevathon 2012 held at Baylands Park in Sunnyvale, Calif., July 15. (Bottom): A runner reaches the finish line. [All photos: ICC]
---
"The support we have received over the last three years has been just amazing. The spirit of seva has caught on and it is gratifying to see people open their hearts to support others. Sevathon 2012 has been a massive success. I am especially grateful to our volunteers…we had over a 100 people who selflessly gave their time and effort to put together this massive event and make it a success. We have truly embraced the spirit of seva and it is heartwarming to see this catching on. The participation has been overwhelming," Anuradha Jagdeesh, co-chair for Sevathon 2012 said.

For the participating non-profit organizations, the success of their five months of hard work was an overwhelming and emotional moment. The organizations put in countless hours driving registrations, reaching out to the community and collaborating to put together the event logistics. Bay Area did not disappoint them. The NPO booths saw a constant flow of people as the beautiful summer day, which turned out to be pleasantly cooler than expected, attracted many picnickers.

---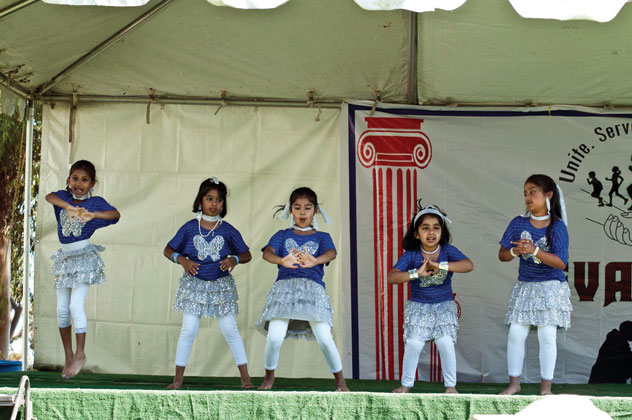 (Above): Kids perform dances at the mela. [All photos: ICC]
---
"All sixty two non-profit organizations together on a single stage for a common cause… this in itself is an achievement. For all of us Sevathon is truly about service and coming together. We shared resources and ideas, we helped each other, we worked together… this is just amazing," said Tanuja Bahal, executive director of India Community Center, the umbrella organization that conceptualized the event and provided the common platform to the NPOs.