AUTO REVIEW:
Less Gas, More Features: 2013 Ford Fusion


The Ford Fusion has been on the market since 2006, and it has gained in popularity year after year. For 2013, the Fusion comes with more features and powertrain options than currently available in any other car in its class, writes our automotive editor Sally Miller Wyatt.
---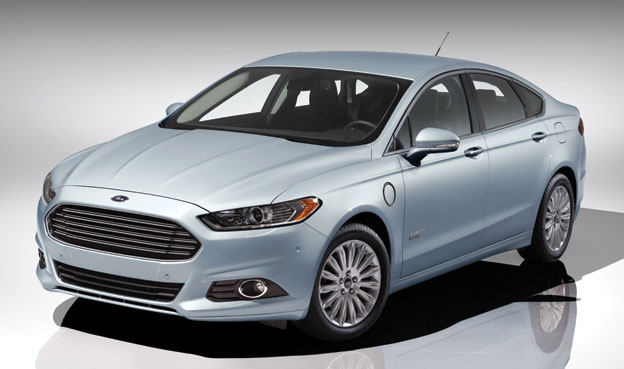 (Above): Exterior view of the 2013 Ford Fusion Energi.
---
The Ford Fusion has become a hit with families for its comfort and convenience features, and has also earned several awards. The latest come from Kelley Blue Book, after it was named one of their Top 10 Best Family Cars for 2013. It also gets top ratings for safety from the National Highway Traffic Safety Administration, and a Top Safety Pick designation from the Insurance Institute for Highway Safety.
And now, for 2013, Ford just keeps building on its success by adding to the car's fuel-thrifty appeal. For this newest model year, the Fusion is available in a variety of powertrains that include two hybrid options and pair of turbocharged engines, plus available all-wheel-drive and lots of cutting-edge technological goodies.
---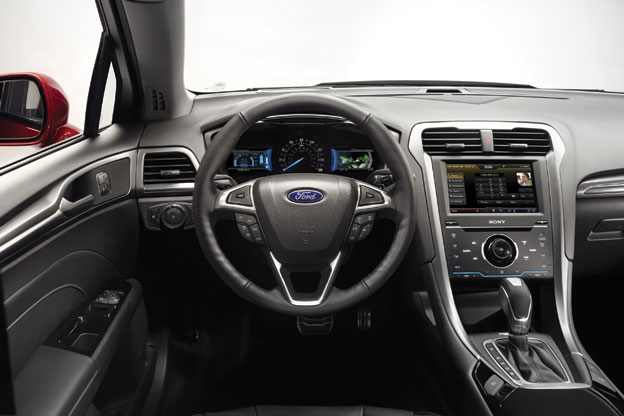 (Above): Interior view of the 2013 Ford Fusion Energi.
---
The Fusion is the first sedan to offer gasoline, hybrid and plug-in hybrid powertrains, giving buyers access to near-unbelievable gas mileage ratings. The new-for-2013 plug-in hybrid version – the Ford Fusion Energi -- has a combined 100 mpg for electricity and gas, and has a 620-mile range with a fully charged battery and full fuel tank. That's slightly better than its competition, the Chevy Volt and the Toyota Prius.
The Fusion is also packed with driver-assistance safety features. Ford's Personal Safety System includes new safety belt technology paired with eight air bags. The seat-mounted ones have been redesigned to activate lower down toward the pelvis and the chest area for even better protection during side impact collisions.
The Personal Safety System also has sensors that can calculate a passenger's seating position, weight, and if they are using a seat belt, and use that information – in the event of a frontal collision – to activate the safety belt's pre-tensioners and the two-stage deployment of the front air bags.
Technological gadgets are plentiful and, to be honest, appreciated. The Blind Spot Information System uses radar to identify and alert the driver when vehicles are in the car's blind spot. This is something I wish was on every car. Cross-traffic alert sends out visual and audible alerts to cross-traffic hazards, which is really nice when you've been sandwiched in between two huge SUVs and you're trying to back out of a parking space. That's always the time when someone shoots right past you and you narrowly avoid a parking lot fender bender; this alert lets you know well in advance that there's someone – or something – in your way.
---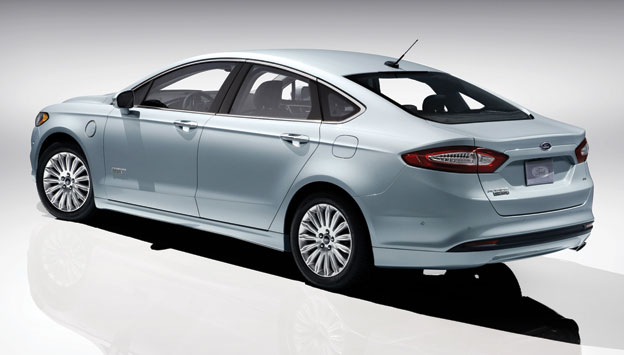 (Above): Exterior view of the 2013 Ford Fusion Energi.
---
Other driver assist technologies include Lane Keeping Assist, Adaptive Cruise Control that notifies you when cars ahead are too close, rear view camera, Hill Start Assist, and Electronic Parking Brake. Active Park Assist, which is an option, actually parallel parks the car for you, at the press of a button. The driver only controls the gas, brake and transmission gear position.
Behind the wheel, I found the seats were comfortable but a bit on the small side. The dashboard is clean and well organized, with few dials.
---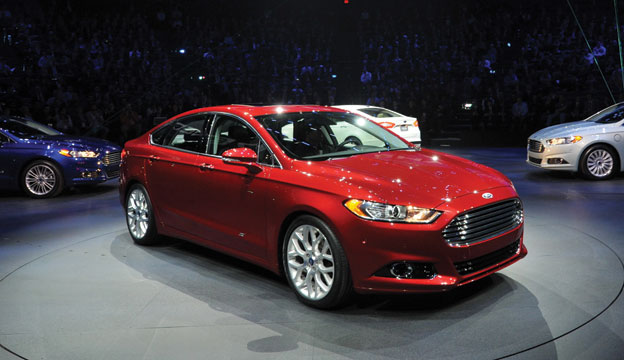 (Above): Exterior view of the 2013 Ford Fusion Energi.
---
This is a five-passenger sedan, unlike the Chevy Volt, but space is sacrificed in the trunk for the battery pack; the trunk is about half the size of a normal one and you'd be limited on just how big a grocery-run you're able to make.
On the road, I found the Fusion Energi to have a gutsy acceleration, although road noise was noticeable.
These plug-in hybrids are expensive, but there are features that may give a buyer pause. The fact that you have so many top-shelf safety features on board, that there is seating for five here and that you're not going to be making many trips to the gas station may just make it all worth it.