BOLLYWOOD | Guftugu | AUGUST 2013


Once Upon A Time In Mumbaai Dobaara: Not An Easy Sequel to Make?
Emraan Hashmi: White Lies to Release by the Year End
Deepika and Ranbir: Friends Forever
Kangna Ranaut: Will She, Won't She
Arjun Rampal: Chance Addition?
---
Once Upon A Time In Mumbaai Dobaara: Not An Easy Sequel to Make?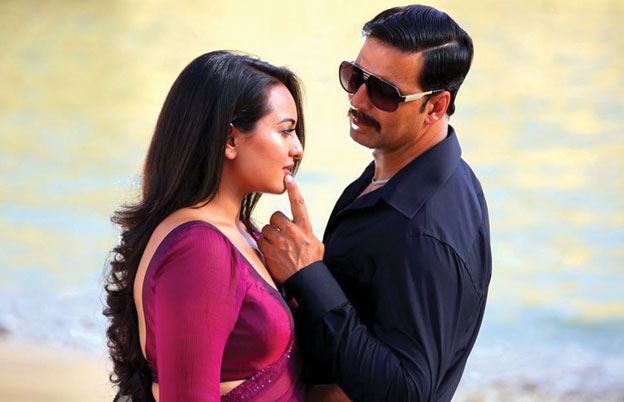 (Above): Sonakshi and Akshay in "Once Upon A Time In Mumbaai Dobaara."

Sequels don't always turn out to be a sure-shot winning formula. We saw that recently with Yamla Pagla Deewana 2, which did just about half the business of the first. Bheja Fry 2 was an apology of a sequel while Murder 3 didn't do as well as Murder 2. However, there have been massive winners too that have managed to surpass the first, like Dhoom 2, Housefull 2, Golmaal Returns, Kyaa Super Kool Hain Hum and Lagey Raho Munnabhai, to name a few.
Says Rajat Aroraa, the writer of Once Upon A Time In Mumbaai and the forthcoming Once Upon A Time In Mumbai Dobaara, "The idea of doing a sequel is because the first one has been appreciated. Some think that doing a sequel is easy, as you can merely repeat the formula. That is not remotely true. In our case we have taken an entirely different route from what we have done earlier."
If many have been surprised by seeing a love story taking prominence in the sequel of Once Upon A Time In Mumbaai, it has all been for a reason.
"Once Upon A Time In Mumbaai was about the struggle of power while the forthcoming sequel is indeed about pyaar. So it is but natural for the color of the film to change. Of course elements which are core to the series are intact. That is the reason why we have the Hero vs. Villain angle in the film's trailer," smiles Rajat. He adds, "The idea is to make the rivalry bigger and more entertaining. So whatever we missed out in the first one is all in there in the sequel. If there is action and drama, there is as much romance."
Considering that the character played by Emraan Hashmi in the original is being taken forward by Akshay Kumar with Sonakshi Sinha and Imran Khan being added, one wonders if Once Upon A Time In Mumbaai Dobaara can be seen as a standalone film or will it be necessary for the audience to have watched the original before stepping in to watch this one.
Says Rajat, after a pause, "Any film has to work on a standalone basis; after all it needs to have enough merits to work on its own. Also, characters need to be such that they get appreciated for what they are than for the history they carry. However, when your original characters are so strong, why not build on them? Immodest as it may sound but many people out there have anyway seen Once Upon A Time In Mumbaai. This means an instant connect does form when the sequel begins. But if you haven't seen the original, you will enjoy the sequel just as much as you would have, had you seen the original."

|TOP|

---
Emraan Hashmi: White Lies to Release by the Year End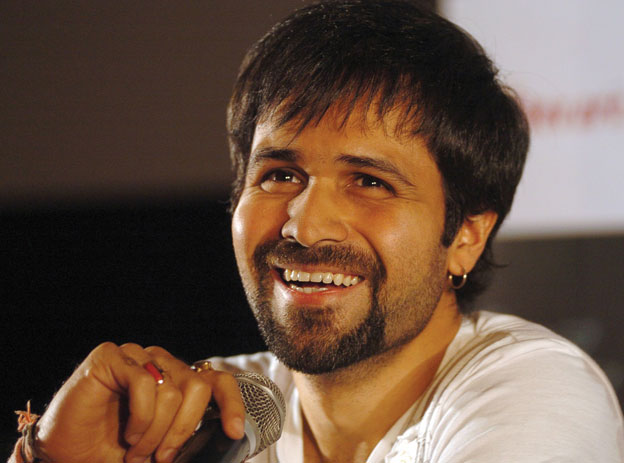 (Above): Emraan Hashmi


After some serious affairs, Ek Thi Daayan, Raaz 3, Shanghai and Jannat 2, Emraan Hashmi was recently seen in a light-hearted role for Ghanchakkar. While this was a rare attempt at comedy, Emraan is now looking at an eventful year ahead with the release of Ungli and then White Lies.

While Ungli would release around fall this year, one wonders what are the release plans of his dramatic White Lies.

"We are finalizing the film currently," says Emraan, "There is no fixed release date but I believe it would be towards the end of the year or beginning of next year. It would be seeing a major international release."

So how was his experience of working with an international director as compared to those with whom he has collaborated on many desi Bollywood flicks?

"Everyone has their own working style; it depends from director to director. Danis Tanovic is great to work with. Of course he comes with a different culture and sensibility. However at the end of it all, he is going to say 'start, sound, camera, action and cut.' Nothing else matters," smiles Emraan before signing off.

|TOP|

---
Deepika and Ranbir: Friends Forever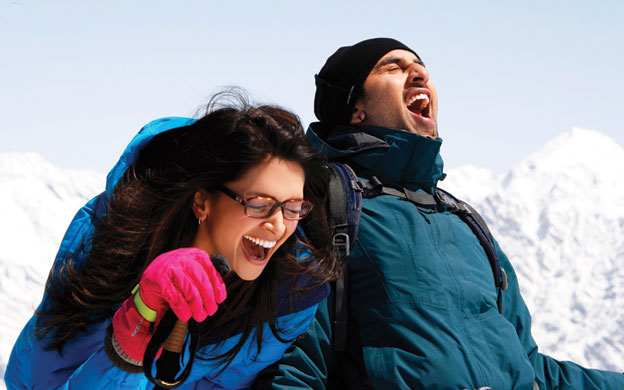 (Above): Deepika and Ranbir in "Yeh Jawaani Hai Deewani."


Things are looking up for Deepika on a personal note. In an industry where it is difficult to distinguish friends from foes, she has managed to find a lifelong friend in the form of an ex-lover no less. They are occupying print space as well as mind space of the audience all the more with their 'good friends' stance. Flaunting their much cherished friendship, it is remarkable to see how Deepika and Ranbir have moved on with time and have turned out to be one of those rare mature individuals who have indeed let bygones be bygones.

One wonders though whether this was possible because they are in the same industry and hence it was rudimentary that not just would they cross paths with each other more often, they would also be required to work with each other sooner or later.

"I don't think working together has anything to do with our friendship," says Deepika immediately, "Whether it is consciously or subconsciously, what we share on screen and experience in personal life has absolutely nothing to do with the fact that we are in the same industry. These are two completely different things."

However, did she and Ranbir sit down since the release of their latest blockbuster Yeh Jawaani Hai Deewani and actually brainstorm the ideas that could bring them together as a pair on screen again? After all, they could fill in the romantic space that has been left unoccupied since Shahrukh and Kajol made it their own for more than a decade.

"See, between us everything doesn't have to be spoken about. We get along really well," she smiles, "Moreover, you can't force these things. The same way actors choose scripts, at times the scripts too chose those actors who are destined to play some parts. I am sure something as beautiful as Yeh Jawaani Hai Deewani will happen again for us."

|TOP|

---
Kangna Ranaut: Will She, Won't She?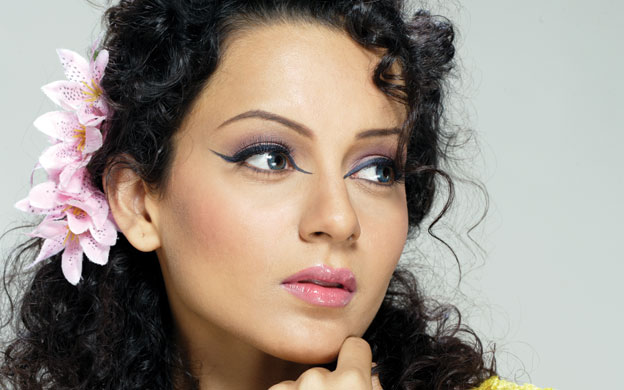 (Above): Kangna Ranaut


Kangna Ranaut may have not been a part of the promotional plan for Shootout at Wadala and also found herself as a minor part of the all-men gangster tale. There is still a flicker of hope ahead for her. The makers of I Love New Year have devised a strategy for the film to be pitched as a true comeback affair for the actress who would be seen in a central role after a hiatus.

"She did step into Shootout at Wadala knowing what was expected of her. However, for someone who was all set to build a good standing for herself after the success of Tanu Weds Manu, the journey has been hardly impressive. She could definitely have done better than pick the likes of Game, Rascals, Tezz and Miley Na Miley Hum, where she hardly had anything to do. Her only success, Double Dhamaal, too featured her in a minor role.

All of that should change with I Love New Year where the entire film revolves around her and Sunny Deol," informs a source.

The film focuses on a night when the character played by Sunny Deol accidentally lands up at Kangna's apartment. The story that unfolds from there leads to a romantic liaison that takes course over next few hours.

"Yes, we are pitching the film as Kangna's comeback," says Bhushan Kumar, the film's producer, "Why shouldn't we do that? She has a very major role in the film which revolves around her. She is the solo heroine and is there in every shot. She is a wonderful actor and has shown her mettle with Tanu Weds Manu. She is very charged to promote the film as well."

Well, here's to hoping that the lady is equally excited and begins to demonstrate that enthusiasm sooner rather than later.

|TOP|

---
Arjun Rampal: Not Part of the Original Script?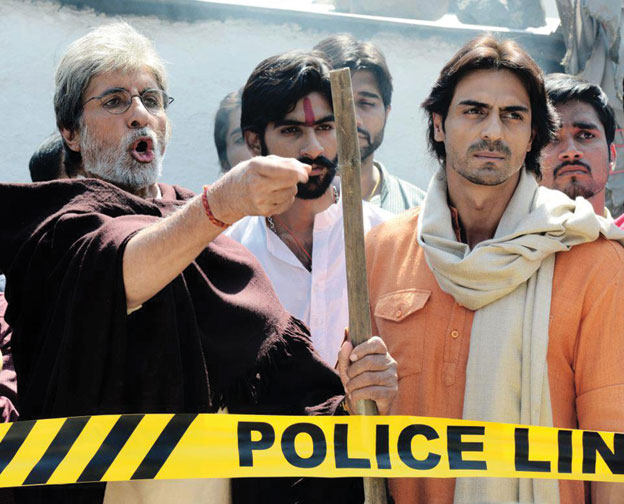 (Above): Amitabh Bachchan and Arjun Rampal in "Satyagraha."


If the script of Satyagraha stayed as original, the film would have featured only Amitabh Bachchan and Ajay Devgn. While they were the first and only choices for Prakash Jha, the filmmaker was also content with the way he wanted to tell the story of Satyagraha. As for Arjun Rampal, one of the favourites with Jha since Raajneeti, he was not even on the radar.

"That, when he had delivered a fantastic performance in Raajneeti," informs a source, "Prakash Jha was sure that Amitabh Bachchan and Ajay Devgn were the pillars of Satyagraha. He was going ahead as planned."

It all seemed well that after a rather curtailed part in Raajneeti, Ajay was raring to go. On the other hand after a rather forgettable outing in Aarakshan, there had to be something special by Big B-Jha combo in Satyagraha. Meanwhile Manoj Bajpai, a steady associate of Jha right from Raajneeti, Aarakshan and Chakravyuh, was a straight forward choice as a baddie.

"This is when in a conversation with Arjun during the shooting of Chakravyuh, Jha casually asked him if he would be interested in being a part of Satyagraha," the source adds, "Arjun was obviously thrilled but still wanted to know what Jha had in mind. Jha too knew that to bring in Arjun into this multistarrer affair, the role would have to be really strong. He assured Arjun that there would be something special for sure and told him that he would revert soon."

Once Jha went back to the drawing boards, he included the part of an aspiring politician in Satyagraha and integrated it with the characters played by Bachchan and Ajay, who play a professor and businessman respectively.

Confirms Arjun, "It turned out quite well and I was sold. Not that I had to be given too many explanations. Prakash Jha is my favourite director to work with. I trust him blindly. The moment he said he was thinking about me, I immediately knew that he would challenge me with something exciting all over again. I really respect him. I am glad he built a space for me."

With the space only leading to the crowd swelling further, one hopes that it is indeed a case of 'the more the merrier.'

|TOP|