COVER STORY:
The Patriotic Saint: Swami Vivekananda



Swami Vivekananda was a key figure in the introduction of the Indian philosophies of Vedanta and Yoga to the western world and is credited with raising interfaith awareness, and bringing Hinduism to the status of a major world religion in the late 19th century. He was a major force in the revival of Hinduism in India and contributed to the notion of nationalism in colonial India. Perhaps best known for his inspiring speech beginning with "Sisters and Brothers of America," through which he introduced Hinduism at the Parliament of the World's Religions in Chicago in 1893, Vivekananda also toured the Indian subcontinent extensively and acquired firsthand knowledge of the conditions that prevailed in British India. He conducted hundreds of lectures and classes, disseminating tenets of Hindu philosophy in the United States, England and Europe. In India, Vivekananda is regarded as a patriotic saint and his birthday is celebrated as the National Youth Day.

Siliconeer presents a remembrance of his life and work in this year's Independence Day Special feature.

---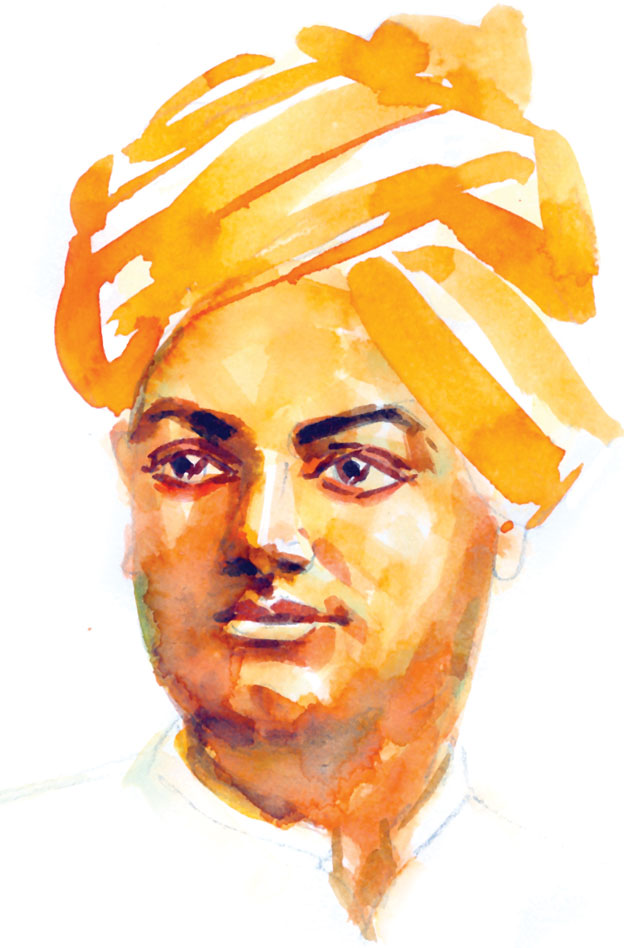 (Above): A painting of Swami Vivekananda. [Photo: Ram Krishna Mission]
---
"I am indebted to my mother for the efflorescence of my knowledge." — Swami Vivekananda

Swami Vivekananda revitalized Hinduism within and outside India. He was the principal reason behind the enthusiastic reception of yoga, transcendental meditation, and other forms of Indian spiritual self-improvement in the West.

In the background of germinating nationalism in the British-ruled India, Vivekananda crystallized the nationalistic ideal.

In the words of the social reformer Charles Freer Andrews, "The Swami's intrepid patriotism gave a new color to the national movement throughout India. More than any other single individual of that period Vivekananda had made his contribution to the new awakening of India."

Vivekananda drew the attention towards the prevalence of poverty in the country, and maintained that addressing such poverty was a prerequisite for national awakening. His nationalistic thoughts influenced scores of Indian thinkers and leaders. Vivekananda influenced India's independence movement.

Sri Aurobindo regarded Vivekananda as the one who awakened India spiritually. Gandhi counted him among the few Hindu reformers "who have maintained this Hindu religion in a state of splendor by cutting down the dead wood of tradition."

The first governor general of independent India, Chakravarti Rajagopalachari said, "Vivekananda saved Hinduism, saved India." According to Subhas Chandra Bose, a major proponent of armed struggle for Indian independence, Vivekananda was "the maker of modern India." For Mahatma Gandhi, Vivekananda's influence increased his "love for his country a thousand-fold."

His writings inspired freedom fighters like Bal Gangadhar Tilak, Bipin Chandra Pal and Bagha Jatin. Many years after Vivekananda's death, Rabindranath Tagore told French Nobel Laureate Romain Rolland, "If you want to know India, study Vivekananda. In him everything is positive and nothing negative."

This year marks the 150th birth anniversary of Swami Vivekananda, and is being celebrated in India and the world with yearlong events by Ramakrishna Math, Ramakrishna Mission and numerous other organizations.
---
(Above): Swami Vivekananda in Chennai, 1897, after the first tour of the West.
Seated on floor:(second) Biligiri Iyengar; (fourth) M.C. Nanjunda Rao.
Seated in chairs: Tarapada, Shivananda, Vivekananda, Niranjananada, Sadananda.
Standing: Alasinga Perumal (first), J.J. Goodwin (second), M.N. Banerjee (third).
February 1897. [Photo: Wikimedia Commons]
---
The Life and Teachings of Swami Vivekananda
Swami Vivekananda was born as Narendranath Datta to a traditional Bengali family, in Calcutta, the capital of British India, on January 12, 1863. His father was an attorney at the Calcutta High Court. His grandfather was a Sanskrit and Persian scholar. Narendra's mother was a religious housewife. The progressive rational approach of Narendra's father and the religious temperament of his mother helped shape his thinking and personality.
Narenda was interested in spirituality from a young age, and used to play by meditating before the images of deities such as Shiva, Rama, and Sita. He was fascinated by monks.
In 1871, Narendra enrolled at Ishwar Chandra Vidyasagar's Metropolitan Institution  as a student. In 1879, after the family returned to Calcutta, he received first division marks in Presidency College's entrance examination. He was the only student of his college to score first division marks. Narendra was an avid reader and was interested in a wide range of subjects like philosophy, religion, history, social science, art, and literature.
He showed interest in Hindu scriptures such as the Vedas, Upanishads, Bhagavad Gita, Ramayana, Mahabharata and Puranas. He was trained in Indian classical music, and regularly participated in various sports and organizational activities.
---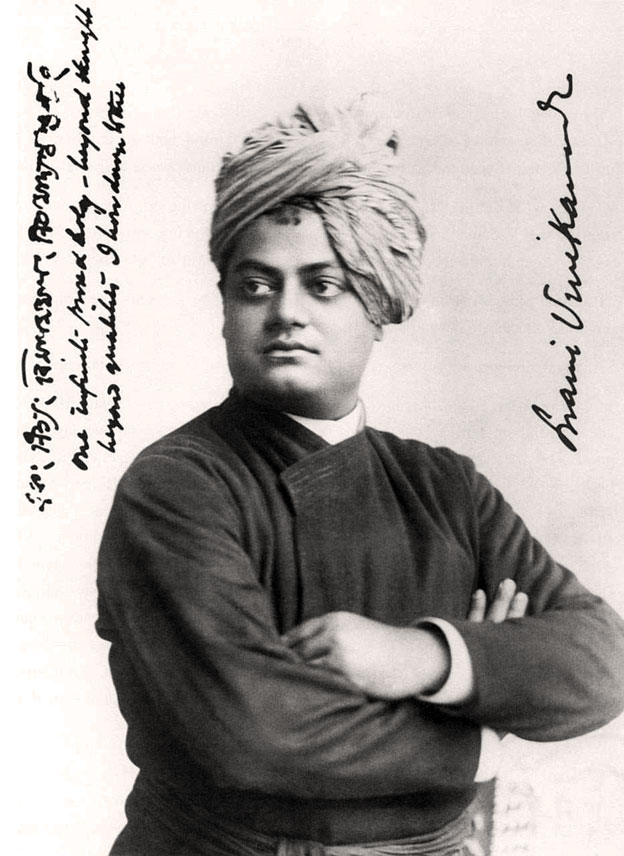 (Above): Swami Vivekananda, September 1893, Chicago. On the left, Vivekananda wrote: "one infinite pure and holy – beyond thought beyond qualities I bow down to thee." [Photo: Wikimedia Commons]
---
Narendra studied western logic, western philosophy, and European history at the General Assembly's Institution (now known as the Scottish Church College).

Fascinated with the evolutionism of Herbert Spencer, he translated Spencer's book Education (1861) in Bengali.

Even while studying Western philosophers, he thoroughly acquainted himself with Sanskrit scriptures and Bengali literature.

Narendra joined a breakaway faction of the Brahmo Samaj led by Keshub Chandra Sen and Debendranath Tagore. His initial beliefs were shaped by Brahmo concepts, which included belief in a formless God and the deprecation of idolatry.

Narendra met Debendranath Tagore, the leader of Brahmo Samaj, and questioned if he had seen God. Instead of answering his question, Tagore said, "My boy, you have the Yogi's eyes."

Narendra wondered if God and religion could be made a part of one's growing experiences.

Narendra's first introduction to Ramakrishna occurred in a literature class, when he heard Professor William Hastie lecturing on William Wordsworth's poem The Excursion. While explaining the word 'trance' in the poem, Hastie suggested his students to visit Ramakrishna of Dakshineswar to know the real meaning of trance. This prompted Narendra to visit Ramakrishna.

In late 1881 or early 1882, Narendra visited Dakshineswar. The meeting proved to be a turning point in his life.

At first Narendra could not accept Ramakrishna but he did not neglect him. Instead, he tested Ramakrishna, who faced all of his arguments and examinations with patience — "Try to see the truth from all angles" was Ramakrishna's reply.

The sudden death of Narendra's father in 1884 left the family bankrupt. Facing dejection at various crossroads of life, he began questioning God's existence, but found solace in Ramakrishna, and his visits to Dakshineswar increased. He gradually renounced everything for the sake of realizing God, accepting Ramakrishna as his guru.

Narendra's guru, Ramakrishna taught that service to men was the most effective worship of God. In January 1887, Narendra and eight other disciples took formal monastic vows. Narendra took the name of Swami Bibidishananda.

He was given the name 'Vivekananda' by Ajit Singh, the Maharaja of Khetri, much later, in 1893.

In 1888, Narendra left the monastery. He traveled extensively in India for five years, visiting centers of learning, acquainting himself with the diverse religious traditions and different patterns of social life. He developed a sympathy for the suffering and poverty of the masses and resolved to uplift the nation.

While traveling all over India, Swami Vivekananda reached Kanyakumari where he meditated on the "last bit of Indian rock," later known as the Vivekananda Rock Memorial. This is where Vivekananda had the vision of one India, also commonly called "The Kanyakumari Resolve of 1892." He wrote:

"At Cape Comorin sitting in Mother Kumari's temple, sitting on the last bit of Indian rock—I hit upon a plan: We are so many sanyasis wandering about, and teaching the people metaphysics—it is all madness. Did not our Gurudev use to say, 'An empty stomach is no good for religion?' We as a nation have lost our individuality and that is the cause of all mischief in India. We have to raise the masses."

Vivekananda was a powerful orator and writer in English and Bengali. His Bengali writings stand testimony to the fact that he believed that words — spoken or written — should be for making things easier to understand rather than show off the speaker or writer's knowledge.

Meanwhile, Parliament of the World's Religions opened on September 11, 1893 at the Art Institute of Chicago as part of the World's Columbian Exposition.

After much persuasion, Vivekananda decided to attend the event.

Swami Vivekananda gave his first brief speech, representing India and Hinduism. Initially nervous, he bowed to goddess Saraswati, the Hindu goddess of learning, and began his speech with, "Sisters and brothers of America!" To these words he got a standing ovation from a crowd of seven thousand, which lasted for two minutes. When silence was restored he began his address.

He spoke several more times at the Parliament on topics related to Hinduism, Buddhism and harmony of religions. All his speeches at the Parliament had the common theme of universality, and emphasized religious tolerance.

"I do not come," said Swami Vivekananda, on one occasion in America, "to convert you to a new belief. I want you to keep your own belief; I want to make the Methodist a better Methodist; the Presbyterian a better Presbyterian; the Unitarian a better Unitarian. I want to teach you to live the truth, to reveal the light within your own soul."

Following the Parliament of Religions, Vivekananda spent nearly two years lecturing in various parts of eastern and central United States. He founded the "Vedanta Society of New York" in 1894.

Vivekananda was offered academic positions in as the chair of Eastern Philosophy at Harvard University and another similar position at Columbia University, both of which he declined since such duties would conflict with his commitment as a monk.
---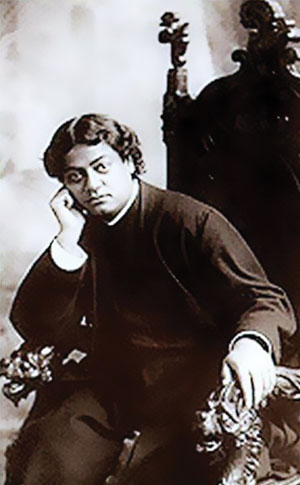 (Right): Swami Vivekananda in the year 1900 in San Francisco. The photo was shot at Bushnell Studio. [Photo: Wikimedia Commons]
---
Vivekananda attracted several followers and admirers in the U.S. and Europe. He initiated several followers into his mission. In November 1895, Swami Vivekananda visited England. He met Margaret Elizabeth Noble, an Irish lady, who would later become Sister Nivedita and devote the rest of her life to the education of Indian women and the cause of India's independence.

From West, Vivekananda also set his work back in India in motion. He was in regular correspondence with his followers, offering advice and monetary funds. His letters in this period reflect motives of his campaign for social service, and often contained strong words. He wrote to Swami Akhandananda:

"Go from door to door amongst the poor and lower classes of the town of Khetri and teach them religion. Also, let them have oral lessons on geography and such other subjects. No good will come of sitting idle and having princely dishes, and saying "Ramakrishna, O Lord!" — unless you can do some good to the poor."

While in the West, Swami Vivekananda talked of India's great spiritual heritage; on return to India he repeatedly addressed social issues — uplift of the population, getting rid of the caste system, promotion of science, industrialization of the country, addressing the widespread poverty, and the end of the colonial rule.

These lectures portrayed his nationalistic fervor and spiritual ideology.

In 1897, Vivekananda founded the Ramakrishna Mission in Calcutta. Vivekananda had also inspired Jamsetji Tata to set up a research and educational institution when they traveled together from Yokohama to Chicago on Vivekananda's first visit to the West in 1893.

Despite declining health, Vivekananda left for the West for the second time in June 1899. He was accompanied by Sister Nivedita and Swami Turiyananda. Following a short stay in England, he went to the United States. During this visit, he established the Vedanta societies at San Francisco and New York. He also founded Shanti Ashrama (peace retreat) at California. He then visited Paris, the Middle East and finally returned to Calcutta.
---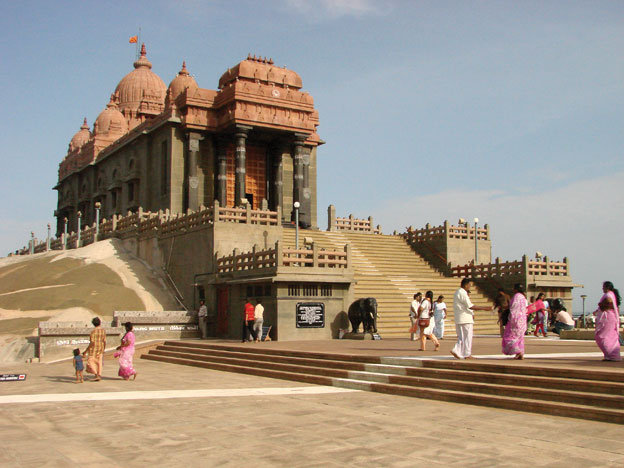 (Above): A temple memorial for Swami Vivekananda at Kanyakumari in
southern India. [Photo: Adam Jones, Ph.D. | Global Photo Archive | Wikimedia Commons]
---
Vivekananda believed a country's future depends on its people; his teachings focused on the development of the masses. He wanted "to set in motion a machinery which will bring noblest ideas to the doorstep of even the poorest and the meanest." Vivekananda believed that the essence of Hinduism was best expressed in the Vedanta philosophy, based on the interpretation of Adi Shankara. He summarized the Vedanta's teachings as follows:

"Each soul is potentially divine. The goal is to manifest this Divinity within by controlling nature, external and internal.

Do this either by work, or worship, or mental discipline, or philosophy—by one, or more, or all of these—and be free. This is the whole of religion. Doctrines, or dogmas, or rituals, or books, or temples, or forms, are but secondary details."

Vivekananda linked morality with the control of mind. He saw truth, purity and unselfishness as traits that strengthened the mind. He advised his followers to be holy, unselfish and have shraddha (faith). He supported practice of Brahmacharya (celibacy), and believed that such practice was the source of his physical and mental strength, as well as eloquence. Vivekananda emphasized that success was an outcome of focused thought and action. In his lectures on Raja Yoga, he said, "Take up one idea. Make that one idea your life – think of it, dream of it, live on that idea. Let the brain, muscles, nerves, every part of your body, be full of that idea, and just leave every other idea alone. This is the way to success, that is the way great spiritual giants are produced."

Vivekananda died, July 4, 1902, leaving behind a legacy of patriotism.

Source: Wikipedia