(Above): Excited and anxious faces at the Start Line of the marathon at Sevathon 2013, July 14. [Photo: India Community Center]
---
Sevathon 2013 was a grand success in all aspects. It saw the largest number of participants yet, and donations received by the non-profits directly amounted to $163,500. The gross proceeds after adding sponsorships, NPO sign-up fee, donations and registration fees would be close to $350,000. ICC and the Sevathon team were humbled by the public's response to the event, July 14, that saw thousands of happy faces, talking, walking, running and coming together, completing the vision of Sevathon.
The participants comprised 275 half marathon, 1,000 plus 5K, and 2,200 plus 5K walkers and runners, bringing the grand total close to a whopping 3,500 plus participants. Sevathon's participants included people of all ages; the youngest winner was just 15 while there were twelve participants above the age of 80, and one who was 97.
---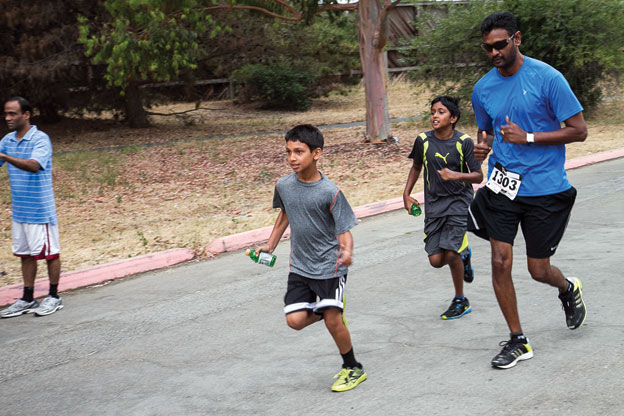 (Above): Runners of all ages, kids and adults alike, ran the marathon side by side, at Sevathon 2013, in Sunnyvale, Calif., July 14. [Photo: India Community Center]

---
There should be more events like Sevathon that bring together people from different generations: children, parents, grandparents and may be even great grandparents, all gathered in one place for the spirit of giving. "Sevathon is a magnificent necklace of colorful shining pearls of many NPOs. Every year the necklace becomes longer and more beautiful adding more and more pearls, which adorn the event and increase the splendor of the day," says Gopi Godhwani, director and chair for senior programs at the India Community Center in Milpitas, Calif. ICC seniors rallied together to register close to 200 participants to support the senior program at ICC Milpitas and Cupertino, Calif.

A lot of planning goes into an event this size and a major role is played by the volunteers who support the organizers and participants. Adding to the excitement in the air, were the hoards of cheering spectators who had gathered to encourage the walkers and runners towards their goals. To say the least, the event successfully brought together myriad of people, for seva (service), forgetting all inhibitions, commitments and worries.

"Sevathon is like an up and coming start-up company which is made up of a good mix of leaders, volunteers and supporters who work together to overcome various peaks, year over year. Each year the event is scaling to new heights," says A.G.K. Karunakaran, co-chair of Sevathon 2013.
---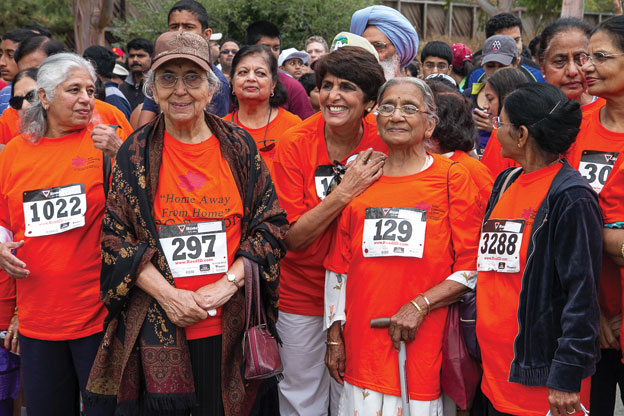 (Above): Enthusiastic seniors ready to take on the Sevathon marathon 2013, July 14. [Photo: India Community Center]

---
Sevathon is the result of combined efforts by ICC and numerous non-profit organizations. Each non-profit comes to the event supporting a cause, and works hard to raise money for it. Among the numerous non-profits that were part of Sevathon 2013, a few names stood out for their perseverance and enthusiasm in raising funds. To name a few, Isha Vidya (Educating Rural India) was recognized for bringing in the largest donation ($37,818) at Sevathon 2013, Jeena Inc., (a self-help group for improving the quality of life for parents and children with developmental disorders) was rewarded for registering the most number of runners (554). Some other notable names were those of Sankara Eye Foundation (dedicated to eradicate curable blindness in India), Maitri Bay Area (helping survivors of domestic violence, emotional abuse and other issues), Akshaya Patra, USA (eradicating hunger, promoting education, one child at a time), and Families for Children (helping children with special needs in India and Bangladesh).

Amidst all the music, dance, and good food, another Sevathon has come and gone; and the Indian community seems to have come closer for the betterment of society. To quote Gopi Godhwani, "Sevathon is a marvelous event, where thousands of people run, enjoy and relish being together, in an overall positive and delightful environment. In a nutshell, Sevathon strengthens the bond between the youth and seniors of the entire community." We can only hope that as the years go by, the Sevathon family keeps growing and spreading goodwill the world over.