BOLLYWOOD | Film Review
Perfect Action Thriller: D-Day


Directed by: Nikhil Advani
Starring: Arjun Rampal, Rishi Kapoor, Irrfan Khan, Shruti Haasan, Huma Qureshi, Aakash Dahiya and Sandeep Kulkarni
Music by: Shankar-Ehsaan-Loy

Review by: Joginder Tuteja
Rating: **** (Superior)
---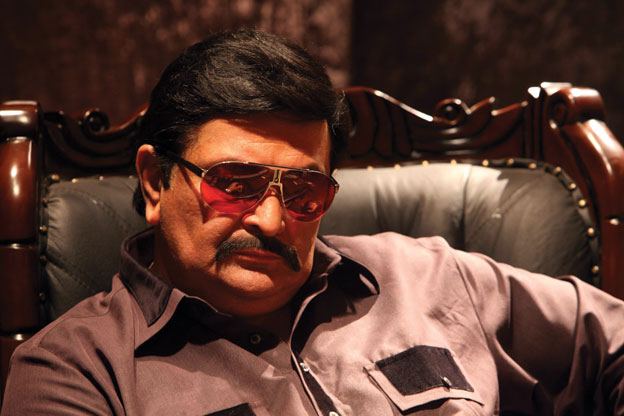 (Above): Rishi Kapoor in "D-Day."

---
A very well-researched and well-made movie, D-Day, is an action thriller  that could well become a textbook for many out there who claim to be dabbling well with the genre. Director Nikhil Advani shows the way to bring international standards in this quintessential desi affair, which is bound to create ripples across the Indian sub continent.

What works most in the hunt for 'India's Most Wanted Man,' is the structure of the narrative aided well by an extremely well crafted screenplay and editing. The pattern that is followed in telling this tale, especially during the first 30 minutes, paves the way for the rest of the movie to follow. The movie begins with a bang and with a feverish pace with as many as five to six different sequences are inter-cut in a single timeframe.
---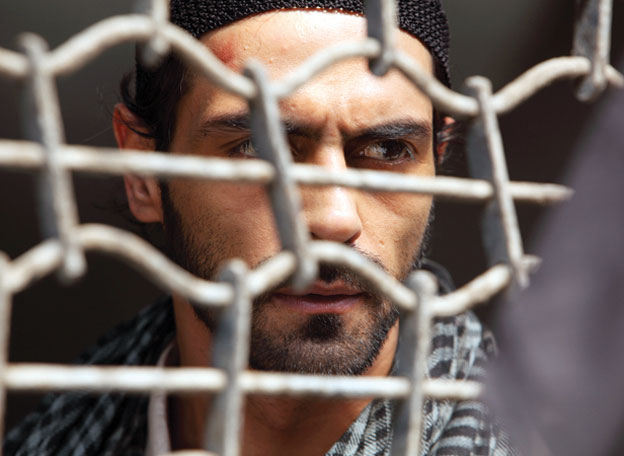 (Above): Arjun Rampal in "D-Day."

---
(Spoilers ahead) So, one gets to see a marriage in progress, agents (Arjun Rampal, Irrfan Khan, Huma Qureshi, Aakash Dahiya) on the move, RAW executing it's covert operation, ISI keeping tabs on their 'khaas mehmaan,' and the 'mehmaan' (Rishi Kapoor) in a world of his own. With all of this and more coming together in this extended sequence where everything from song, action, dialogs, humor and thrills come together, you look at the visuals wide-eyed and wonder what would happen next.

Moreover, just when one thinks that the movie's story has come to a premature end, Nikhil and his team put together their own creativity to build a more interesting second half that is a jigsaw puzzle waiting to be solved. During the interim portions in this part of the movie you could feel that emphasis has strayed a little from the core theme (capturing Rishi Kapoor) to the protagonists resolving their personal issues (Irrfan wants his wife Sree Swara and son to be safe, Arjun settles some scores for his love Shruti Haasan), but it all ties up well in the concluding portions.
---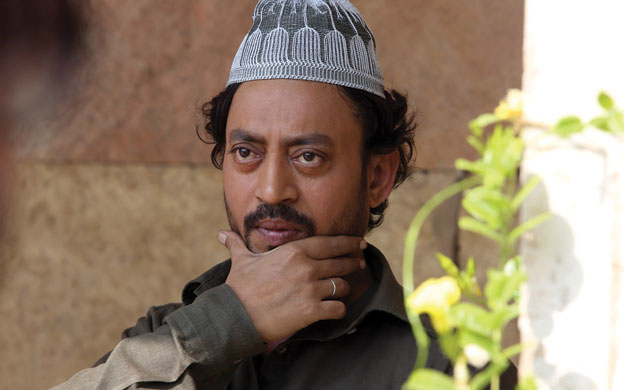 (Above): Irrfan Khan in "D-Day."

---
In fact, the last 15-20 minutes showcase work of true brilliance as after all the action explodes on screen (tremendous work by Tom Struthers), a couple of twists in the tale bring a lump in the throat. The climax is all the more hard-hitting with Rishi Kapoor's monologue, despite the words of an antagonist, making one clap on it, if not cheer for it, since it is acidic, humorous and yet conveys reality.

It is this very facet of reality right through this 150-minute movie that makes it a true candidate for a repeat viewing. Whether it is practically every scene that Rishi Kapoor arrives (fun), Irrfan's scenes with his family (emotional), Arjun's moments with Shruti (tender) and the song Alvida that follows (heart-stopping), hunter turning into hunted (exciting) and then the final resolve (euphoric), you would want to relive the moment. Moreover, it is amazing to see Karachi being recreated in India; it just manages to give the movie an altogether different dimension.
---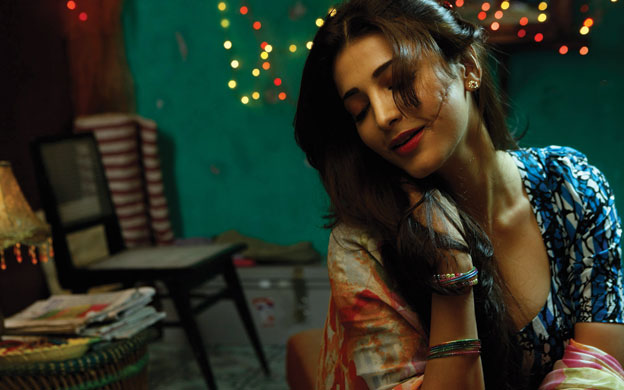 (Above): Shruti Hassan in "D-Day."

---
The actors further help this cause with Rishi Kapoor breaking away from the stereotype portrayal of the gang-lord and bringing an altogether different dimension to the part, Irrfan continuing to be brilliant as ever, showcasing once again what he is capable of, Arjun's unspoken words conveying more than what passages of dialogs may not succeed in doing, Huma being plain natural as a woman who is balanced and composed despite being emotional, Shruti leaving an impact as a prostitute who is living a hopeless life, Sree Swara looking and acting every bit a lower middle class housewife and Aakash ensuring that he doesn't come across as just another Mumbai tapori. Veterans K.K. Raina and Nasser are convincing in their parts while Chandan Roy Sanyal walks on a thin rope and still manages to get away before falling into the trap of hamming.

To sum it all up, D-Day has action, drama, emotion, love, music — just about everything, and that too in a style thats unique to a Bollywood movie.

Highly recommended, if you like action films with an well written story.