(Above): The bucolic and mesmerizing natural beauty that awaits you in the 17-Mile Drive in Monterey, Calif. [Photo: Siliconeer]
---
Recently, we went on a day trip to the 'Mystery Spot' in Santa Cruz Mountains and then to Monterey and Carmel. Our drive took us through some spectacular views of the mountains, countryside and the bucolic and beautiful Pacific Coast.
We decided to take CA-84, CA-35, CA-17, and the coastal Highway 1 to get to Monterey, driving through breathtaking scenes the whole way.
The stretch of Highway 84 and Highway 35 was adventurous. Narrow, winding roadways and sharp turns added to the excitement of coming face to face with something new at every turn. On the way we saw nature at its best, wild and unaltered by the modern times.
---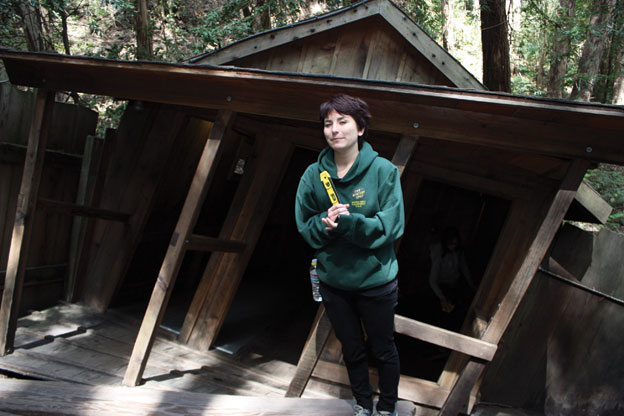 (Above): The Mystery Spot in Santa Cruz, Calif. has strange gravitational pull. [Photo: Siliconeer]

---
The Mystery Spot is a place where the laws of gravity are strange and bizarre things happen. It works exactly the way it isn't supposed to. People don't know why or how this happened but there are some theories. If you love to mock science, this is the place for you.

Absolutely dazzled, we drove to Cannery Row in Monterey. Situated at the oceanfront, Cannery Row gives the feel of Fisherman's Wharf in San Francisco, only it is more vintage and less crowded. There is much to do — start with breathing fresh air from the Pacific Ocean, visit the much acclaimed Monterey Bay Aquarium, stroll the stretch of Cannery Row shops, be amazed again at the Monterey Mirror Maze and finally, relax at Starbucks.

The Monterey Mirror Maze is a place where one gets lost into another dimension. Pretty hard to work through but real fun.
---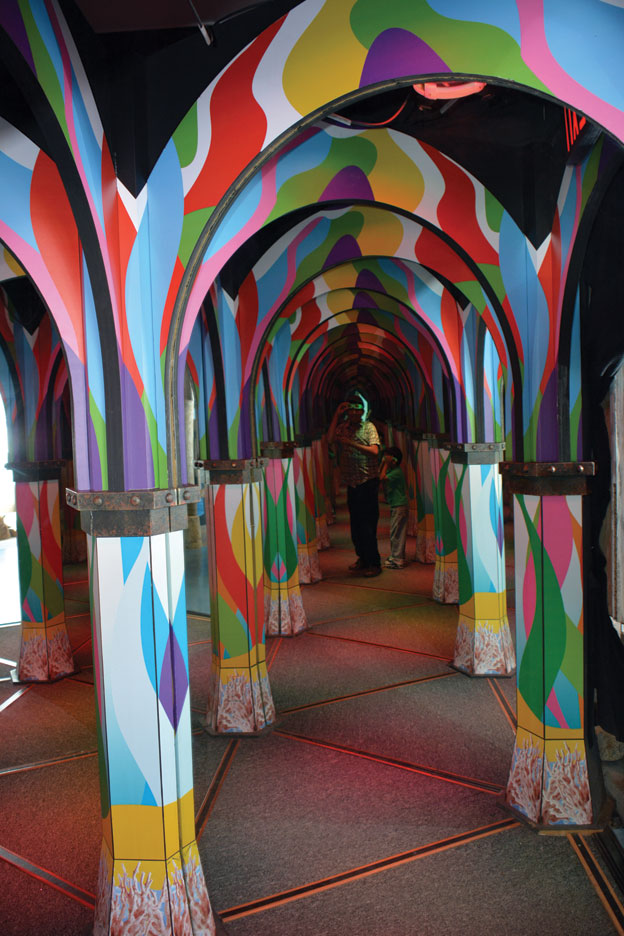 (Above): The Mirror Maze in Monterey, Calif. [Photo: Siliconeer]

---
We next headed to Carmel-by-the-Sea for some lunch and beach fun. Our first stop was Patisserie Boissiere Restaurant. The restaurant serves French cuisine. Food is fabulous and pastries are divine. It is a bit pricey but service is nice and the overall look and feel justifies the high price.
Carmel-by-the-Sea is a small seaside town. Arts, wine, pastries, coffee, fashion and the likes, were abundantly available at boutique shops that lined the walk to the beach.
We visited the Wyland Gallery, full of exemplary art and sculptures from featured artists such as Michael Godard, David Wight, and more. Slowly, we made our way to the beach – the playground for adults and kids alike. Carmel has a clean white sand beach with great waves and not-so-cold water.
---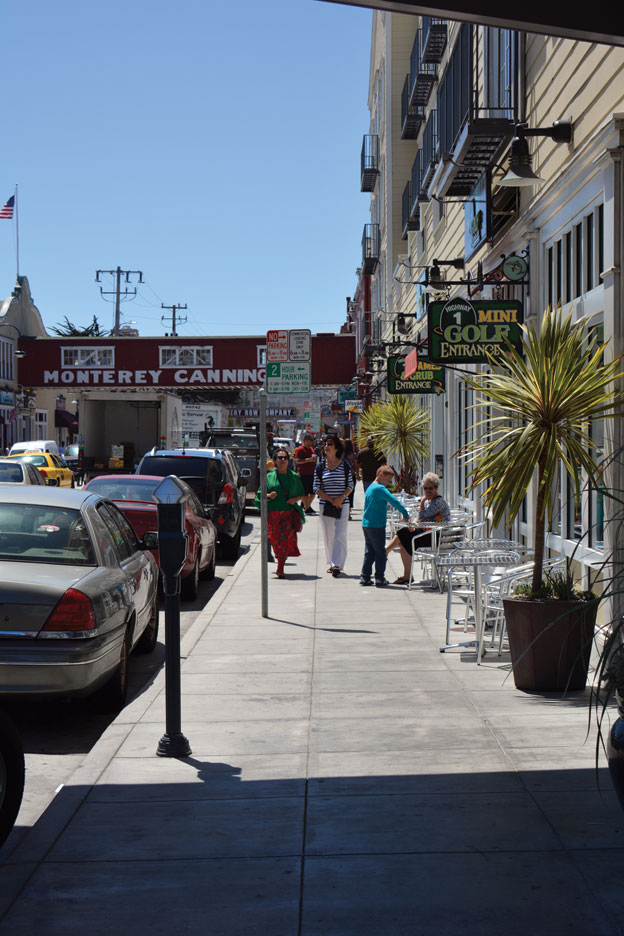 (Above): A piece of history, the Cannery Row in Monterey, Calif. [Photo: Siliconeer]

---
Without much ado, we donned our beachwear and hit the water. Nothing seemed more inviting at that moment.
We played for about an hour and before you know, it was time to head back to the car and on to 17-Mile Drive.
The way back to the car was a daunting uphill walk. By the time we reached the top, there was a code three alarm in our stomach, and code five alarm in our minds, as we crossed the Carmel Bakery. The alarms were loud enough for me to head straight into the shop. Those pastries were like heaven melting in my mouth.
---

(Above): Patisserie Boissiere restaurant in Carmel, Calif., has delicious food. [Photo: Siliconeer]

---
Next up, the 17-Mile Drive, a stretch of toll road right at the edge of land and the beginning of sea. The 17-Mile Drive has 21 beautiful points, all with some significance and history attached to it — The Lodge at Pebble Beach, The Inn at Spanish Bay, and other points with beautiful views of the Pacific Ocean. 17-Mile Drive is definitely worth a visit for people who love nature, photography and even those who like climb short cliffs and rocks. It is a paradise for golfers.
The day had some extras that I did not expect. We got to see some exquisite cars at enroute to and in Carmel. There were 1930 Classics, some new ones like Bentleys and Maserati.
---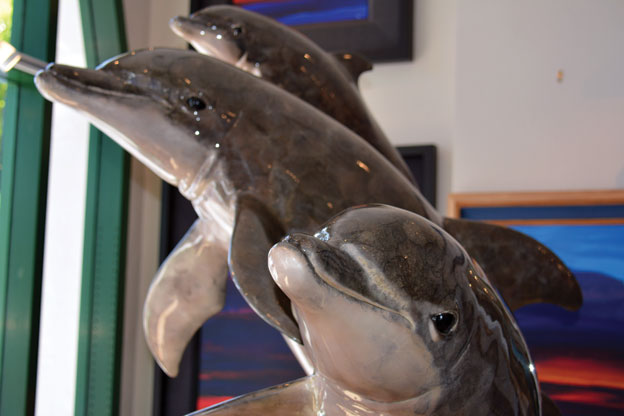 (Above): A Dolphins sculpture at the Wyland Gallery in Carmel, Calif. [Photo: Siliconeer]

---
After all that we covered in a day, it only seems fair to end it with an equally exciting and filling meal. Driving all the way to Santa Clara, we ended up at a South Indian restaurant, Dasaprakash. The food was hot and excellent, by far the best South Indian food I've had in a long time. I normally don't give a 5-star rating to a restaurant, but in this case, I have to give Dasaprakash 5 out of 5 stars, hats off!
---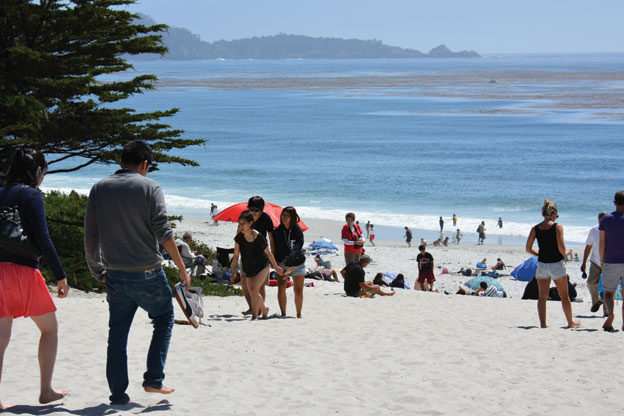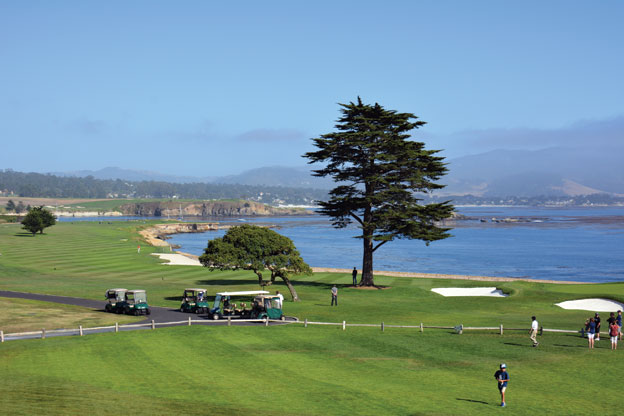 (Above, top): The beach at Carmel, Calif. [Photo: Siliconeer]
(Above, bottom): The Pebble Beach Golf Course at Monterey, Calif. [Photo: Siliconeer]

---
All of these towns and attractions have lot to offer. Monterey offers the Mirror Maze, wine, olive oil, and seafood. Carmel offers exquisite art, sumptous food, and a relaxing and fun beach. 17-Mile Drive offers great golfing experience, and breathtaking views. Mystery Spot will hook you with its weird science.
This day trip had a little of everything and the drive was not that long either.