TRIBUTE:
A Gentleman Villain: Pran (1920-2013)


Born on February 12, 1920, Pran Krishan Sikand was the 'Pran,' the eternal enigmatic, villainous personality that brought a befitting competitor and many a times shaped the character of the hero, and plot of the story, in Hindi movies. He passed away on July 12. Priyanka Bhardwaj looks at his legacy.

---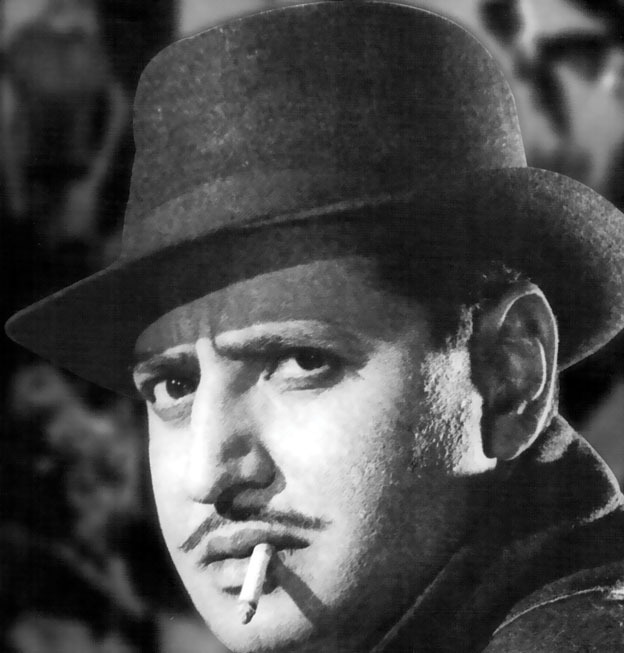 (Above): Pran in one of his movies.
---
Living till the ripe old age of 93, he worked in a range of movies, Punjabi, Hindi and Bengali, delivering spectacular, captivating performances from 1940s to 2007 for which he won numerous accolades and multiple BFJA and Filmfare awards.
In 2001, he was honored by Government of India with the Padma Bhushan and then in 2013 the Dadasaheb Phalke Award, one of the most prestigious movie awards, was conferred upon him. He was the bad guy whom the audience loved to hate!
Pran's journey started from the gallis (lanes) of Balliamaran in old Delhi, famous for the haveli (home) of legendary poet Mirza Ghalib. He was one of the seven children of a wealthy Punjabi engineer and contractor.
Good at academics, the young man was training to become a photographer when a chance meeting with a movie writer in Lahore became the turning point of his life and he was offered his first movie role in 1940.
Pran was in Pakistan till 1947 when he got to play the lead roles in Punjabi movies and later donned the role of a villain in 1947 when he shifted to India's tinsel town of Bombay.
By 2007 he had appeared in 350 movies and also played many character and supporting roles.
Pran's best performances were witnessed in movies like Khandaan, Pilpili Saheb and Halaku, Madhumati, Jis Desh Mein Ganga Behti Hai, An Evening in Paris, Upkar, Shaheed, Aansoo Ban Gaye Phool, Johny Mera Naam, Victoria No. 203, Beimaan, Zanjeer, Don, Kaalia, Kasauti, Amar Akbar Anthony, Majboor, Upkaar, and Duniya, to name just a few.
It was Dalsukh M. Pancholi who first cast him in his Punjabi movie Yamla Jat and he starred alongside Durga Khote and Noor Jehan, another iconic artist, actor and singer, of the subcontinent.
Later Pran got small roles in Chaudhary and Khajanchi and then Pancholi selected him for his Khandaan which was Pran's first Hindi movie and he was the romantic lead starring opposite Noor Jehan, the child artist in Yamla Jat.
On a lighter note, it is said that due to height difference, the director made Noor Jehan stand on layers of bricks in order to match the height of Pran.
Having firmly established his position in the movie world, Pran appeared in 22 movies in Lahore of which 18 were released and later in Mumbai he was cast in Ziddi, which also happened to be the debut movie for Dev Anand and Kamini Kaushal.
---

(Above): Pran in some of his memorable roles.
---
A few years later Pran made his mark as the premier villain of Hindi movies.
The audience regaled at the style and mannerisms he would adopt, the different look, the smoke rings he would make, his eye movements, the dialogs he would deliver to portray the negative character of the story, in immensely entertaining, interesting and creative ways.
The entire personality of the villain he projected was nothing that anyone had ever seen and to this day, remains his own creation.
Cameras would first show his shoes, then move up along the length of his figure and finally his well-lit face with an aquiline nose, piercing eyes and cigar blowing smoke.
What Ravana was to the Indian epic, Ramayana, Pran was to the Hindi movie world!
Grihasti, Apradhi, Putli, Adalat, Jashan, Badi Behan, Devdas, Madhumati, Dil Diya Dard Liya, Ram Aur Shyam, Aadmi, Munimji, Amar Deep, Jab Pyar Kisi Se Hota Hai, Aah, Chori Chori, Jagte Raho, Chhalia, Dil Hi Toh Hai, Sindbad the Sailor, Daughter of Sindbad, exhibited the nuances he introduced in the roles that he was offered.
His choice of movies was a brilliant array, from romantic flicks to action-packed thrillers, and from historicals like Aan and Raj Tilak to social themes such as Baradari, and his versatility is reflected in the twists he would give to his villainous characters, sometimes adding a dash of humor to its portrayal like in Pooja Ke Phool and Kashmir Ki Kali.
Pran was a natural choice for young and old directors for the role of a villain and he has the distinction of having acted with the three stalwarts of Bollywood namely, Dilip Kumar, Dev Anand and Raj Kapoor in the 1950s-60s-70s.
A long and prolific life was filled with pivotal roles and opposite newer generations of actors and heroes.
As is widely known, he commanded a price higher than the heroes of his movies from 1969 to 1980s except for Rajesh Khanna who managed to carve his position as the first superstar of the Hindi movie industry.
In the later part of his career, Pran switched to varied supporting roles that leaned toward the positive, for instance he acted as a war veteran in Upkar as Malang Chacha and post 1967 also forayed into Bengali movies such as Sonai Dighe.
Also to his credit are popular movie scores like Hum Bolega To Bologe Ke Bolta Hai and Michael Daru Pita Hai that were shot on him.
It was only in 1998 when he suffered a cardiac arrest that Pran slowed down in his acting and was intermittently seen in Amitabh Bachchan's home productions such as Tere Mere Sapne and Mrityudaata, more so to lend a helping hand to Bachchan to ride over rough days.
The impact of his work was such that in his hey days there were hardly any parents who would want to christen their babies with the name "Pran" for the negative connotation it carried!
However, not known to many, Pran was an extremely affable and soft-spoken man, much removed form his utterly despicable screen image, a connoisseur of Urdu poetry, literature, and avid lover of sports, which led him to own and sponsor the Dynamos Football Club Team.
He was also an active member of various associations like the Punjab Association, the Press Club of India, Chelmsford Club in New Delhi, Otters Club, CCI Club, Bombay Provincial Hockey Association, all dedicated to sports or charitable activities.
His charitable inclination is apparent in his help in organizing various charity shows for disabled and blind children and Bangladesh refugees after the 1971 war.
An amazingly talented and multifaceted personality, Pran contributed over six decades to the Indian movie industry and was a witness of rise and progression of Hindi cinema into present times.
Naturally the closing of this chapter has left the entire movie industry and movie lovers mourning this irreplaceable loss.