RECIPE:
Backyard Desi Grill: Shish Kebab


Here's something to spice up your summer backyard grill. It is an age-old dish that originated in the Middle East and has since been prepared the world over with slight modifications based on the taste of that region. Chef Sanjay Patel shows how to make some Shish Kebabs.
---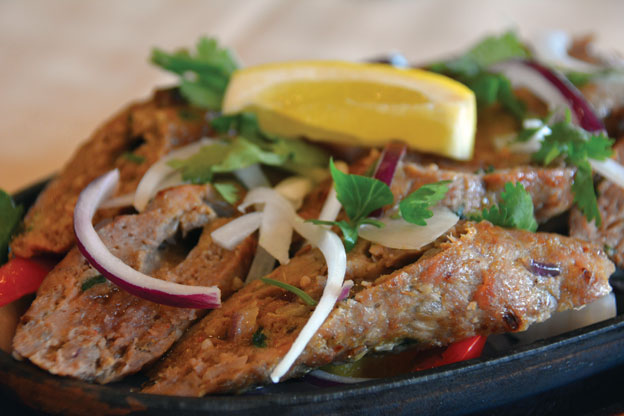 (Above): Shish Kebab [Photo: Siliconeer]

---
Ingredients:

•   2 lbs lean ground lamb
•   2 onions, finely chopped
•   ½ cup fresh mint leaves, finely chopped
•   ½ cup cilantro, finely chopped
•   1 tbsp ginger paste
•   1 tbsp garlic paste
•   1 tbsp green chili paste
•   2 tsp ground cumin
•   2 tsp ground coriander
•   2 tsp paprika
•   1 tsp cayenne pepper
•   2 tsp salt
•   1 egg
•   ¼ cup vegetable oil
•   skewers

Method:

In a large bowl, mix ground lamb, onions, mint, cilantro, ginger paste, garlic paste, egg yolk and chili paste. Season with cumin, coriander, paprika, cayenne, and add salt. Cover, and refrigerate for about two hours.


Take a handful of the lamb mixture, about 1 cup, and form a sausage around the skewer. Do this for all the skewers. (Note: If you are using wooden skewers, soak them in water for about 15 minutes before adding the sausage). Make sure the meat is spread to an even thickness. Refrigerate until you are ready to grill.


Preheat grill for high heat. Brush grate liberally with oil, and arrange kabobs on grill. Cook until well done, turning as needed to brown evenly.
Serve with chutneys and salad.


Makes 8 servings.