COMMUNITY:
Global Impact of Jainism: 2013 JAINA Convention


The joyous and eventful seventeenth biennial Federation of Jain Associations in North America Convention celebrations concluded in Novi, Mich., with huge success. For the first time many sessions were webcast live and watched by people all around the globe, writes Kamlesh Mehta.

---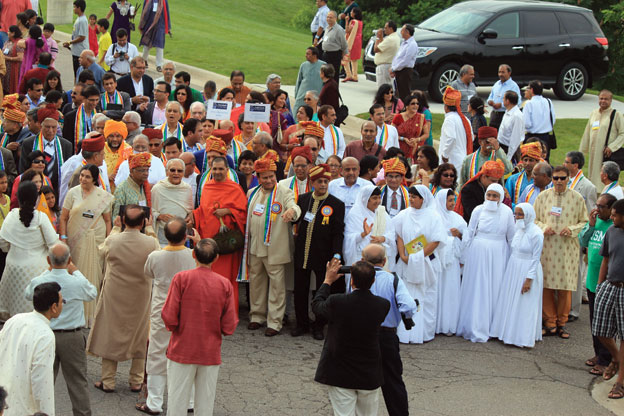 (Above): A procession at the JAINA Convention.
---
The 17th biennial Federation of JAIN Associations in North America Convention came to a successful conclusion in Novi, Mich., July 7. This year's convention theme showcased Jainism's lasting global effects in religion, commerce, and education to name a few.
The convention started by honoring the 150th birthday celebration of Shri Veerchand Ragavji Gandhi, the centennial birthday celebration of Acharya Tulsi, and the 91st birthday celebration of Gurudev Chitrabhanuji.  The four-day event had a wide array of speakers and attendees.
Jain prayer ceremonies and spiritual sessions led by Jain monks and scholars from North America and India, including Shri Gurudev Chitrabhanuji, Acharya Chandnaji, Muni Roop Chandraji Maharaj, Bhattarak Charukeertiji, Amrendra Muniji, Samaniji Charitra Pragyaji, Guruvanand Guruji, Samaniji Dr. Chaitanya Pragyaji, Shrutpragya Swamiji, Samani Shri Suyashnidhi, Samani Shruthnidhi, and more, were held.
For the first time select sessions were webcast live for people all around the globe. Additionally, Shri Gurudev Namramuni's lectures were telecast live from Mumbai.
---
(Above): Keynote speaker Sam Pitroda (l); Panel speaker Dr. Dipak Jain.
---
Sessions throughout the convention covered a wide range of topics. The keynote speech was delivered by Sam Pitroda, who is currently an advisor on public information infrastructure and innovations to the Prime Minister of India, and is the chairman of the National Innovation Council. During his keynote speech he addressed in multiple ways how Jainism continues to impact globally on environmental issues, community services and most importantly, values and ethics in business environment.
Bharat Desai of Detroit, Mich., shared his entrepreneurial journey. He said, "The agenda, speakers, entertainment, logistics, and meal arrangements were all excellent. I was thrilled to see so many diverse participants - Jain spiritual leaders, representatives from different faiths, delegates of all ages from around the world. Together, they made this a very special event."
Additionally, many experts such as Dr. Dipak Jain, Dr. Sushil Jain, Prof. Philip Clayton, Dr. Mehool Sanghrajka, and Dr. Masum Momaya were part of several other panels, discussing the impact of Jainism globally, especially identifying the critical needs of wide-range of communities where Jain values plays a vital role.
The interfaith panel spoke of the '21st century values.' Other panel discussions included 'winning attitude through Jain beliefs and principles,' 'philosophy and science of non-violence,' 'world medical relief and new service project opportunities."
To educate the Jain community about disease prevention, the convention included the 'healthy Jain series' where a panel of physicians and nutrition experts shared their knowledge.
---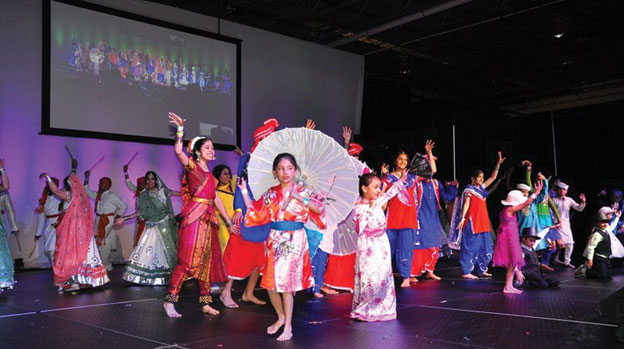 (Above): Kids performing at the cultural event.
---
Each evening brought a different cultural experience for convention attendees.   "Mangalam – an auspicious beginning" choreographed by Chaula Thacker, set the bar high for cultural entertainment and was followed by an evening of traditional folk dance of garba, raas and bhangra with live music by Raj Pandya and Group. "Let's Celebrate Together" was a well-orchestrated performance by Jain Centers in North America, and then the finals of "Jains Got Talent," followed suit.
The cultural programs finale showcased talents of Bollywood singers Parthiv Gohil, Sangeeta Kulkarni, Rujuta Joshi and Amol Khanapurkar alongside the Michigan Philharmonic Orchestra. The concert was directed by Narendra Sheth of Detroit, Mich.
The convention was a memorable experience for all age groups. The four-day activities included mixers, social events, sessions by leaders in business, education, and spiritual fields.
---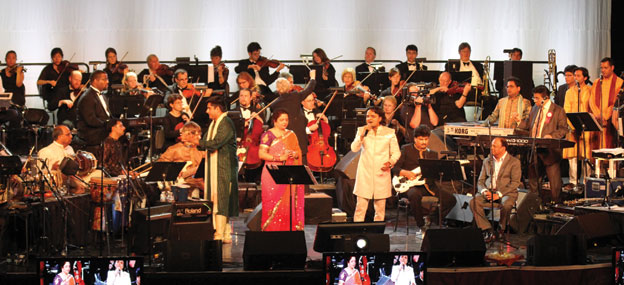 (Above): Bollywood singers perform with the Michigan Philharmonic Orchestra.
---
The youth activities planning team ensured that Jain youth (ages 13-20) have the network to be leaders of the future.
The Jain Networking Forum for adults over the age of twenty-one implemented a strong network of youth Jains through professional, social, and spiritual activities. Events including evening mixers, icebreakers, smart dating sessions, and an evening cruise were organized. The idea was to allow relationships to be developed for life.
On the last day of convention, Swami Guruvanandji said the three phases of a person's life — learning; learning and earning; and learning, earning and returning. He urged that everyone must volunteer to promote and support Jain way of life.
---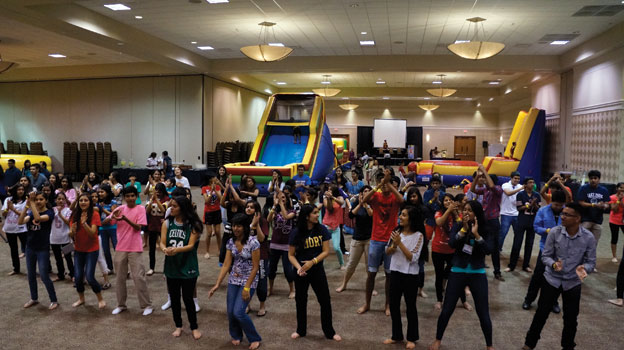 (Above): Youth activity - Let's Move program.
---
Outgoing JAINA president, Dr. Sushil Jain said, "We envision the JAINA convention is filled with people of various races who follow Jain principles without calling themselves Jain."
Incoming president Prem Jain emphasized "through humanitarian, educational, and inter-faith work, we will make JAINA stronger together and build upon the momentum we achieved in the last 32 years."  He continued, "We have launched a fundraising campaign to raise one million dollars for several JAINA initiatives and projects."
Interested readers can get more information about JAINA at www.jaina.org. For information on the JAINA convention, visit http://convention.jaina.org/2013.