BOLLYWOOD | Guftugu:

Shah Rukh Cool about Aamir Dog | Queen Confers MBE on Malkit Singh | Beauty in Cannes | Big Brawl | Check Kiting | Too Busy for Love | Like Father | Bollywood Britain | Friends No More


---
Shah Rukh Cool about Aamir Dog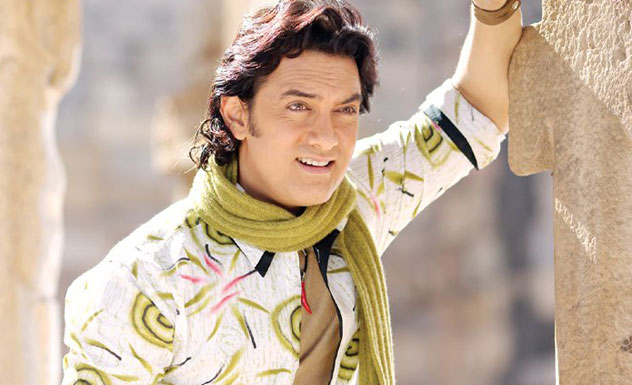 (Above):
Aamir in "Fanaa."
---
Shah Rukh is licking my feet and I am feeding him biscuits every now and then. What more I can ask for?" That's what Aamir Khan wrote in a recent blog. I'm not making this up.

So what's up? Is this some kind of weird joke? Well, yes and no. It turns out that Aamir owns a dog called Shah Rukh. And he was referring to the dog when he wrote that.

You bet the blog made a lot of people sit up and take notice, but Aamir pleads not guilty.

Aamir, who is recuperating from a hamstring injury suffered on the sets of "Ghajini," said he has nothing to do with the naming of the dog.

"Shah Rukh is the dog of the caretakers of our house. When I bought this house it came with the caretakers," he clarified in the blog.

The King Khan, to his credit, refuses to take the bait. When his reaction was sought to Aamir's blog, Shah Rukh said he is not bothered.

"I have never bothered about it because I also say a lot of things in fun and I think I am also maybe stressing somebody else out.

"I don't get stressed when friends pass comments like this. Actually I enjoyed it," Shah Rukh said.

Aamir said apparently, Shah Rukh was shooting a commercial in the Panchgani house, a few years ago, and that very day, the caretakers bought a pup and named him after the then rising star.

So is it all  innocent fun, then. Not so fast, observers say. Remember that a few months ago Aamir said at an event "I would like to ask Shah Rukh how it feels to be number two."

Now we know what mischief lies behind that cherubic smile. But then, hey, this is Bollywood, where appearances are always deceptive.

|TOP|

---
Queen Confers MBE on Malkit Singh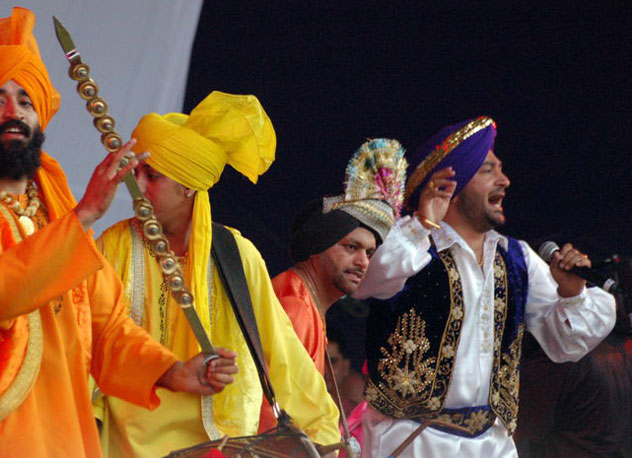 (Above):
Bhangra singer Malkit Singh (r) during a performance.
---
Bhangra singer Malkit Singh is thrilled, and who can blame him? He became the first Punjabi singer to be honored by Queen Elizabeth II at the Buckingham Palace in London with the award of the Most Excellent Order of the British Empire.

"I was overwhelmed by the honor and could not control my tears of joy," the 45-year-old Malkit Singh told PTI after receiving the award May 7. Twelve other Indians were also conferred MBE honors and two others received Order of the British Empire.

Singh said the Queen was pleased to see him in the typical bhangra dress. She told me "I like your dress and I am fond of Indian music."

"It is an honor not only for me but for all Indians. I am proud of it," he said.

Singh said when he came to the U.K. in 1984 there were many other famous bhangra groups including Aalap and Hira groups. But by sheer hard work and dedication he was able to make a mark globally.

He said for Indian visitors, taking a photograph outside the Buckingham Palace is a rare memento. "I never thought that I would have the honor of receiving the award from the Queen inside the Palace," he said.

Recalling his journey from Husseinpur village of Jalandhar district to London, Singh said his mother would have been happy to be present at the celebration but unfortunately she passed away in January this year.

Singh has produced 21 albums and all have become hits.

The Most Excellent Order of the British Empire is a British order of chivalry established in 1917 by King George V.

|TOP|

---
Beauty in Cannes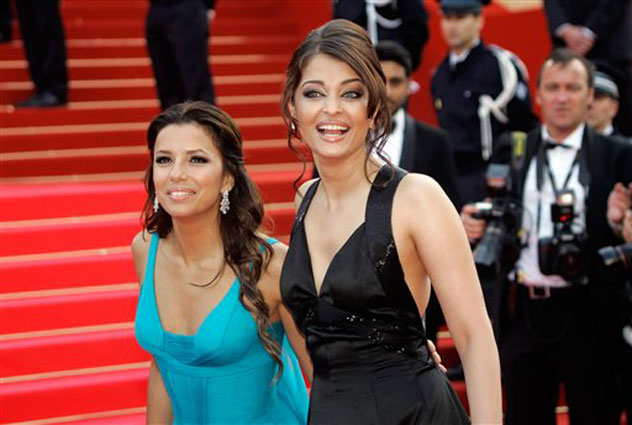 (Above):
Aishwarya (r) seen with Hollywood star Eva Longoria at the Cannes film festival.
---
Bollywood diva Aishwarya Rai and hubby Abhishek sparkled at the 61st Cannes Film Festival as they appeared together for the premiere of Blindness along with superstar Amitabh Bachchan.

Ever since she arrived by horse drawn carriage in the company of Indian top actor Shah Rukh Khan in 2002 for the screening of Devdas, Rai's annual presence at the festival has added a unique Bollywood hue to the red carpet proceedings.

The family flew into Cannes to be present at the world's most famed international film festival. At least 20 Indian directors attended an Indian cinema conference. The curtains went up on the gala event with the Oscar-nominated Brazilian director Fernando Meirelles's screen adaptation of Portuguese Nobel laureate Jose Saramago's apocalyptic novel about a town struck by a mysterious epidemic that leads to everybody, except a doctor's wife, losing their eyesight.

In 2003, the Bollywood diva was even on the main Cannes Competition jury. Aishwarya's association with the red carpet hinges on her being a brand ambassador of L'Oreal, the French cosmetics giant that sponsors the Cannes Film Festival.

But that is not the only reason why the Bachchans are here. In the next few days, father, son and daughter-in-law will be participating in the promotional activities of several films, including Ram Gopal Varma's Sarkar Raj and Goldie Bahl's much-awaited fantasy Drona.

|TOP|

---
Big Brawl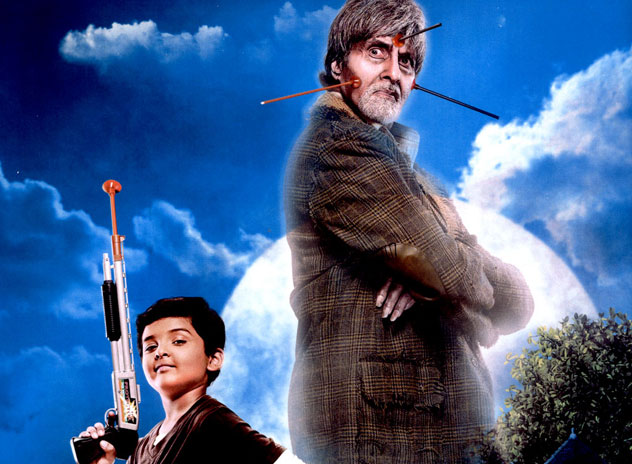 (Above):
Amitabh Bachchan in "Bhoothnath."
---
The way these two guys keep going at each other, you would have thought this is a schoolyard fight. Instead, it's the resurfaced rivalry between two Bollywood big shots —Amitabh Bachchan and Shatrughan Sinha.

Shatru shot the first salvo — hinting that the nomination list of the International Indian Film Academy Awards were "fixed."

"Sab kissika beta hai, ya kissiki bahu, ya kissiki biwi," (Every one is somebody's son, or someone's daughter-in-law, or someone's wife), the Bihari babu intoned.

Boy, did that piss off Bachchan!

Bachchan, who is the IIFA brand ambassador, said: "I am surprised at this observation, especially since, during the time of the National Award selection for Best Actress in one of the past years, when the award went to Raveena Tandon. It was alleged that Mr Shatrughan Sinha's wife, the lovely and graceful Poonam, a great friend of Raveena's mother, had recommended the appointment of MacMohan, brother of Raveena's mother, on the board of the jury to favor the actress."

Ouch.

Shatru decided to take the sanctimonious route. Oozing disdain, he called Bachchan a "good friend" and said the superstar's comments on him were "unnecessary and bad in taste."

"I had just said the award has turned out to be a function of a Bollywood family and did not name anybody...there are families of Khans, Raj Kapoor and Rakesh Roshan in the films...so on what basis Amitabh assumed I was referring to his family?" he told PTI in Shimla over phone.

On Amitabh's allegation that he had a role in actress Raveena Tandon getting a National Award when he was a minister in the Atal Behari Vajpayee cabinet, Sinha said that assuming it is true, everybody knows that there was a "hand" of the then Mulayam Singh Yadav's government in all the awards given to Bachchan's family in Uttar Pradesh.

Now it was Big B's turn to be sanctimonious.  Nothing can be taken away from Raveena for her very deserving award, he said.

"She has been a wonderful and talented co-artist in many films of mine, or, MacMohan, the Sambha of Sholay, who has remained a dear friend and has worked with me in several films. As has Mr. Shatrughan Sinha," Bachchan wrote.

Why then make the innuendo, Big B?

|TOP|

---
Check Kiting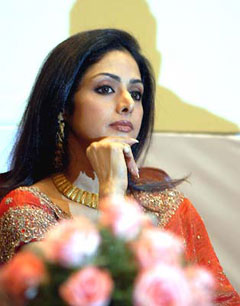 (Right): Sridevi

Two bit crooks do it all the time, but a Bollywood star? Sridevi is in the news for all the wrong reasons. She's been taken to the Supreme Court by a financier who alleges that her Rs. 100 million check bounced on being presented in a bank.

Mumbai-based raw photo film suppliers and financiers — G.G. Photo Ltd, Photo Film Industries and Foto Industries — approached the apex court challenging a Bombay High Court order that stayed criminal proceeding initiated against Sridevi in the case.

Madhu Gupta and Sushil Gupta, the owners of the three firms, alleged that the three checks issued by the actress against a loan for production of films bounced due to insufficient funds in her account in Vijaya Bank, Santacruz branch.

"The accused in the course of her business under different banners have availed financial assistance and credit facilities from the petitioner. The accused to discharge her legally enforceable liability gave these checks and all the three checks were returned due to insufficient funds," the petition filed through K.K. Mani stated.

The Kurla Metropolitan Magistrate's court, on a criminal complaint filed by Guptas, had issued summons against the actress under Section 138 of the Negotiable Instruments Act.

In a counter complaint with the Juhu police station, Sridevi had alleged that Guptas had forged her signatures on blank checks given to them her husband Boney Kapoor during some transactions. However, she had denied that either Boney or she had issued any signed checks.

The Bombay High Court March 26, while staying the proceedings in the Metropolitan Magistrate's court, had directed the suburban Juhu police to complete the probe within three months into the forgery case filed by Sridevi.

|TOP|

---
Too Busy for Love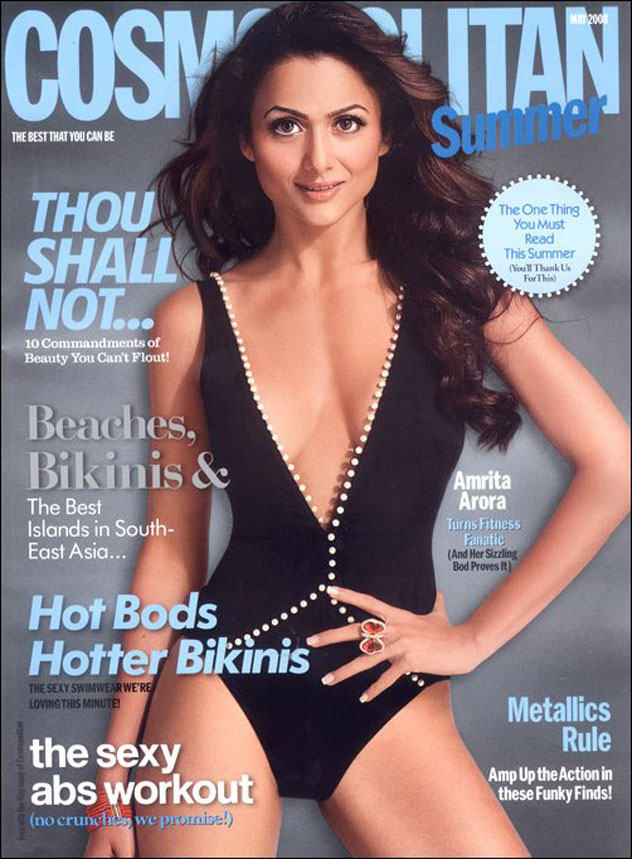 (Above): Amrita Rao on the cover of Cosmopolitan magazine.

---
Despite all the link-up rumors, Amrita Rao is insistent — she has never had a boyfriend. Not now, not before, not ever.

"I don't want a relationship just for the heck of it. I'm the kind of girl who would get married to her first boyfriend. I believe that is the luckiest," she says.

What she can't fathom is why people find it so hard to believe. "I have friends, some of them are even living abroad, who are attractive little things but haven't been in a relationship ever. They are my age and don't have boyfriends. We're young, attractive and don't have boyfriends and it is okay!" she says.

Is her Bollywood career also the result of such a thought out approach? "My journey in Bollywood has been an easy ride and I've been picked up for the best roles of my career miraculously," she says. "For Vivah, Sooraj Barjatya chose me based on my short performance in The Legend of Bhagat Singh."

Farah Khan took me in Main Hoon Na in a tearing hurry. I was the last girl she auditioned, and she was running out of time and asked me to join the team. Ishq Vishq was because of a commercial and all this good work led to only better work!" says Amrita. "I'm appearing in Shortcut with Akshaye Khanna and Arshad Warsi, in which I'm glamming it up, Victory — a cricket-based film with Harman Baweja and Shyam Benegal's Mahadev Ka Sujanpur this year."

Amrita's bottom line — Guys, eat your heart out. I got no time for romance.

|TOP|

---
Like Father

Baap ka beta, you have to say. Mimoh Chakraborty, son of veteran actor Mithun Chakraborty, who made his debut on the silver screen with Jimmy, says he can beat his father in dancing.

"Whereas acting is concerned, I have a long way to go. I am aware that comparisons will be inevitable," Mimoh said.

Speaking about the film, Mimoh said he plays a mechanical engineer whose love for dance makes him take a job of DJ in a night club. "My character gets involved in a murder case and how he manages to prove himself innocent forms the crux of the story," he said.

The young debutant said the film, directed by Raj Sippy, was a perfect launch pad for him.

"It is a suspense thriller and I have got enough opportunity to show my dancing skills. I am very confident that the film would do well," said the son of Disco Dancer hero.

When asked about film's catch line — dance is in his DNA, the actor said he was fond of dancing and has even learnt it.

Mithun is the presenter of Jimmy but Mimoh said his father is not appearing in a single frame in the film.

"My father was present on the sets when dance sequences were being shot. He wanted to ensure that everything was perfect," he said.

"Once, when he was in Kolkata, I injured my right leg and Raj Sippy cancelled the shooting. When my father came to know about this, he called up the action director and asked if my left leg was fine. When the action director said yes, my father asked him to begin shooting with me with my left leg," Mimoh recalled.

|TOP|

---
Bollywood Britain

Keen to visit the popular film shooting locations in the country, cinema lovers from India and other countries are flocking to Britain, boosting its tourism by 2 billion pounds.

The euphoric interest shown by Indian tourists in visiting the places where several Bollywood films were shot, have prompted the Britain's tourism authorities to come up with a "Bollywood map" depicting the popular shooting locations.

Though separate figures for Indian films-related tourism are not available, thousands of tourists visiting U.K. every year have made a contribution of whopping 1.8 billion pounds, says a report entitled "Stately Attraction - How Film and Television Programs Promote Tourism in the UK'.

The report was commissioned by the U.K. Film Council.

Bend it like Beckham, a film by Indian-origin director Gurinder Chadha, raised the profile of Britain in India, South Asia and the Far East. It suddenly placed the west London town of Southall on the international tourist map.

Bollywood films like Dilwale Dulhaniya Le Jayenge (1995) which depicted Southall as its heroine Simran's home (a role played by Kajol) brought the city close to the heart of Indian audiences.

Some of the most popular locations for Indian films have been Trafalgar Square, Natural History Museum, Tower Bridge, the Royal Albert Hall, Millennium Dome, the houses of parliament, Nelson's Column and the London Eye.

Besides, the Waterloo Station, the largest station in U.K., has also been a desired location for the filmmakers. In the recent film Jhoom Barabar Jhoom (2007), it is the key location around which the story revolves, including a dance sequence starring Amitabh Bachchan.

Among other Bollywood movies Mujhse Dosti Karoge, Kabhi Khushi Kabhie Gham and B.R. Chopra's Baghban are the most popular which had done extensive shootings here.

|TOP|

---
Friends No More

Who would have thought that Lara Dutta could cause so much trouble? The latest on the Dino Morea-Lara Dutta romance is that Dino has lost a friend.

Dino and Kelly Dorji are no longer on talking terms. It may be recalled that Kelly and Dino were close pals and Kelly was staying with Dino in his Bandra bungalow after he split with Lara.

The two were so close that they had even planned to start a production company and an advertising agency together. Adds our source, "Those plans have now been shelved."

Meanwhile, Lara and Dino's romance is out in the open. The couple decided to throw caution to the winds in a recently concluded awards function in London.

Our source says that they stuck to each other throughout. Our source adds, "The only time they were away from each other is during the function because they didn't want the camera to capture them." Ironically Lara's ex-lover Kelly, who was also present at the event, was a mute spectator.

|TOP|