TRAVEL:
A Trip to Asia: The Cathay Experience


After nearly a decade,
Siliconeer
president Ashok Gupta took a trip to India. Here are his reflections.

---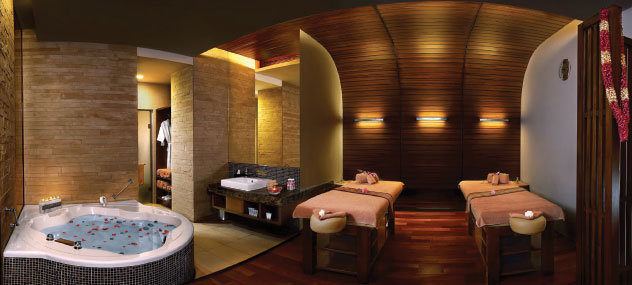 (Above): Couple massage room at the Shangri-La hotel in New Delhi. [Shangri-La photo]
---
Man proposes and God disposes. I made a promise to my friend's daughter to meet her when she found me online after about 15 years. I had no clue as to when and how since I had not travelled to India in a decade. It was on 1st April — All Fool's Day — that we accepted an invitation from Cathay Pacific to join a trip from San Francisco to Delhi and Hong Kong from April 23-29 so that we can share our experience on Cathay Pacific Airways with our readers.

This will remain as a lifetime achievement for me or fulfillment of my wishes. When I first visited New York in 1974, I went to see the Empire State Building, which then was the tallest structure in the world. I always wanted to visit Empire State Building again and would have loved to make a one-day trip to New York from Kolkata. I could not do so to make it my shortest ever long-distance trip; however, this Delhi trip was shortest ever long-distance trip.

Come April 23, I arrived at the SFO airport and was greeted by Nancy Tao, marketing coordinator for Cathay Pacific Airways, who was our escort. She introduced the team of other journalists, Deepak Shrivastava of Nirvana, Chris Nelson of IndUS Business Journal, Lakshmi Baweja and Sunil Anthony of India Waves television, and we started our journey to experience Cathay Pacific's new business class en route to Delhi via Hong Kong.

You board a flight and your flight attendant greets you by your name — that's an exciting experience especially when you are on a long-haul travel across the Pacific. You feel at home and create a relationship/bonding with the environment during travel. The rising cost of fuel and the apathy of the airline staff, in most cases, have made the travel an awful experience for U.S. travelers.

---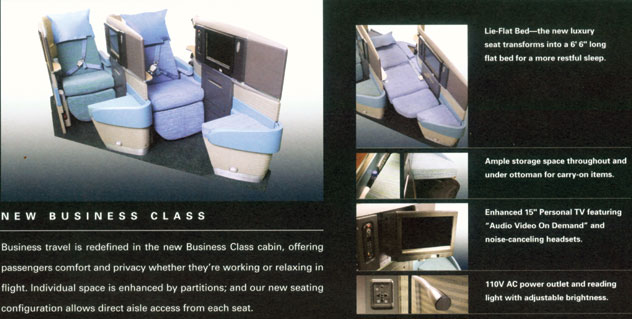 (Above): A flyer shows the features of the the new business class seats onboard the Cathay Pacific flight. [Cathay Pacific]
---
Gone are the days when you used to feel privileged while travelling long distance. Those were the days when a comely flight attendant used to greet you with a smile, you got a welcome drink, usually champagne or some exquisite non-alcoholic drink, a choice of carefully selected and prepared seasonal international cuisine complemented by a variety of fine wines and beverages, a steamed or chilled napkin to freshen up.

While travelling SFO to HKG in Cathay's new business 747 upper deck, those fond memories were rekindled.

---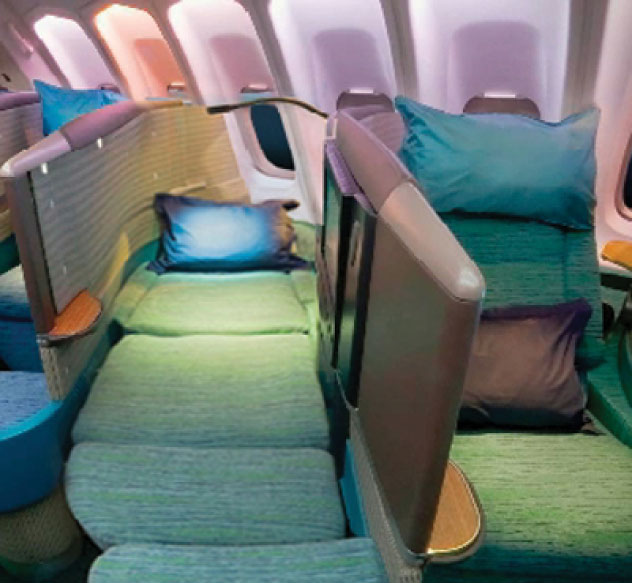 (Above): The new business class seats onboard the Cathay Pacific flight. [Cathay Pacific photo]
---
Inside the new business class. The new seats are a bit narrow. However, the privacy of the business traveler has not been compromised whether they are working or relaxing. Looking out of the window is an issue as it is behind you as you diagonally face the aisle. The sleep experience is par excellence. It is 100 percent flat bed and is great for watching movies on a 15" screen with lot of extra space to stretch out. Great on-demand video and music selection is available in different languages depending on the route.

---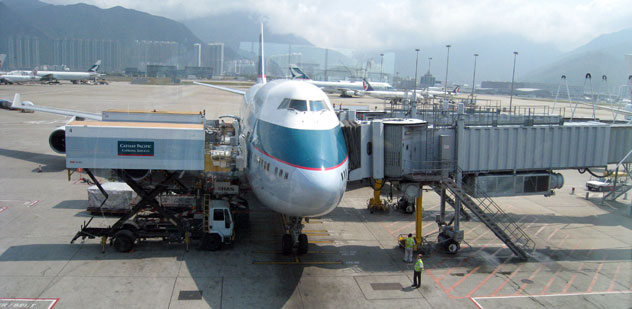 (Above): The new Boeings, part of the Cathay Pacific fleet. [Siliconeer photo]
---
Flight connections from U.S. to India: Cathay Pacific operates daily flights to and from Mumbai and Delhi, with a small 2-3 hour stopover in Hong Kong, the shopping hub of the east, which is very convenient. They have added Chennai to their route and Bangalore is being covered by their sister airline, Dragon Air. The full flat bed seating offers good sleep and you arrive fresh to your destination. Goodbye, jet lag.

Stepping on home ground. As we arrived in Delhi, it was noon, the scorching sun shining at 106 degrees and we were greeted with signs that said "Men at work - Sorry for the inconvenience." Dirt and dust was at its peak, thanks to the 2010 Commonwealth Games for which Delhi is being prepared to attract and greet discerning travelers and sports fans.

Delhi has changed a lot since my last visit about 15 years ago. When we drove through Gurgaon, I was amazed to see high-rise office complexes with all major corporations boasting their presence. — IBM, SUN, Apple, Java, Yahoo, Google, Siemens, HP, Sony, Citi. There is a construction spree for new wide roads, flyovers, residential and commercial skyscrapers.

---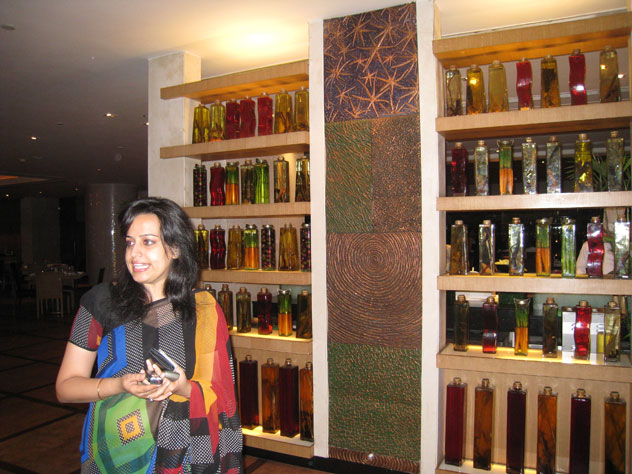 (Above): Ruchika Mehta of Shangri-La, one of our hosts at the Shangri-La hotel in New Delhi. [Siliconeer photo]
---
Putting up in style. We were put up at the Shangri-La Hotel, a Chinese chain, on Ashoka Road at the Connaught Place area in downtown New Delhi. The entrance was manned by four tall men and women dressed in traditional Rajasthani attire who greet visitors with the traditional "Namashkar" with folded hands and bending over almost 90 degrees, the signature Indian-style hospitality. This was so special that it reminds me of the movie Jodhaa Akbar. The impressive welcome was supported by the excellence in service, a helpful attitude of the staff, a comfortable room setting, a very sweet musical tune with the right volume with a full-length glass between the bed and bath area so that you may watch TV while relaxing in the hot tub.

---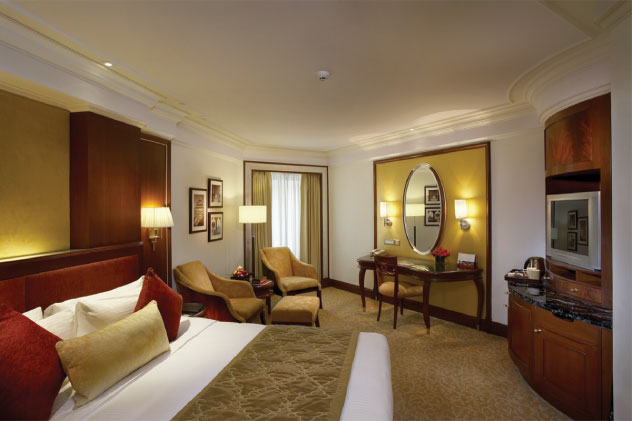 (Above): The author's room at the Shangri-La Hotel. [Shangri-La photo]
---
Delhi, then and now. That evening we were taken to Tabula Rasa, a fusion restaurant at the Saket district center. The ambience was impressive with low seating, a bar, life size projection system showing a cricket match and gourmet fusion food presented with style.

The following day we toured Delhi, visiting the Jama Masjid, the great Mughal mosque that is in a straight line with the Red Fort which is at present the seat of the Indian Army. We visited many landmarks including the lively Chandni Chowk, Moti Mahal Restaurant, Delhi Darwaza, India Gate, Jai Jawan Jyoti, Parliament House, South and North Block, Rashtrapati Bhawan, All India Radio, Supreme Court, before we visited the Swaminarayan Temple established by Bochasanwasi Akshar Purushottam Sanstha.

---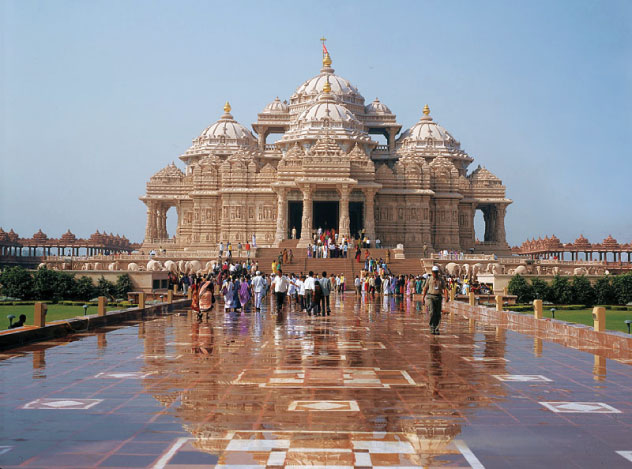 (Above): The Swaminarayan Akshardham Temple in New Delhi is a haven of tranquility. [BAPS photo]
---
Security was tight after the attack on the temple in Gujarat and visitors are not allowed to take any electronic gadgets, cameras, tape recorders, anything operated on battery, and are subject to a body search, too.

With all this and the rising temperature, the temple, that is one of its kind, was a serene sight that cooled off all the frustration as soon as we went past the gates. This is a must-see if you are visiting Delhi.

With half a day gone, it was time for lunch. The hosts invited us to Dhaba at the Claridges Hotel. The interiors at this highway style restaurant are made of the remnants of a truck. We were greeted by a honking horn as soon as we entered and I was immediately thinking of the truck stops on major highways of India.

The verdict was unanimous. We had not had such mouth-watering North Indian cuisine in recent memory. The guest check was Rs. 10,000 ($250.00) for a group of five.

---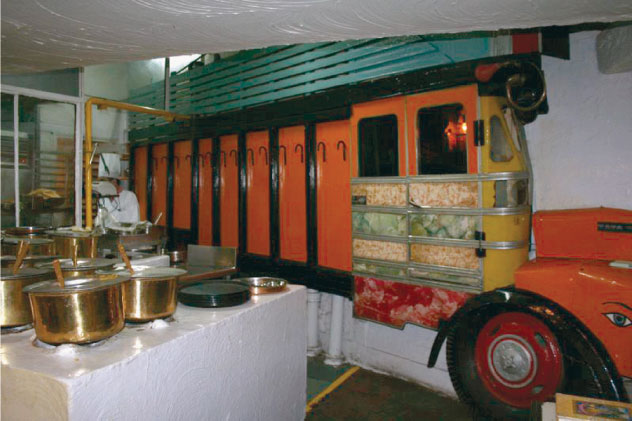 (Above): Dhaba restaurant at Claridges Hotel in New Delhi. [Chris Nelson photo]
---
What has not changed in Delhi is the same old "me first" style of driving on roads creating chaos, traffic jams, humid heat, nostalgic Indian traders constantly eyeing tourists, and inquisitive young children wanting to know everything about the tourists, including myself, a PIO (person of Indian origin).

Young questions include; What's your name? Which country you are from? What do you do? And so on.

---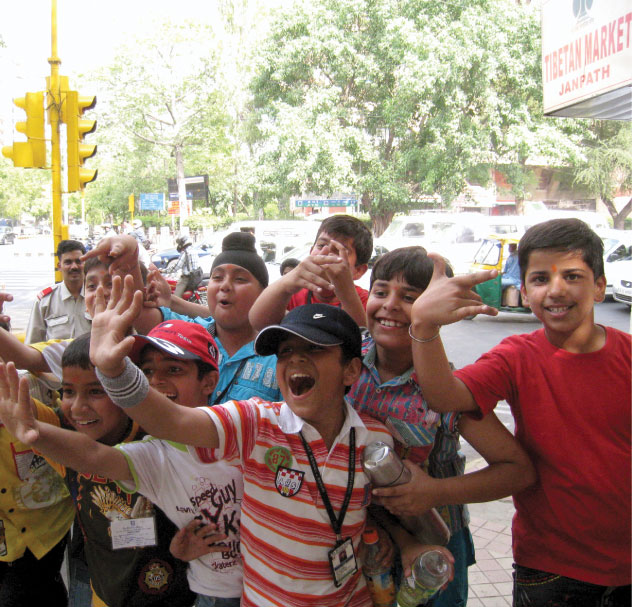 (Above): Kids in New Delhi are a vivacious, inquisitive lot. [Siliconeer photo]
---
On the other hand, street smart traders selling artisan work for 50 bucks — 50 rupees vs. 50 dollars. You buy any product, step out of the shop, you are done, neither can you return nor exchange, that's the deal. This was a typical Janpath trader catering to locals and foreigners.

Talking of heat and the need for drinking water, the perception of tourists is different. Cold pumped water and sealed bottled water are widely available. One of our teammates refused to trust the cold sealed bottled water and once he saw McDonald's, he jumps up and exclaims, "There is McDonalds and we'll get some Coke over there." This is brand image McDonald has created in the minds of its customers even though I suggested that the bottled water will be a better choice than drinking the running tap water at McDonalds.

The Shangri-La Hospitality. The evening dinner was hosted by the management of the Shangri-La Hotel in their award-winning 19 Oriental Avenue restaurant serving authentic cuisine from China, Thailand and Japan. Ruchika Mehta, the marketing communications manager, took us around the Pastry Shoppe, the contemporary Café Uno and did not forget to boast about their dessert selection.

---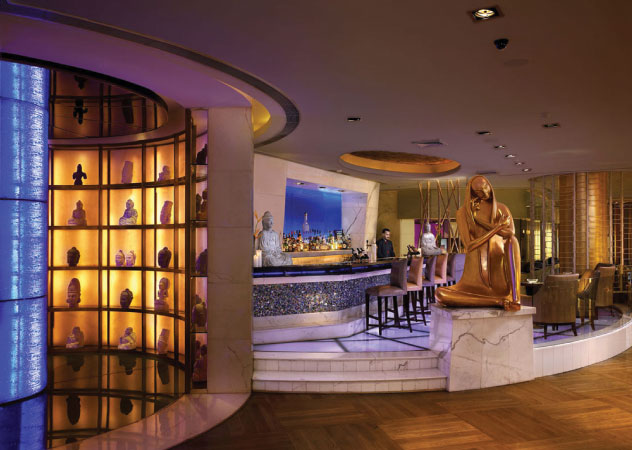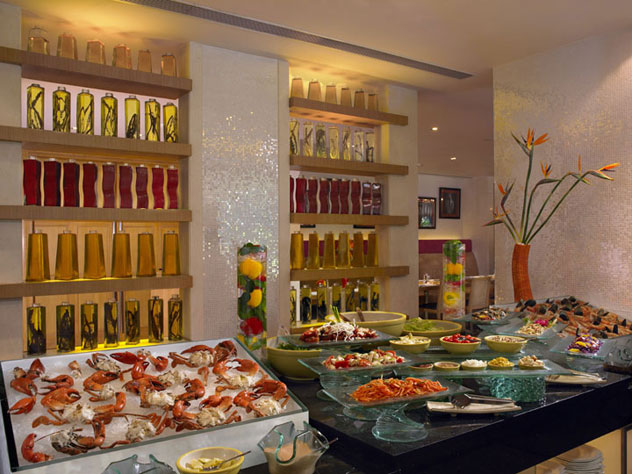 (Above): (Top) The plush bar at the 19 Oriental Avenue restaurant at Shangri-La Hotel in New Delhi. (Bottom): A paradise for salad and seafood lovers, enough to satisfy the most desiring appetites. [Shangri-La photo]
---
The Island Bar is a delightful connoisseur's paradise with an extensive selection of wines, cocktails, beverages and more. It offers live bands with jazz and rock music with live DJs on certain days. Sunday brunches are very popular among Delhiites, and Beer and Bar-B-Q promotions draw in patrons in winter as well.

We visited the pool and the spa. You have to see the elaborate yet simple approach that exudes tranquility. With a side-by-side massage table for him and her, and a Jacuzzi inside the massage room to relax, nothing can be more inviting after a day on Delhi's streets.


---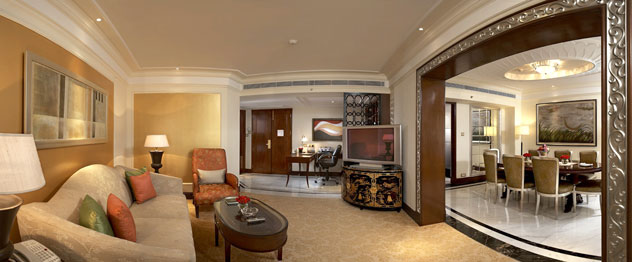 (Above): The sprawling suite room at Shangri-La Hotel in New Delhi. [Shangri-La photo]
---
The membership to the spa (see first picture on top) ranges between Rs. 140-180K. After passing through the lobby, restaurants, the shopping arcade, we reached the most covenanted Presidential Suite. The area has been designed and tastefully decorated with cherry furniture. When asked for the room rates, Ruchika says, "Most of the suites are priced differently depending upon the occupancy level and all, but surely it is more than 40-50,000 per night ... may be around 2000 dollars ... Just the depreciating dollar...fluctuating too much, so now we only maintain Indian Rupees (rates)...". The Horizon Club at the top floor offers complimentary breakfast, evening tea and cocktails to the guests.

---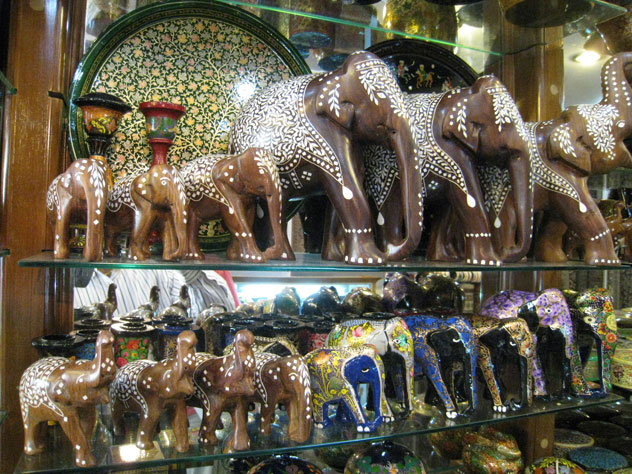 (Above): A shop in Janpath displays exquisite handicrafts. [Siliconeer photo]
---
Final thoughts. My experience as an NRI returning after a gap of 15 years is evident from the remarks in this story. India has come a long way, offering more of what we see here in the West, but as I see it, nostalgia still reigns supreme. People still love to talk about the good old days while sporting the latest gadgets that even we think twice about acquiring. India has always been a vibrant place. Now, with a booming economy, it is fast becoming a destination of choice for many. People are keenly interested in the latest gadgets of the West, but there still remains a deep sense of tradition and culture, a fine balance.

Interested readers can get more information on Cathay Pacific Airways by visiting www.cathaypacific.com. Readers can also get more information on Shangri-La hotels by visiting www.shangri-la.com.

Life moves on and so will I. My trip will continue to Hong Kong and I will write about it in next month's issue.