AWARD:
Service to Community: Naranji Patel Honored


Silicon Valley entrepreneur and community activist Naranji Patel was honored with the Haridas and Bina Chaudhuri Award for Distinguished Service, writes Pravin Desai.

---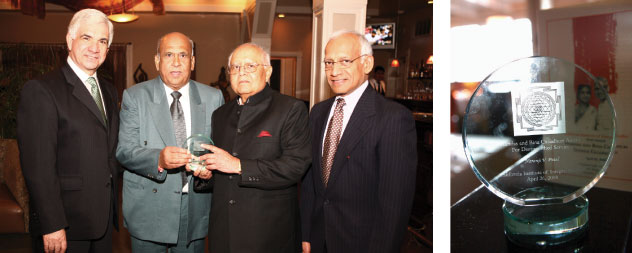 (Above): (Left): The Haridas and Bina Chaudhuri Award for distinguished service is being presented to Naranjibhai V. Patel (2nd from l) by former award recipient Rajendra Prasad, flanked by CIIS president Joseph Subbiondo (l) and trustee and management advisor Prasad Vepa (r).
(Right): The Haridas and Bina Chaudhuri Award, which was presented to Naranji V. Patel for distinguished service to the community. (Photos: Shashi Desai/DreamSnaps)
---
Silicon Valley hotelier and community activist Naranjibhai Vitthalbhai Patel was recognized with the Haridas and Bina Chaudhuri award by the Californai Institute of Integral Studies at a CIIS' sixth annual dinner dinner April 26 in Sausalito, Calif.

CIIS' sixth annual dinner celebrating the school's Haridas and Bina Chaudhuri Endowment for South Asian Philosophy and Culture, which provides graduate-level courses and public programs on Indian philosophy, culture, and history.

Patel was honored by the San Francisco-based institute of higher education founded 40 years ago by Indian scholar Haridas Chaudhuri and his wife, Bina, for his extraordinary efforts to provide educational access to underprivileged youth in India, as well as to preserve and promote Indian culture in the Bay Area.

Born in 1938 in Gujarat, Patel's legacy is one of making connections between Indian and other cultures. In England, he founded the Asian Film Society and volunteered at various organizations to teach people about Indian culture. In 1974, he immigrated to San Jose, Calif., where he began a hugely successful career in the hospitality business.

He is the founder of the Indian Cultural Association of South Bay and, in 1983, was instrumental in establishing the Nargis Dutt Memorial Foundation, which helps underprivileged people suffering from cancer.In 1989, Patel and other community leaders formed the Charitable Care Foundation, which donates money and medical supplies all over the world when disasters occur. Also in 1989, he helped to form the Sanskruti Foundation-USA to support religious studies in India. In 1994, Patel helped to start the Hindu Temple and Community Center of the South Bay, which has grown to be the largest Indian temple in the Bay Area.

The Haridas and Bina Chaudhuri Endowment for South Asian philosophy and culture is committed to the advancement and appreciation of Indic culture and tradition. CIIS institute provides scholarships to students from India wishing to study at CIIS as well as for students at CIIS wishing to study in India for further studies. To date the institute has raised more than $500,000 to support the endowment out of a total goal of $1 million.