CINEMA:
Celebrating Indian Cinema: L.A. Film Festival


Los Angeles celebrated Indian cinema in style as a host of filmmakers and other Indian film industry representatives flew half way around the world to participate in the festivities. A Siliconeer report.
---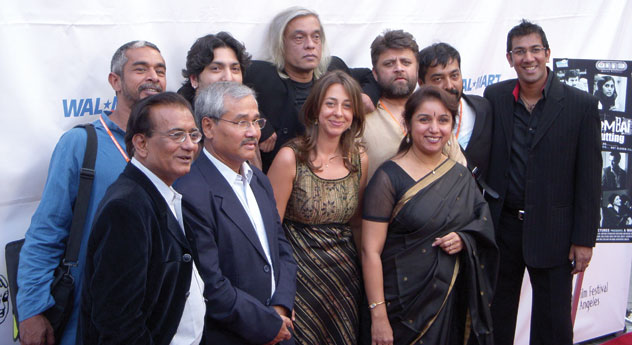 (Above): Directors of "Mumbai Cutting" pose with Christina Marouda at the Indian Film Festival of Los Angeles. [Siliconeer photo]
---
The six-day-long Sixth Annual Indian Film Festival was attended by over 6,500 film goers, with over 60 filmmakers attending the screenings of their films. "Both numbers demonstrated significant growth from the previous year's edition with the filmmaker total in particular doubling last year's number," said an IFFLA press release.

The festival announced its 2008 Award winners with Richie Mehta's Amal as the winner of the Grand Jury Prize for Best Narrative Feature and Shivajee Chandrabhushan's Frozen receiving a Special Mention in the category. Yunus Vally's The Glow of White Women was named winner of the Grand Jury Prize for Best Documentary with Liz Mermin's Shot in Bombay receiving a Special Mention.

The Indian Film festival of Los Angeles kicked off with the Opening Night Gala presentation of Richie Mehta's Amal April 22 at the ArcLight Hollywood Cinemas in Hollywood. The evening's festivities also included an after party at the Cabana Club featuring culinary delights by Chakra Cuisine and performances by world music chart toppers, Bombay Dub Orchestra from London spinning original dj mash-ups inspired by the medleys of India and Bollywood. The blue13 dance company performed an invigorating dance performance using their famed Bollywood-tech and neo-kathak style.

Other highlights included the presentation of the 2008 IFFLA Industry Leadership Award to Andy Bird, chairman of Walt Disney International, and Timmy Kandhari, executive director in the financial advisory service practice and leader of the entertainment and media practice of PricewaterhouseCoopers India at a ceremony that took place at Hollywood's House of Blues, as well as nightly musical performances in the IFFLA Rhythm Village (located in the ArcLight Hollywood Courtyard) presented by Rukus Avenue featuring entertainment by Gurpreet Chana, Sammy Chand, Gingger, Raagapella, Mark Killian and Sandeep.

The festival closed with the IFFLA Closing Night Gala presentation of Mumbai Cutting…A City Unfolds April 27 at ArcLight Hollywood. The film is a joint project by eleven of the best directors in India.

Notable attendees at this year's Indian Film Festival of Los Angeles included eight of the eleven directors of Mumbai Cutting…A City Unfolds, including Jahnu Barua, Rahul Dholakia, Shashank Ghosh, Sudhir Mishra, Anurag Kashyap, Ayush Raina, Revathy and Kundan Shah, as well as Rahul Bose, Parminder Nagra, Eric La Salle, Carl Weathers, Jaleel White, Nia Vardalos, Samrat Chakrabarti, Rebecca Hazelwood, Vic Sahay, and Liz Mermin.

After reviewing 350 submissions for the festival, the 2008 IFFLA lineup showcased 21 features (16 narrative and 5 documentary) and 12 shorts for a total of 33 films representing 8 countries.

The Indian Film Festival of Los Angeles is a nonprofit organization devoted to promoting appreciation of Indian cinema by showcasing films about the diverse perspectives of the Indian diaspora.

---
'Mumbai Cutting': Eleven Filmmakers Pay Homage to India's Bustling Metropolis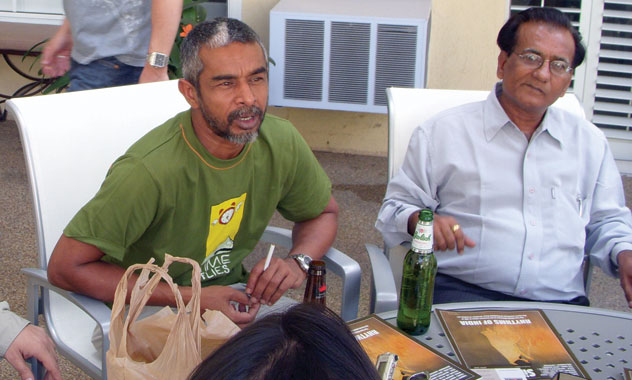 (Above): Filmmakers Shashank Ghosh and Kundan Shah (r), two of 11 filmmakers who made "Mumbai Cutting," talking to reporters in Los Angeles. [Siliconeer photo]
---
Mumbai Cutting . . . A City Unfolds, is a 130-minute film made of 11 brief, separate segments each directed by 11 directors — Jahnu Barua, Rahul Dholakia, Rituparno Ghosh, Shashank Ghosh, Manish Jha, Anurag Kashyap, Sudhir Mishra, Ruchi Narain, Revathy, Ayush Raina and Kundan Shah.

The film had its world premiere at IFFLA at the Closing Night Gala, with eight of the filmmakers in attendance. Rituparno Ghosh, Manish Jha and Ruchi Narain could not make it.

The film, which stars Soha Ali Khan, Jimmy Shergil, Neetu Chandra, Ranvir Shorey and Raima Sen, has music that brings together Indian and Pakistani bands. Sudhir Mishra is all praise for the production house. "I am proud of White Cloud to have pulled off this massive project and I am glad for being the first to encourage this venture," he said. "After seeing the film today I am sure it's going to be well received by the Indian audience, too". Revathy says she has fallen in love with Mumbai all over again. "The film was well accepted by the audience, I love Anurag's film, it's a masterpiece," she said. Kundan Shah also seems to being favoring Anurag: "I am very excited about the film and looking forward for the release in India," said Shah. "For me I loved Anurag's film, it was incredible" Anurag, on the other hand tips his hat to Ayush Raina "on a fantastic debut. The Indian audience will love it."