BOLLYWOOD | Hindi Film Review

Spooky Fun: Bhoothnath

Produced by: B.R. Chopra | Directed by: Vivek Sharma | Music: Vishal-Shekhar | Starring: Amitabh Bachchan, Aman Siddiqui, Shah Rukh Khan, Juhi Chawla, Priyanshu Chatterji and Satish Shah.

---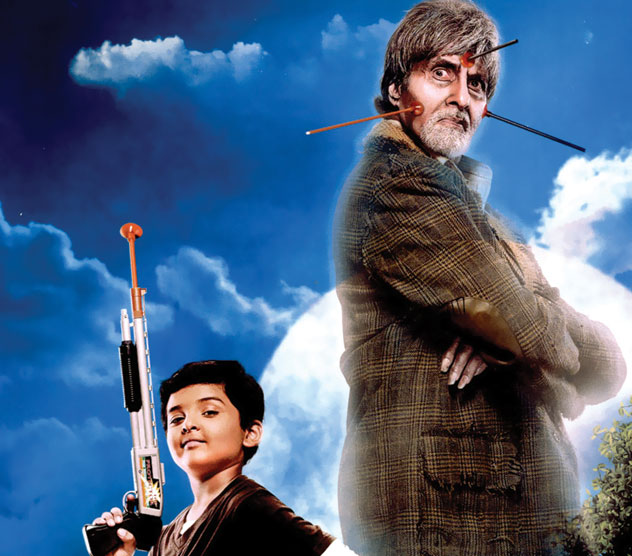 (Above): Aman Siiddiqui (l) and Amitabh Bachchan in "Bhoothnath."

---
Despite an awful amount of dreadful potboilers that Bollywood produces, there seems to be some sign that ever so slowly, a more sophisticated sensibility is beginning to take root. In the stories that are chosen, in the undeniable technical skills that adds luster to more than an occasional Bollywood film, there are reasons to be hopeful where no hope existed not too long ago when Bollywood stuck to its tried and tested (and testing) formulae of romance (dancing around trees), maudlin melodrama (the perennially sobbing mother), violence (laughably amateur dishum-dishum, over-the-top villains).

Take this film. It doesn't have a regular hero and heroine. What you have is a kid and a ageing ghost becoming friends after an absorbing initial battle of wits.

Here's how the story goes. Aditya (Shah Rukh) and Anjali, a married couple with a seven-year-old kid, Banku (Aman Siddiqui) rent a dilapidated, large mansion in Goa. Aditya, who works for a cruise ship, has to leave, and it is left to Anjali to look after Banku.

---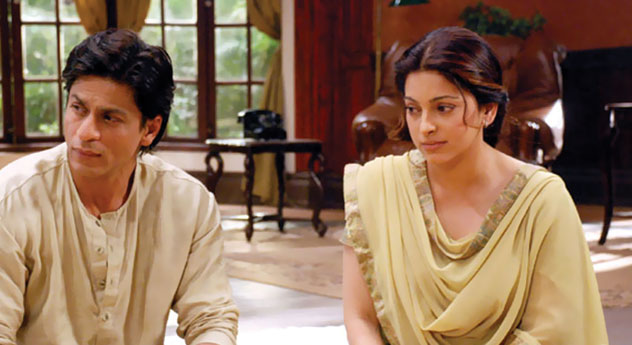 (Above): Shah Rukh Khan (l) and Juhi Chawla in "Bhoothnath."

---
The early signs are ominous – they learn that the house is haunted by a ghost. Banku is a tempestuous, mischievous bundle of energy who drives his poor suffering mother to distraction with his pranks. Banku and the ghost are soon locked into a battle of wits.

The ghost, it turns out, has a story. Kailash Nath (Amitabh Bachchan), is still nursing a grievance after his neglectful son (Priyanshu Chatterji) abandoned his grieving parents (Neena Kulkarni as the sobbing mother) and went to America. When the son returns, it's only to sell the house. His dad dies, and as his soul cannot find peace. He turns into a ghost.

However, there is little horror in the film as Banku and Kailash lock horns. Kailash is keen to get rid of the new intruders, and Banku, utterly fearless, is quite ready to take him on.

---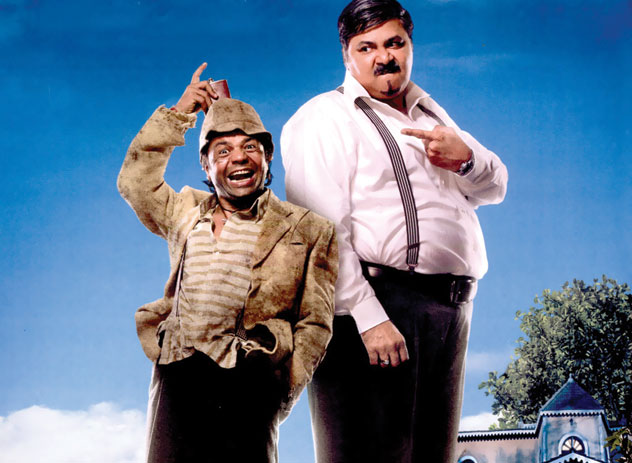 (Above): Rajpal Yadav (l) and Satish Shah in "Bhoothnath."

---
Their rivalry soons transforms into an affectionate bond. Kailash is won over by the disarming charm of the little kid, and very soon he becomes Banku's pet jadugar.

Bringing his magical powers to bear on righting the many wrongs suffered by his little friend, Kailash brings a lot of joy in the little boy's life.

The film is far from perfect, but it has its moments, particularly when debutant director Vivek Sharma sticks to his initial theme of a lighthearted comedy (except for some avoidable slapstick).

---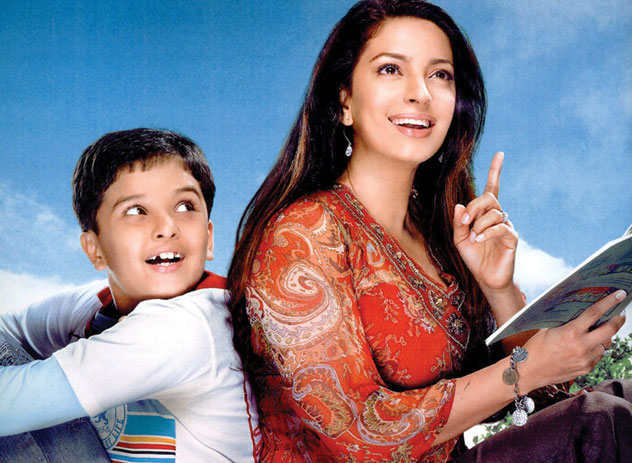 (Above): Aman Siiddiqui (l) and Juhi Chawla in "Bhoothnath."

---
The going gets a bit heavy in the second half when the film seems to change course in its mood, and some family melodrama intrudes. One has a sneaky feeling that producer B.R. Chopra, smarting from a recent flop or two, wanted to add a touch of Baghban as a sort of insurance policy. It doesn't work very well, demonstrating again that it is best to trust the judgement of your director and not try to second-guess him.

The music (Vishal-Shekhar) is okay, but many of the lesser characters have neither been fleshed out, nor have their dialogues been written with much care. As a result, some of the acting talent including that of Shah Rukh and Juhi is wasted.

---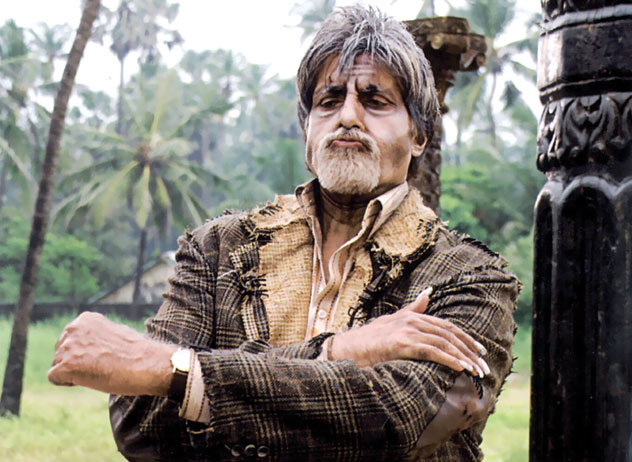 (Above): Amitabh Bachchan in "Bhoothnath."

---
What saves the film is the magical chemistry between Amitabh and Aman, Amitabh not only brings his considerable histrionic powers to bear, but he is amply backed by Aman, who is a complete natural. His absolutely convincing turn as a typical restless, mischievous kid will warm the hearts of many Hindi film buffs this summer.

So flaws notwithstanding, the film passes muster as pretty good entertainment for the entire family. Now, how often can you say that about a Bollywood film?


— Rating: 3 1/2 Stars | Very Good