TAMIL CINEMA:
Serviceable Romance: Yaradi Nee Mohini

---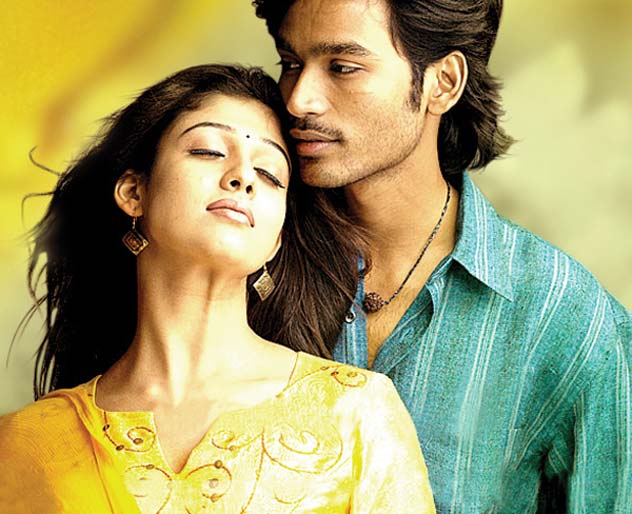 (Above): Scenes from "Yaradi Nee Mohini."

---
R.K. Productions' Yaaradi Nee Mohini is a remake of the Selvaraghavan's Telugu hit Adavari Maatalaku Arthalu Verule. Selva's close associate R. Jawahar makes his debut as director with the Tamil remake. Jawahar has tried to retain the essence of the original Telugu film but hasn't inherited his mentor's mastery of screenplay. It's the same old story of romance and family sentiments, but it was the treatment and casting that made his mentor's film tick.

The first half is totally city based and takes you through Dhanush's struggle for a job, his constant conflicts with his father and his love-at first-sight romance with Nayantara. When he manages to inch closer to her, she drops a bombshell saying that she is going to get married to her uncle. In the second half, by the twist of events, Dhanush has to be a part of her marriage celebrations. The battle between romance, family sentiments and compulsion of reality form the rest of the film.

Dhanush and Nayantara steal the show from the word go as the lead pair. After the blockbuster Diwali release Polladhavan, Dhanush has come up with a romantic family entertainer. His boy-next-door image helps a lot in developing the plot. But at times his mannerisms and voice modulation appear dry and repetitive as we are tired of seeing him emoting those innocent gestures in film after film. Nonetheless, full credit to Dhanush for carrying the film on his shoulders with his flamboyant charm intact till the end.

Nayantara has no scope for her kind of glamour, But she does well in exhibiting her acting skills in full measure. Her performance in emotional scenes is riveting and she is a revelation in the film.

The charismatic Raghuvaran and his screen presence also deserve special mention. As the father of Dhanush he portrays subtle emotions in his own style and leaves your heart heavy with his elegant performance. Oh Raghuvaran! We really miss you.

Karunas as Dhanush's friend manages to evoke occasional laughter while Karthik plays an important role.

On the downside, the film moves too much along predictable lines and is punishingly lengthy in the second half. Since most of the characters lack a sense of seriousness, even the starkest twists in the film fail to create any impact. It's obvious that the basic plot of the film is a direct inspiration from the Hindi blockbuster Dilwale Dulhaniya Le Jayenge. The music score by Yuvan Shankar Raja is consistent. So much so, he never tries any variations for the background score at all. Songs are hummable, but definitely lack Yuvan's touch. Poor Choice of singers further mars the impact.


— Chennai Online.