DIARY:
From Ghana With Love: A Volunteer's Journal


Ghana has communities that need help in many aspects, but its people also have rich, diverse cultural traditions, writes Preeti Tijoriwal.
---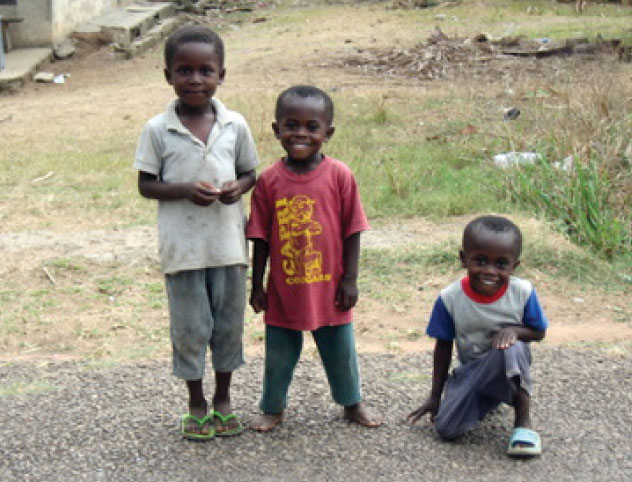 (Above): Neighborhood kids, full of vim and energy. [Preeti Tijoriwal photo]
---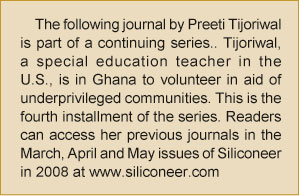 I am the superman! I am the ninja! That's what the kids were shouting the first time they climbed on the jungle gym at the new community playground. I have been busy, busy working on completing all the projects before I leave in less than three weeks. It will be strange being back home with running water, a proper shower, and a comfortable bed after almost a year of "being flexible." Not to mention, having a job (which I don't have yet, if anyone is looking to hire?) with a fixed schedule and a boss to impress. But I am looking forward to being with my family and eating home-cooked meals :). I realized that I didn't really tell you about my host family here — my home away from home. My host family consists of momma Tina, father William, grandma, and five kids ranging in age from 15 to 1 year. Certainly never a dull moment! The kids have been on school holidays for the past three weeks, so lately the house has been extra chaotic. I live in a quiet neighborhood, except for the baby goats, roosters, and pounding of fufu (a local dish made out of cassava or yams), all of which start at 4:30 in the morning. Occasionally, a neighbor will decide to play traditional or religious music all night long, loud enough for the whole mountainside to enjoy! Not typically heard in my neighborhood, but a sound quite familiar at any taxi stand or bus station is the banshee-like wailing of young girls shouting, "yeeeesssssssss puuuuure waaaaataaahhh!" Still, the sounds of the mountain are far more pleasant than the constant honking of horns I experienced in Delhi.

Funeral, but Not Funereal. Speaking of all-nighters, what's the first word that comes to mind when you think of a funeral? Party! At least that's what I think of in this region where the Akan ethnic group prevails. (Even in a small country like Ghana, I gather that different regions are distinct in their language, food and traditions). On the Kwahu Ridge, every other weekend is a "funeral weekend." Starting on Thursday evening and continuing on until Monday morning, this relatively peaceful mountainside is littered with people from across the country wearing all black and red. You can always tell if a person is a visitor from out of town by the look of their tight, revealing clothes and the trail of rubbish they leave behind. A generally uneventful place, during these weekends the mountain becomes one long block party with singing, dancing, drumming, and plenty of boozing. It's hard to tell if they are mourning or happy to see the deceased go…. Maybe they are celebrating an afterlife or perhaps it's just an excuse to get together with friends and loved ones.

The good thing is that not only death, but birth also is celebrated in a vibrant and festive way. About a week to ten days after the baby is born, in a ceremony called the "out-dooring," she is taken outside for the first time for the neighbors to see. During this ceremony, the child is also given a unique name aside from the name she was given at birth based on the day she was born. Some tribal sects also give the newborn a test — at the tender age of one week, they will present two bowls to the baby, one with water and one with clear alcohol. They will ask the baby to choose the one that is "good," instilling a sense of morality from the very beginning. I'm not sure what they do if the baby chooses the "wrong" bowl!

Royal Experience. I had my first "royal" experience the other day. I went to a nearby village with the manager of an orphanage I'm working with and one of his workers to ask the local farmers to give us cheap, or free, cassava sticks to plant. We went to the chief of the town first to introduce ourselves and ask his assistance. I followed the lead of my companions. First we were to greet the chief, called Nana. I bowed down in front of him and offered my hand, but unlike with the others (both males), he did not shake my hand. I assumed it was a "woman" thing and took my seat in the back. The worker proceeded to make our appeal, standing when he spoke and removing his shoes. Next to the chief was sitting an old, skinny but strong man whose eyes looked possessed. He claimed to be the chief's "spokesman." We actually spoke to him first, and from what I gathered, he then summarized to the chief what we said and asked his permission for us to speak directly to him. Perhaps the spokesman was a bit drunk or maybe deranged, at one point he got angry at another person (I'm still not sure why) and kept shouting at him to bow down in front of the chief! The spokesman was dancing around doing a "hold-me-back" routine, while the chief laughed at him and told him to sit down. Later the spokesperson shouted at me to greet him — even though I already had. In the end, we got what we wanted and the chief shook my hand, too.

---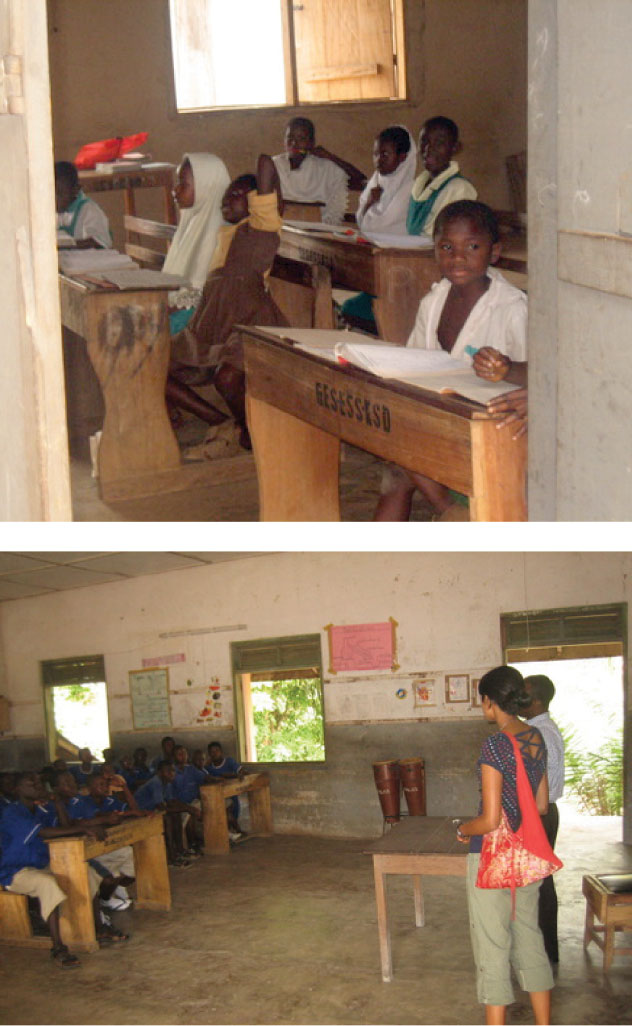 (Above): (Top): An Islamic school in Ghana. The school needed repairs for which the author's team volunteered. (Bottom): The author meets school students.
---
Seva Ghana. These past few weeks, I have made friends with masons, electricians, painters, carpenters, medal welders, and all the helpers that come with them. I've honed my bargaining skills (and pleading skills) down to a tee. I have a love/hate relationship with all of them. I love them when they do what I want quickly and efficiently. I hate them when they waste my day and tell me they know what they are doing when they don't (which is often). But I'm super excited and very happy with the progress we've made and the way things are turning out. Here's a run down of what has happened so far:

We painted the walls of the information center at Kwahu Government Hospital in Atibie-Kwahu. A local sponsor has offered to change the flooring.

St. Paul's Anglican Junior High School in Obo-Kwahu has been wired for electricity in three classrooms and two staff offices. The electric company has made the connection, and the students will be able to come for night studies when they resume classes this week. In the future the school will also be able to set up a computer lab.

The gutters have been rebuilt and covered with wood at A.K. Islamic Primary School in Mpreaso-Kwahu. Also, we built steps at the back of the school because the foot of the doors was about two feet off the ground. This will protect sanitation and also allow little legs easier access to the classrooms. We painted the walls of all four classrooms with educational material, such as the alphabet, numbers, and 2-3 letter words.

"I am the superman! I am the ninja!" The community playground is a huge success and a big hit! Since the moment we brought the pieces, kids have been there from morning until evening everyday. The playground has been placed in Mpreaso-Kwahu, a central location of all the towns on the mountain. It contains five pieces: swings, slide, jungle gym, merry-go-round, and a seesaw. I have named the playground Shanti, after my grandmother.

A farm is in the process of being established at Tomo-Ni Children's Home in Obomeng-Kwahu. It is about 3 acres. We have planted maize and will interplant cassava. The manager of the home hopes to use a portion for consumption while selling the rest to help maintain the farm in the future.

The final project is to help develop a small island community on Lake Volta. They are primarily fishermen, so we will purchase a few new fishing nets for them. In addition, we hope to help them build permanent homes. Currently, they live in poorly constructed mud huts that any heavy rainfall could easily take down. We will build a communal home using concrete blocks so that they have more land for farming.

Where Thanks Are Due. The locals are always thanking me and saying I've done great things and made a lasting difference. I always tell them I am lucky to have such amazingly generous friends and family back home. So on their behalf, thank you. You have made a huge impact on this community.

See you soon!

To donate to Seva Ghana, click here for PayPal link.