CINEMA:
Film Fest Honor: 'Blind Ambition'


Independent filmmaker Bala Rajasekharuni's Blind Ambition, a film about a legally blind woman's spirited mission to run a marathon race, has won an award at a Hollywood film festival. A Siliconeer report.
---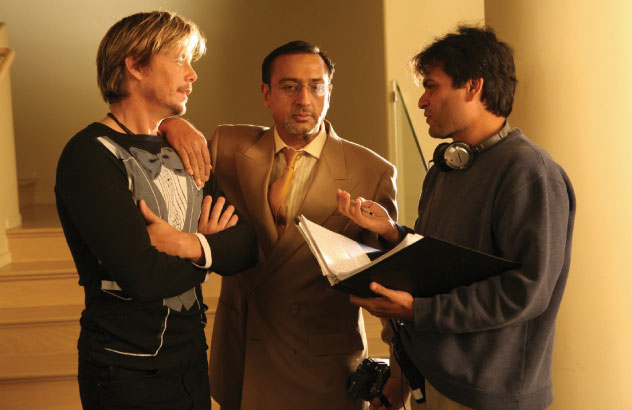 (Above): 'Blind Ambition' stars Christopher Atkins (l) and Gulshan Grover (c) discussing a scene with director Bala Rajasekharuni.
---
Blind Ambition, an independent Indian American feature, won the IFFF-Spirit award at the International Family Film Festival – Hollywood recently, according to a press release from the filmmaker.

The IFFF-Spirit award is given by the Festival Jury and the Board of Directors for an "outstanding family film [which] exemplifies the highest artistic merit and superbly celebrates the ennobling spirit of the human condition."

Set in small town USA, Blind Ambition is the story of Sapna, a pretty, smart fun-loving teenager who is all about celebrating life despite being legally blind. Sapna aspires to run a marathon as a tribute to the memory of her late mother. Supported by her quirky brother Surya and eccentric local auto mechanic Wild Bill, she convinces the solitary teacher Autumn Milestone to be her coach. Sapna's resilience and determination serve as an inspiration for everyone around her in the face of each of their personal tribulations. This film is also a romantic coming of age story filled with light-hearted humor as Sapna goes on her first date, has her first kiss, goes to the movies and even drives a car.

Being an independent film without studio backing, it wasn't easy to film marathon sequences with hundreds of extras in order to get the right ambience. The film's director and producer Bala Rajasekharuni approached various actual marathons to see if he could shoot onsite; however, several rejected the offer or charged too much. Finally, Lynn Flanagan, one of the founders of the Carlsbad Marathon, welcomed Rajasekharuni to shoot Blind Ambition during the actual marathon event. Actors Michelle Massey, Vanessa Angel and some others were given official marathon numbers so they would blend in with the crowd. The crew and cast almost ran the full marathon course while shooting the film.

The film's cast includes Bollywood star Gulshan Grover.

Rajasekharuni had approached the National Federation of the Blind, California, for research into the world of the blind before the shooting of the film. On completion, NFB has officially endorsed Blind Ambition. Subcontinent Films, LLC is planning to have an official premiere in a premium Hollywood theater soon.

Rajasekharuni has a master's degree in theater and cinema from the University of Wisconsin-Madison. He debuted with his feature Green Card Fever, which had a world-wide release in 2003/04. Blind Ambition is Rajasekharuni's second feature as a producer/director/co-writer.

The International Family Film Festival is a renowned family film festival held in the heart of Hollywood. It has successfully completed its 13th year at Raleigh Studios. Submissions in 2008 came from 17 countries.