AUTO REVIEW:
Roomy Interiors: 2008 Toyota Avalon


Families with growing children, who can add inches in height and foot sizes faster than you can get to the store and buy new shoes and longer pants, will appreciate the very generously sized interior of the 2008 Toyota Avalon, writes Sally Miller Wyatt.
---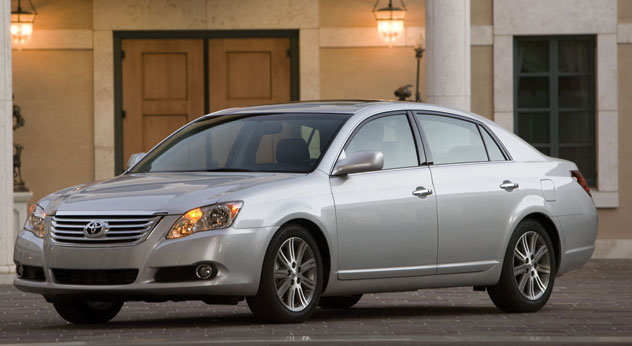 (Above): Exterior view of the 2008 Toyota Avalon.

---
Sometimes you have to see it to believe it. Toyota says their Avalon is a mid-sized sedan, but a glance into the interior of this car says something different. This is a very generously sized interior for a mid-sized sedan.

That's a good thing for families with growing children. Especially children on the cusp of adolescence, when they can add inches in height and foot sizes faster than you can get to the store and buy new shoes and longer pants. In fact, they can outgrow a car before you're done paying for it. Witness my son who gained seven inches in height just during his middle school years.

So if you're a forward-thinking parent, maybe you should check out a mid-sized sedan with generous amounts of leg room for both front and rear seat passengers, as the Avalon has, even while the children are still in elementary school.

---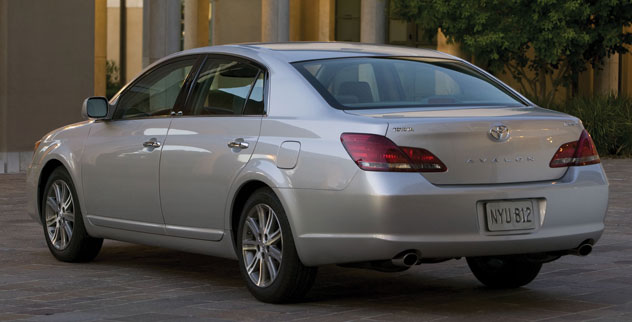 (Above): Exterior view of the 2008 Toyota Avalon.

---
The Toyota Avalon is on its third generation, and for 2008, it has been tweaked and enhanced in a number of ways. The vehicle has increased performance, a new six-speed automatic transmission and a revised braking system. New touches to the car's interior and exterior design — such as on the front bumper and grille, a new design for the wheels and the addition of chrome door handles — adds a stylish look.

On the inside, the 2008 Avalon now offer four-way power passenger seats, and all models get a new multi-information display, leather shift knob and chrome accents here and there.

Also standard for 2008 models is a six-disc CD changer, plus a jack for the kid's iPods or MP3/WMA music players. Upgrades include Bluetooth wireless technology.

---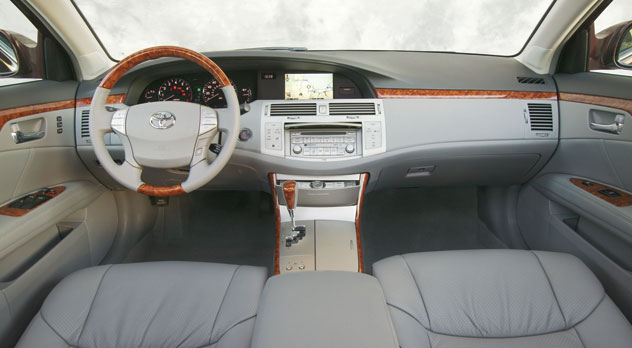 (Above): Interior view of the 2008 Toyota Avalon.

---
When shopping for an Avalon, you have four grades available from which to choose: the standard XL, a sporty Touring model, a nicely equipped XLS and the top of the line Limited, which was the model offered us for our test drive. This version is decked out in dark wood grain and chrome trim accents on the interior, as well as a host of other goodies, such as power-adjustable lumbar seats for driver and front passenger, and turn signals in the side mirrors, which are also equipped with "puddle lamps" that shine down on the curb when you open the door, helping you to see better at night.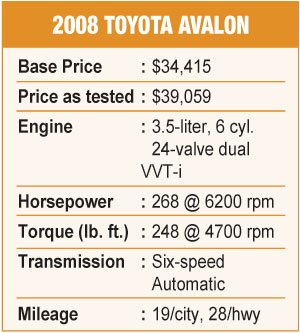 But, many families on a budget may be interested in standard fare, and even the XL version is very nicely equipped, with such standard items as a premium sound system with six-disc CD changer and nine speakers, remote keyless entry, power door locks and windows, power adjustable driver's seat, steering wheel-mounted audio and climate controls, cruise control, tilt-and-telescoping steering wheel, and other nice-to-have items.

Standard safety features include front seat mounted side air bags and front and rear side curtain air bags, and an air bag for the driver's knees; anti-lock brakes with Electronic Brake-force Distribution and daytime running lights. Vehicle Stability Control is available with Traction Control and Brake Assist.

Behind the wheel, you'll find a clean and well-designed dashboard and center console, where all the dials, displays and cup holders can be shuttered away behind little doors.

The seats are firm, comfortable and generous in their hip room. Visibility to all sides is excellent.
On the road, you'll find the ride is smooth and quiet, thanks to an exterior design intended to lower wind and exterior noise, and vibration. All Avalons are powered by a 3.5-liter V6 engine that can accelerate from zero to 60 in just over 7 seconds, yet is still thrifty enough to offer a mileage rating of 19 mpg for city driving and 28 mpg for highway driving.

Overall, we found the 2008 Toyota Avalon to be an extremely comfortable car that can easily accommodate a full back seat of infant seats, growing adolescents or adults, with a good-sized trunk to carry all their stuff, to boot.