SUBCONTINENT:
The Climate Challenge: India's Defiant Stand


In a post-Kyoto era, the developed nations are increasing pressure on India and China to accept emission caps on greenhouse gases, but India believes the responsibility lies mostly on the West which is historically responsible for creating the crisis, writes Siddharth Srivastava.

---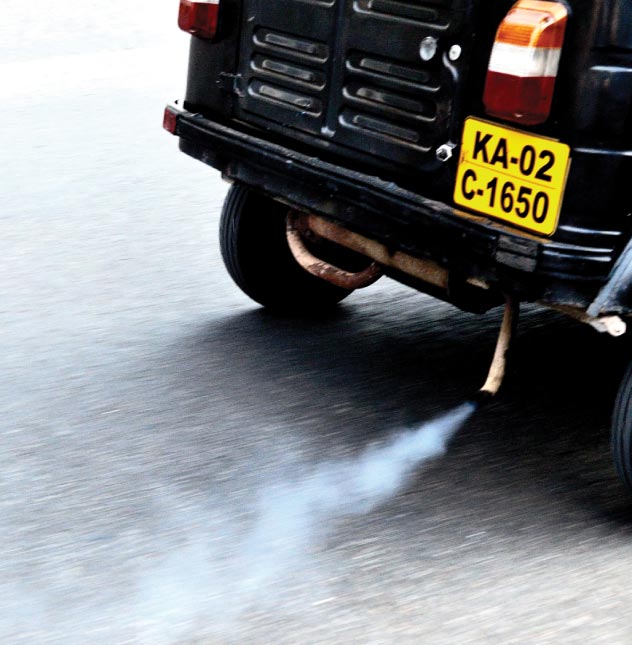 (Above): An autorickshaw emits smog in Bangalore.
---
Despite being the world's fourth largest emitter of greenhouse gases — GHGs — and one of the fastest growing economies, India has been steadfast in refusing any time bound commitment to reduce emissions and resists legally binding caps.  

In the recent past, even as the fight against climate change and global warming finds new resonance leading to a post-Kyoto protocol era, India has reiterated its stand, resisting significant international pressure. 

The Kyoto Protocol currently exempts Annexure-II developing countries from reduction commitments, and India wants that this should continue post-2012.

India's Stand

India subscribes to the "polluter pays" and "collective but differentiated" onus of developed and developing nations in checking GHG emissions. This means that the former bears the burden of addressing environmental damage while the latter can adapt accordingly.  

India's Prime Minister Manmohan Singh recently said that the onus of reversing environmental damage rests with the developed world as it is their industrial activities that have resulted in adverse climate change. 

He said that ``due care must be taken not to allow growth and development prospects in the developing world to be undermined or constrained.''  

Manmohan announced that India's strategy for sustainable development known as the National Action Plan on Climate Change should be in place by June this year. 

Manmohan's views were recently echoed by Shyam Saran, the special envoy of the Indian prime minister on climate change. Taking on suggestions by Japan and the U.S., Saran ruled out India adopting a "bottom-up, sectoral approach" to control emissions. "There can't be imposition of industry-wide norms on a global basis," he said.  

The Japan plan, supported by the U.S., is being looked as a possible successor to the Kyoto Protocol and mandates nations to set sector-specific CO2 reduction targets via conservation methods in polluting industries such as utilities and steel.

India fears developed countries will use "sectoral norms" to impose protectionist tariffs on exports from developing countries. China has also opposed Japan's proposal.  

Last month, in a report, investment bank CIBC World Markets said that nations such as Canada and the United States may impose a "carbon tariff" on goods from China, India and other developing countries, which have become the biggest contributors to GHG emissions.  

According to Saran, any post Kyoto framework should look at an expanded commitment from developed countries to rein carbon emissions.  

New Delhi is also not happy being clubbed with China on emission levels as India's contribution is far below major emitters like the U.S. and China.  

The Indian government has been quoting global carbon emission figures over the last century, in which the U.S. leads, followed by the E.U. and China. India accounts for only two percent of the total emissions.

---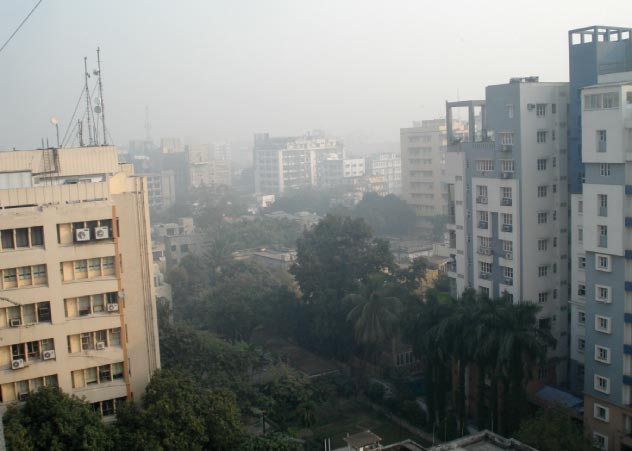 (Above): Kolkata shows the literally visible toll of pollution in India. Western countries are keen to get India to accept strict control of emission of greenhouse gases, but India is resisting such calls.
---
International Pressure

There is no doubt that there is cause for concern. According to the International Energy Agency, assuming government policies remain the same, Chinese and Indian economic development will drive annual global energy related emissions of CO2, the main GHG, from 27 billion metric tons in 2005 to 42 billion metric tons in 2030.  

However, it is unclear how the issue can be satisfactorily resolved. 

This week leaders of Japan and the European Union underlined "highly ambitious and binding" global targets to fight climate change. Leaders said the July G8 summit of rich nations must offer concrete progress on GHG emissions. 

However, backing India's position, George Kell, executive director of the UN body Global Compact, said: "You can't deny emerging markets the right to the same living standards as OECD countries." Kell is the first head of a UN body to publicly endorse India's position on the issue. 

The U.S., meanwhile, has said post-Kyoto protocols to tackle climate change will not be achieved if India and China are given a "pass." Washington has said that it will not be a signatory to any agreements if the two emerging Asian giants are not on board. 

"The international community has got to come up with a new plan. And if we give a pass, again, to India and China, these major rapidly growing economies, whatever measures we take are going to be totally cancelled and overshadowed," Deputy Secretary of State John Negroponte has said. 

Earlier this month, the International Monetary Fund said any policy framework for multilateral action on climate change would be difficult without India, China, Brazil, and Russia, as during the next 50 years, 70 percent of emissions are projected from emerging and developing economies.

Consensus

Indeed, the expert opinion is that a consensus will have to be built. Rajendra Pachauri, head of the Intergovernmental Panel on Climate Change and director general of TERI at New Delhi, recently said that that there was still time for the developed countries to convince India and China to sign a new deal next year. 

"This would require a series of measures and actions in the form of tangible efforts to make technology transfer a reality and providing money to the poorer countries to help adapt to the likely impact of global warming," he said. "I doubt whether any of the developing countries will make any commitments before they have seen the developed countries take a specific stand." 

Indeed, in a country such as India where more than 400 million continue to live below subsistence levels, the focus has to be development and removal of poverty, unlike Western countries where these issues are already addressed and environment is the prime focus. Any future solution will require a willingness to compromise where the West acknowledges the need for technology transfer and the need of emerging markets to continue to develop to help lead more of its population out of poverty, and developing nations like India and China will have to realize that the days of unbridled, uncontrolled development are over, and some painful restrictions will have to be countenanced as the entire planet faces a critical challenge of environmental sustainability.