EDITORIAL:
A Prisoner of Conscience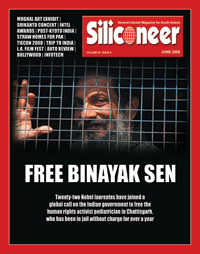 Indian Americans never tire of marveling at India's blistering growth rate, and free market-wallahs in the U.S. are happy to join the party. There is no question that the economic reforms have unleashed an economic dynamism that has totally changed the way the world — and for that matter, India — looks at itself.

But wait, hold your applause. Amid all the hoopla over high-rise complexes, glitzy malls and a frenzy of conspicuous consumption in India's metropolises (remember, only the very rich are invited to this party), you have to step back for a moment and ask the question: All this growth is fine, but is it being spread out equitably enough so that India's crippling poverty is addressed?

The answer cannot be in the affirmative. Away from the metropolises, go to India's rural hinterland and the grim reminders pop up.

While well-heeled Indian pat themselves on the back and bask in the glowing praise of gora "experts," rural India has been ravaged by the worst spate of farmer suicides in its recorded history.

From Chhattisgarh comes the disquieting news that India's much heralded democracy and rule of law is also not all that it's cracked to be. The South Asian record on tribals is abysmal — nothing new there. What is new is that there appears to be a growing nexus between rapacious firms and the state elite to rid the land of those pesky tribals. The pretext is a Maoist insurgency, the solution: a dreadful violent vigilante army made out of lumpen elements – salwa judum.

Caught amid this violent battle is a man who should never have been arrested in the first place, but India, you see, is under a frenzy of "reform." Dr. Binayak Sen, a pediatrician and human rights activist whose compassion and support for disadvantaged tribals has won international acclaim, just completed a year in prison in Raipur.

Not only has he not been brought to trial, the police haven't even filed a charge sheet. They charge him of sedition — a catch-all judicial technique perfected in the days of the Raj. To date, their attempts to back their charges have collapsed laughably. Top Indian newspapers and intellectuals in India and Nobel laureates internationally have pleaded for his release. Is the Indian government listening? Read more about it in this month's cover story.

The devastating October 2005 earthquake in northern Pakistan measured an estimated 7.6 on the Richter scale, killing over 70,000 people in Pakistan and Kashmir (on both side of the Line of Control with India). It leveled the town of Balakot almost completely and caused extensive damage in Abbottabad and the surrounding areas as the deaths associated with it reached as far as the nation's capital of Islamabad. Over 100,000 people were seriously injured and millions were left homeless.

World attention has moved on to other disasters, of which, alas, there seems to be no dearth. Cyclone Nargis has wreaked havoc in Myanmar, while China is reeling from another earthquake.

In Pakistan's devastated areas, people are still struggling to rebuild their lives. Housing is a major challenge. Martin Hammer, a program advisor with Sacramento Emerging Green Builders and architect with PAKSBAB — Pakistan Straw Bale and Appropriate Building — is working with local associates to rebuild houses with an alternative, innovative approach.

Straw bales, says Hammer, fit right in with the region's seismic as well as environmental profile. He is advising on how to build houses with surplus straw that is compacted into bales. He recently talked about the project in Sacramento and our correspondent Ras. H. Siddiqui, who was there, writes about it in this issue.

The exhibition "MURAQQA': Imperial Mughal Albums from the Chester Beatty Library, Dublin," at the Washington D.C.-based Smithsonian Institution's Arthur M. Sackler Gallery brings together 86 jewel-like masterpieces of Mughal art from this renowned collection and include masterworks from the Freer Gallery's famed collection of Mughal paintings.

Mughal Emperors Jahangir (1605-1627) and Shah Jahan (1627-1658) commissioned remarkable paintings and calligraphy for display in muraqqa, or lavish imperial albums. These albums offer glimpses into the private life of the imperial family, as well as Sufi saints and mystics, allies and courtiers, and natural history subjects. Produced by the greatest Mughal artists of the time, these paintings offer a fascinating, detailed lens into the lives of these great rulers.

Not all of us can visit Washington, D.C. For those, we reproduce, in fine detail, some of the exquisite miniatures in this month's issue. However, we hasten to add, that if you have a chance, don't miss the opportunity to see the original miniatures on display during the three-month exhibit May 3-Aug. 3.