COVER STORY:
Free Binayak Sen: Global Support for a Rights Activist


A gentle pediatrician, whose work with tribal communities in Chhattisgarh has drawn international acclaim, is languishing in jail without trial or even a chargesheet for over a year, writes Ranjitha Moorthy.
---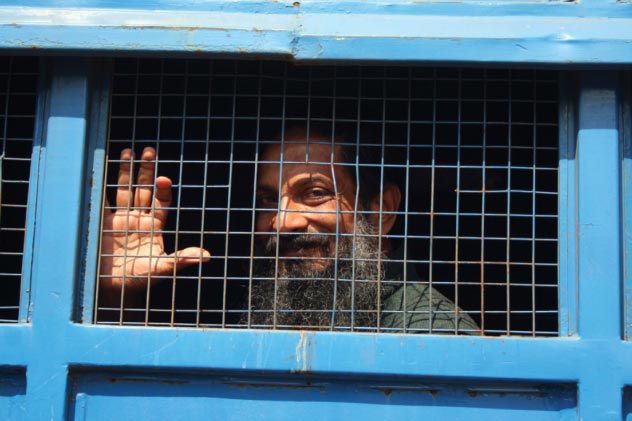 (Above): Human rights activist and pediatrician Binayak Sen, whose year-long incarceration in Chhattishgarh without trial has drawn global protest including a call from 22 Nobel laureates for his release.
---
A young doctor graduated from Christian Medical College in Vellore with a gold medal. A fairly comfortable life with a busy practice was his for the taking.

Instead, he did something very odd by conventional Indian middle class standards.

He went to the remote villages of Chhattisgarh, and ministered to the sick children and adults of the impoverished, marginalized adivasi or tribal population.

He didn't stop there. With his wife Ilina, he founded Rupantor (the Bangla word for "transformation") where he got the indigenous people involved in sustainable farming.
You would think such a man should be treated like a hero.

And you would be right.

Dr. Binayak Sen has been awarded the 2008 Jonathan Mann Award for Global Health and Human Rights by the Washington, D.C.-based Global Health Council, which represents public health organizations and professionals working in over 140 countries in six continents.

But here's the odd thing. In his own state, his very own state government isn't impressed. In fact, itt has thrown him in jail, where he is languishing for over a year. The government accuses him "sedition," a mendacious tool of the British Raj to clamp down on all political dissent.

Welcome to the brave new world of Indian "reforms" where the rule of law is the tool of the mighty. Sen's supporters have been vociferous in saying that the government has been after Sen because he has exposed the government's abuses. Sen has uncovered human rights violations by the state and other armed groups. He has highlighted starvation deaths, dysentery epidemics, poor conditions of under trial prisoners, custodial deaths and extra judicial killings. Sen has also worked on the issues of right to food, work, health and education. He has been amongst the most vocal opponents of Salwa Judum, a private militia movement armed by the Chhattisgarh government to combat Maoist insurgency – that has contributed to a spiraling increase in violence and displacement of thousands of tribals.

The government's answer to Sen's pertinent questions was to arrest him and brand him a terrorist with Maoist sympathies. The sad part is that Sen is one of many such human rights activists still awaiting justice in jails across India — all arrested under dreaded draconian laws. One of these laws redefines the word "unlawful," covering all organizations that make the government uncomfortable. It criminalizes all organizations that are legitimately engaged in thought-provoking actions amongst the public. One law also makes it illegal for the press to report on the genuine activities of such organizations. Another greatly increases the state's power to arrest and incarcerate people at will without either trial or evidence of guilt. These black laws are now being used to silence voices of reason. Voices that can make a difference to the lives of ordinary people. Voices such as that of Dr. Binayak Sen.

The 58-year-old pediatrician was selected by an international jury of public health professionals for the international award because of his years of service to poor and tribal communities in India, his effective leadership in establishing self-sustaining health-care services where none existed, and his unwavering c commitment to civil liberties and human rights. In addition to working with the PUCL, Sen and his wife, Dr. Ilina Sen, are the founders of Rupantor, a community-based nongovernmental organization that has trained, deployed and monitored the work of community health workers spread throughout 20 villages. Rupantor's activities include initiatives to counter alcohol abuse, violence against women and to promote food security.

"Dr. Sen's accomplishments speak volumes about what can be achieved in very poor areas when health practitioners are also committed community leaders," said Dr. Nils Daulaire, president of the Global Health Council. "He staffed a hospital created by and funded by impoverished mine workers, and he has spent his lifetime educating people about health practices and civil liberties—providing information that has saved lives and improved conditions of thousands of people. His good works need to be recognized as a major contribution to India and to global health, he is certainly not a threat to state security."

Sen's compassionate care looked beyond poverty, caste, creed and ideology — a fact that led him to treat Narayan Sanyal, a senior Naxalite leader in Raipur jail. Although Sen ministered Sanyal under the watchful eye of the jail authorities, Sen was accused of aiding and abetting people like Sanyal and furthering anti-national causes.

---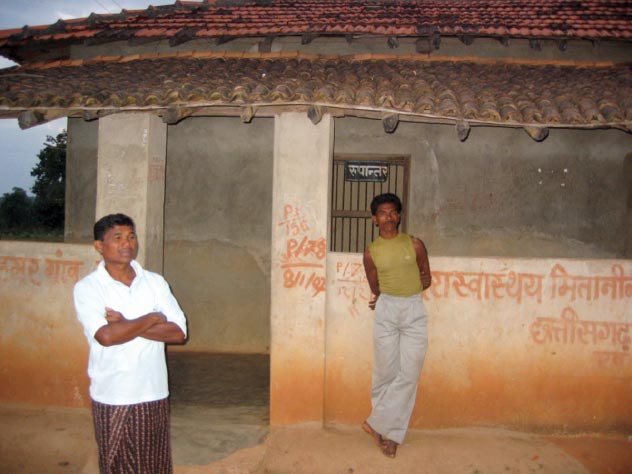 (Above): Rupantar's office in Raipur, Chhattisgarh.
---
What brought about the state's wrath upon Sen? On March 31, 2007, the Chhattisgarh government claimed that 12 Maoist insurgents were gunned down in a clash with the police. An investigation led by Sen revealed the truth — the 12 people killed were not Maoists — they were simply innocent tribals shot at close range. When Sen drew attention to this parody of human rights, the human rights commission in the state ordered an exhumation. The government's response was to foist false charges on Sen of nursing Maoist sympathies and then to incarcerate him!

What you can do. Visit www.FreeBinayakSen.org and www.PUCL.org, put your name to a petition demanding the unconditional release of Dr Sen. Go ahead and organize or feel free to participate in a vigil to free Dr Sen and protest Black Laws - email mail@friendsofsouthasia.org for more information on events and vigils. Raise awareness by writing in newspapers and local media about the abuse of human rights, the plight of genuine activists and draconian laws.

Global Day of Protest in Support of Binayak Sen

Hundreds of Activists from a broad coalition of 50 international human rights groups that includes Amnesty International, Friends of South Asia in the U.S., South Asian Network for Secularism and Democracy — SANSAD — in Canada, South Asia Solidarity Group in the U.K. took to the streets on two Global days of Action, May 13 and 14, to protest the continued incarceration of human rights crusader Dr. Binayak Sen. Simultaneous protests were held outside the Indian consulates in London, New York, Washington D.C., San Francisco and Vancouver, while activists in Paris, Stockholm, Boston, Pittsburgh, Philadelphia, Dallas and many other cities organized vigils, talks, and film screenings to raise awareness about the ongoing persecution of human rights activists in Chattisgarh. The protesters demanded the following:

The immediate release of Dr. Sen. and other human rights activists;

Repealing repressive laws such as the Unlawful Activities (Prevention) Act, 2004; and, Chhattisgarh Special Public Safety Act, 2005 &

Disbanding the militia movement of Salwa Judum

The coalition represents an amazing diversity of groups, from internationally recognized human rights organizations like Amnesty International to anti-war groups like ANSWER and Boston Mobilization, student groups like Alliance for a Secular and Democratic South Asia at MIT to the Association of South Asian Political Activists at UC Berkeley, Lawyers groups liker the National Lawyers' Guild, health rights groups such as People's Health Movement, local peace and justice groups, as well as a large number of diasporic groups. While these groups are engaged in organizing around diverse issues such as corporate globalization, communalism, nuclear non-proliferation, etc. related to economic, social and environmental justice, they are unified in their condemnation of the alarming trend where human rights defenders that oppose state repression are being held under draconian laws such the CSPSA (Chhattisgarh Special Public Security Act) and the UAPA (Unlawful Activities Prevention Act). For a complete listing of organizations and further information about the global day of protest, please go to http://www.aidboston.org/FreeBinayakSen/

The consulates were handed petitions with over 4,000 signatures from individuals around the world, letters by internationally acclaimed intellectuals such as Noam Chomsky, Arundhati Roy, George Galloway, Mahashweta Devi, and 22 Nobel Prize winning scientists and economists who are all urging the Indian government to free Binayak Sen and stop the harassment of human rights activists.

---

(Above): (Left): A hospital run by Jan Swasthya Sahyog. (Right): Field workers keep detailed records of seed production as part of Rupantar's biodiversity program.
---
International Recognition for the Good Doctor

Dr. Binayak Sen was bestowed the Jonathan Mann Award for Global Health and Human Rights in May 2008 for his contribution to the fight against poverty, illness and social injustice. The award was established in honor of Dr. Jonathan Mann, health practitioner and community leader, who articulated the ways in which the health of individuals and populations reflects access to basic human rights. An understanding of Dr. Mann's vision of health as a human right is particularly crucial when neoliberal economic models are recasting health care not as an essential human need and a public good that should be universally accessible, but as a private commodity, access to which must be dictated by market forces.

Sen is the first Indian to be recognized with the Jonathan Mann award and it is hoped that the award will serve to underline the need for an Indian public health policy that is responsive to the needs of the poorest. A public discussion of the problems with corporate dominance of healthcare is urgently needed when international financial institutions and multinational corporations are entering the Indian healthcare market, and are pressing for policy changes that advance undermine the polity to the economy.

The Global Health Council is the world's largest membership alliance of health-care professionals and organizations including NGOs, foundations, corporations, government agencies, academic institutions etc. and works to put human rights at the center of global health policy. For more about the Global Health Council, go to http://www.globalhealth.org/