SUBCONTINENT:
Lest We Forget: A Bombay Diary


Ordinary people of Bombay began to gather, first in a trickle, then in a flood, in a remarkable public statement of solidarity with the victims of the terror attacks in November last year, writes Sapna Shahani, who helped organize one of the earlier peaceful public protests.

---

A candlelight vigil by Bombay residents initiated by the author. [Sapna Shahani photos]
---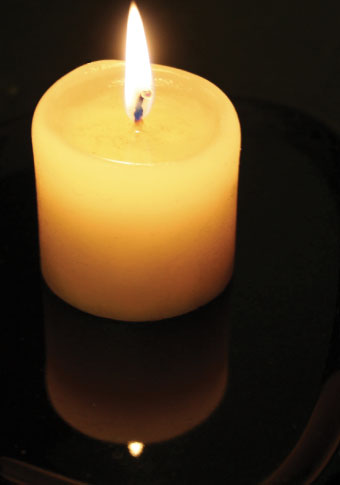 Barely a week after the gruesome attacks on Bombay in late November last year, Indian news channels had already begun turning their attention back to Bollywood and cricket. The 24x7 coverage that NDTV offered ended after the last teardrop could be extracted from family members of terror victims by Barkha Dutt's tender manipulation. The question on many Bombayites' minds, as they passionately hoped for a safer future, was: How long will everyone care? Would it be long enough to really demand change after this new attack?

Fortunately, the ordinary middle class person has not yet forgotten. No thanks to the ratings-driven, herd mentality of the major English news channels — Times Now and Headlines Today included — who are somehow only able to provide one "26/11" perspective a day. I, like many other Bombayites, am still waiting for so many answers, but our journalists, who should be vehicles of investigation into what they call India's 9-11, have failed to even touch upon a basic question: Why?

Not forgetting the hundreds who were brutally murdered this time around has more to do with the one-on-one communication between people who came out on the streets, talked to their neighbors, posted on Facebook and decided to finally get up and do something about it.

My turning point occurred as I stayed home like most of Bombay the day after the attacks began, glued to the news, sputtering curses at the death-count obsessed reporters and at the appalling management of the hostage situation that was unfolding in front of the world. I had two friends, an American and English couple, staying with me at the time who suddenly felt like they were under house arrest, since news reports were coming in that terrorists, still on the loose, were seeking out people of their nationalities specifically.

By the next evening, I had had enough. A like-minded friend, Sejal Mody, agreed that we had to do something. We needed to mourn publicly over our shared losses, and to put up some kind of peaceful yet firm stand to let the authorities know that we need better infrastructure to handle emergencies that have become all too common in Bombay now. We decided to call a candlelight vigil at Carter Road promenade in Bandra, a safe distance from South Bombay, that same night.

We quickly sent out a text message to everyone we knew and posted on Facebook. When we didn't hear back from anyone, we assumed no one would come, and felt that was typical of middle class folks in the Western suburbs of Bombay, who have a habit of keeping their heads buried in the sand until something directly affects them. But we decided to go even if we were the only two people out there. We were pleasantly surprised that as many as 30 people joined us as a result of a chain of phone calls and a radio announcement as well.

As we lit candles and got ready to silently walk the promenade, a friend, Ajesh Shah, suggested that we leave candles outside the additional commissioner's office and police station at the end of the promenade. The whole experience was very special for our group, and we were greeted by smiles of gratitude from the constables and inspectors peering out of the police station at us.

But not all responses were favorable. I also got a call from a copywriter friend who suggested that we should donate the money to the army instead of paying for candles. I explained that this was my way of expressing discontent and that we are all free to have different responses to the attacks. Our debate continued after the vigil, and it was even alluded to by someone else that secular passive people like me were the reason India was getting attacked because the wrong message of "turning the other cheek" was being sent to Pakistan.

I guess we felt a little more confident with our approach when over a thousand people came to the next vigil we organized, two days later. Truth be told, we were overwhelmed since we had a police permit for only 70 people. Perhaps we were too quick to agree to NDTV coverage, whose camera crew along with other media persons were well on their way to dramatizing the entire event, even going so far as to ask me to delay the march so they could finish their introduction! We also couldn't help but notice how the press made a bee-line to interview all the Caucasian attendees, including my American/British friends, asking inane questions about whether they would return to Bombay.

---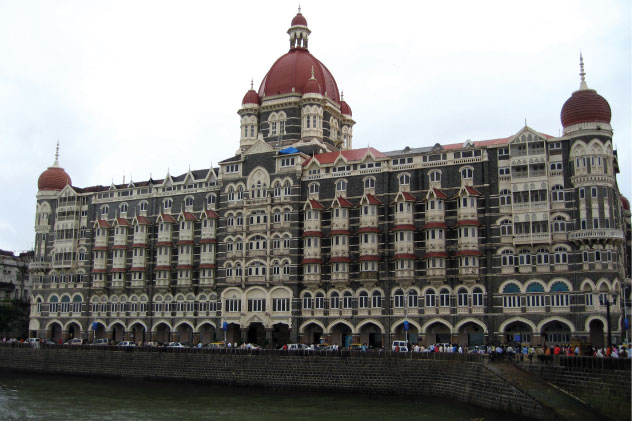 The iconic Taj Hotel in Bombay was one of the most conspicous targets of the Pakistani terrorists who attacked in November last year.
---
However, we realized that vigils are a platform to exchange ideas for positive change as a debate raged on into the night about what the government needs to do differently, who is to blame and how we ordinary citizens can help. The next day, as the last terrorist was reported shot dead, thousands upon thousands gathered at Marine Drive. A few days later, hundreds of thousands gathered at the Gateway of India. The mood grew angrier and the crowds clamored equally for war as they did for better governance. Many of us agreed gloomily that the one positive thing to come out of the inexcusable and horrific attacks is the fact that middle class Bombay has woken up and found their voice to chant "Enough is enough."

I have met wonderful people since the vigil and other peace marches. Some would like to start youth or middle class political parties. Others are organizing score-card information on local politicians so people can be informed when they vote. Yet others are spreading the awareness on the little-known clause 49-0 that one can cast their vote for no candidate that will eventually pressure political parties to put forth better leaders.

I believe that change will come when there is a change in our collective consciousness. Change will come when we as a nation are brought together and inspired towards higher ideals. I can only hope that peace prevails because war, in my opinion, will breed another generation of terrorists. I can only hope that those who participated in vigils and protests, will not forget, not remain quiet, but make their vote count, so that better leaders will find the will to make sure that the innocent die cease to die needlessly. I can only hope that religious extremists will stop manipulating the hearts and minds of poor young boys and that governments of the world realize that inequity and ignorance is at the root of terrorism.

For our part, Sejal and I have committed to continue to organize positive initiatives in Bombay, such as a peace wall in memory of those lost to the attacks, lest we forget.

Author's note: I use the name Bombay intentionally because I cannot relate to the new saffronized name — Mumbai — because that does not reflect the diverse city I grew up in.