POLITICS:
House of Lords: Debate on India


In House of Lords in the United Kingdom recently had a debate that called attention to recent developments in India. A Siliconeer report.
---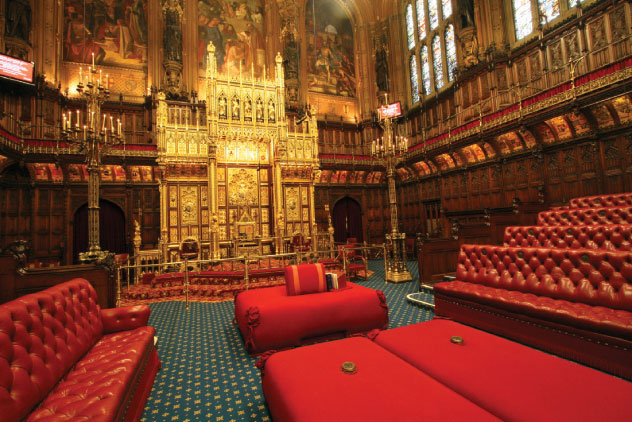 (Above): The inner chamber of the House of Lords, Britain.

---
(Right):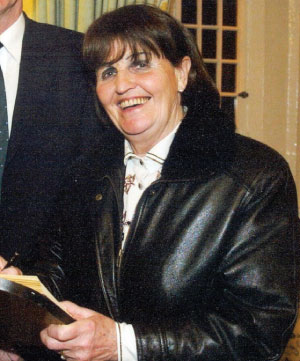 Baroness Cox

---
In the United Kingdom, Baroness Cox Dec. 18 called attention to recent developments in India in a debate Dec. 18 in the House of Lords.

Following the recent terrorist atrocities in Mumbai the debate focused on tensions in the subcontinent and how the Indian government can be supported in reducing the risk of terrorism. Here are some excerpts.

Excerpts from the remarks of Baroness Cox: I must naturally begin by expressing the profound sorrow that we all felt at the recent terrorist attack in Mumbai and by extending our deep sympathy to all who are still suffering in the aftermath of those terrible days. I will then raise three issues of concern in a spirit of respect for India as a long-established friend of this country and as the world's largest democracy. It is characteristic of friendship that one can share concerns openly and constructively and it is in that spirit that I will raise the outbreaks of violence against religious minorities, including the Muslims in Gujarat and the Christians recently in Orissa and Karnataka; the restrictions on religious freedom posed by the imposition of anti-conversion laws in seven states; and, finally, the plight of dalits.

The recurring problem of violence, perpetrated by Hindu fundamentalists against religious minorities, is a product of the ideology called Hindutva, which conceives of India as one nation, one culture, one religion. It is an ideology that denigrates religious minorities and rejects the right to change one's religion, as enshrined in the Universal Declaration of Human Rights, and groups that espouse this ideology, including the VHP, are widely implicated in anti-minority violence. Such extremist political movements are rejected by Hindus committed to the idea of a secular India, but they pose very serious challenges.

In 2002, about 2,000 people, mostly Muslims, were massacred in Gujarat. Christians have been repeatedly targeted in recent years. The attacks are especially widespread in Karnataka, Andhra Pradesh and Madhya Pradesh states, and although a recent outbreak of violence in Karnataka was relatively rapidly contained by the authorities, impunity for these sorts of attacks is cause for concern. In Orissa state, an outbreak of violence against Christians over Christmas in 2007 prefigured an onslaught on a much larger scale this autumn.

On Aug. 23 this year, following the assassination of Swami Laxmanananda Saraswati, widespread violence against Christians erupted. The atrocities were committed despite the claim by Maoists that they had carried out the killing. After the assassination, despite pleas for caution by church and secular leaders, including representatives of political parties, the VHP arranged for his body to be taken on a 200-kilometre circuit. Violence followed in the wake of this funeral procession, fanned by media disinformation and the chanting of Hindu nationalist and anti-Christian slogans, targeting Christians and church buildings. It is widely believed that the violence erupted so quickly because it was pre-planned.

In our report, we concluded that the Orissa state government had failed to provide protection for the Christian minority population, allowing widespread violations of human rights—including killings, rape, looting and the destruction and desecration of places of worship, homes and other property—and that the forced conversion of some Christians to Hinduism constitutes a serious violation of the right to religious freedom. It is noteworthy that Hinduism and the caste system have only relatively recently, in the past 50 years, been introduced into this region.

I turn briefly to widespread concern at the anti-conversion legislation now in place in seven states. This applies to those who wish to convert from Hinduism to another faith: in practice, it does not prohibit conversion to Hinduism from other faiths. The legislation requires anyone wishing to convert from Hinduism to give advance notice to the district authorities, rendering them vulnerable to pressures of many kinds. In the case of Gujarat, the person who converts another must obtain prior permission of the authorities.

These requirements obviously hinder the freedom to choose and change religion, in violation of Article 18 of the Universal Declaration of Human Rights to which India is a signatory.

The final topic to which I wish to refer raises the plight of the dalits, those deemed to be outside the caste system and therefore treated as inherently untouchable. Their predicament is unenviable. Unable to take work or to come into contact with members of the caste system, many are doomed to undertake the most humiliating and unsanitary tasks, such as the 700,000 or more manual scavengers dealing with human excrement. Others are so poor that they become involved in bonded labor from which they cannot escape, so that this form of servitude is passed from one generation to the next. Dalits are susceptible to any form of exploitation and there is widespread caste-based violence against them. In an attempt to escape from their outcast status, many dalits are converting from Hinduism to another faith—Buddhism, Islam or Christianity. This disruption of the traditional caste system is causing tensions and attracting opposition, especially from proponents of the Hindutva, some of which may be reflected in violence against religious minorities.

It is impossible in one speech to begin to do justice to the vast nation of India with its indescribably rich tapestry of ethnic groups, cultures, traditions, achievements and problems. I greatly look forward to the speeches of other noble Lords who will bring information and insights from their own knowledge and experience to create a constructive and comprehensive debate worthy of the issues confronting this great nation which we are proud to call a friend.

Excerpts from the remarks of Lord Anderson of Swansea: My Lords, it is my pleasure to recognize . . . the sheer size, exuberance and commitment to the pluralistic democracy of India. That serves as a caution against generalizations.

I recall at conferences of the Commonwealth Parliamentary Association gazing across at the Indian delegation, marveling at the range of races and wondering how such a disparity coheres, but it does, even if there is always a crisis somewhere in the 28 states with 22 official languages and 2,000 different ethnic groups of India.

The core of India remains sound and in good health. India also remains a good friend of this country in the Commonwealth with a vibrant, entrepreneurial community in the United Kingdom, of which my noble friend Lord Paul is a sterling representative, contributing much to our national life.

That must be the starting point; the context within which we should place recent events. What lies behind the atrocity in Mumbai? I note that Misha Glenny, whom I respect, states in the Guardian that it is essentially local and regional factors, as does William Dalrymple in the Observer, who, in a typical western breast-beating mea culpa way, also blames western policy in the region. Others look to al-Qaeda and call Mumbai India's 9/11. Although it is true that the Kashmir issue played a part, as did a desire to harm Indian-Pakistan relations, the latter view is probably nearer the truth because the targets in the area were westerners and Jews, which suggests that the jihadist message from the madrassahs played a significant part.

The response of the Indian Prime Minister and the Minister of External Affairs, Mr Mukherjee, has been a model — cautious and statesmanlike — as was the journey to the subcontinent of Condoleezza Rice, seeking to cool the temperature in both relevant capitals and trying to prevent the incipient peace process being derailed. We must understand the peculiar internal problems of Pakistan and not push it in the direction of a failed state, yet it is also right for the international community to continue to press Pakistan to take responsibility for the terrorist groups which operate on its territory.