FILM REVIEW:
Fairy Tale with Attitude: 'Slumdog Millionaire'

Rating: **** (Superior)
Slumdog Millionaire

Directed by: Danny Boyle
Music: A.R. Rahman
Starring: Dev Patel, Freida Pinto, Anil Kapoor and Irrfan Khan
---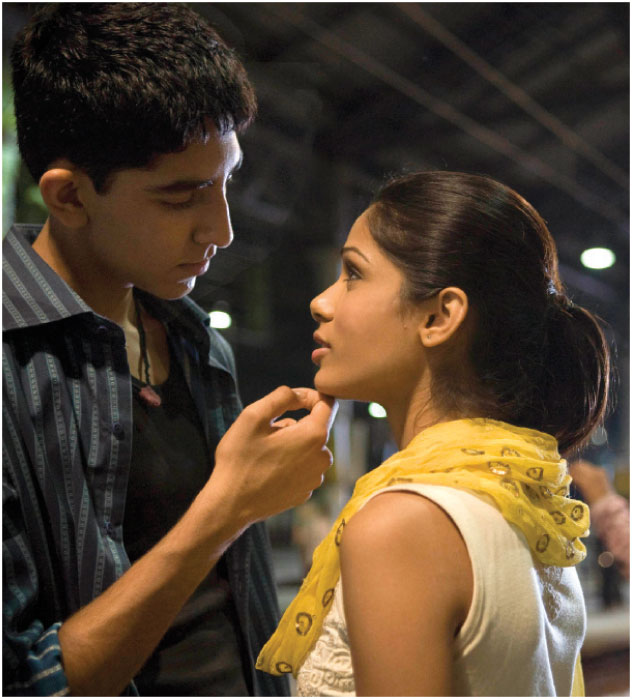 (Above): Dev Patel and Frieda Pinto in "Slumdog Millionaire."

---
Rarely does one encounter in celluloid such a conflicting form of hopeful dreams and intensely brutal nightmares as in "Slumdog Millionaire," a Fox Searchlight pictures release.  A screenplay by Simon Beaufoy, based on the novel "Q & A" by Vikas Swarup, Slumdog brings to us the Mumbai that outsiders do not know, because old "Bombay" (as many still remember it) is where the engine of India's commerce overpowers us as strongly as its Bollywood magic. This movie keeps some of the veneer of the showbiz set but exposes the viewer to the savagery of the lives of the poor struggling millions that many choose to overlook.  Slumdog Millionaire is predominantly in English but blends in Hindi, especially with some strong profanity in the native language, a strange combination that seems to work well.

We open to the Jamal Malik's world as he is being tortured into confessing to cheating on India's version of the television game Who Wants To Be A Millionaire.

Jamal (Dev Patel) has already won Rs. 10 million in the game and is next going for the final Rs. 20 million prize, but skeptics refuse to believe that a poor Mumbai street urchin who now serves tea (a chaiwalla) at a local call center can get this far legitimately, so they have him taken away for questioning by the authorities. Here he is confronted by the Inspector (Irrfan Khan) and a very interesting journey begins between beatings and even electric shock treatment as Jamal explains how he happened to learn the answers to the questions asked during the game.

We enter the lives of Jamal and Salim, two poor kids who lost their mother to religious violence, between the forces of Ram and Allah. How they survive and escape from some of the lowest of life forms possible and live the lives of The Three Musketeers with a girl by the name of Latika (Freida Pinto) added to their lives is the most powerful part of the story. South Asian viewers will certainly be "moved" by the level of commitment of this young fan of Indian movie superstar Amitabh Bachchan or at least hold their noses (this movie is certainly not for the squeamish) during the admiration process.

---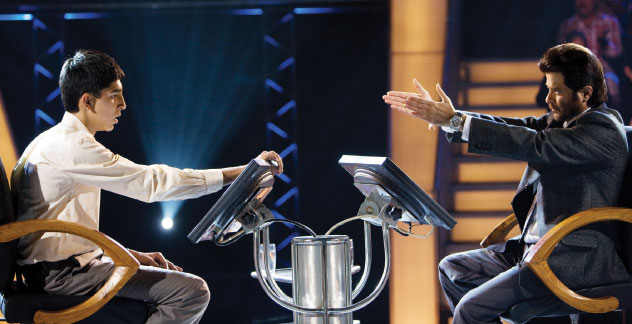 (Above): Dev Patel and Anil Kapoor in "Slumdog Millionaire."

---
Destiny or Kismet plays a big role in Slumdog Millionaire as its title suggests, but so do the three Jamils, Salims and Latikas (three different age groups appear in this movie played by different actors). Patel and Pinto are convincing lovebirds, but it is early on in the movie that the kids steal your heart in what is sometimes a pretty heartless city.  The bad guys in this movie are just too convincing and can make the viewer cringe. Evil dominates here but from within its grasp love still survives.

Prem (Anil Kapoor) is the convincing host of the Who Wants To Be a Millionaire game show. His vanity gets the better of him as he comes to see Jamal as a possible threat to his own popularity. A host feeling threatened by a contestant is a strange twist but by that time, in spite of the many tangents thrown in by the police interrogation, Salim's double crossing, and the game, all eyes in the end are really on Jamal and Latika. Will love triumph?

---
(Above): Dev Patel and Irrfan Khan in "Slumdog Millionaire."

---
Slumdog Millionaire strangely reminded me of a television play that I just could not watch a long time ago called Khuda Ki Basti (God's Own Land ) written by Lucknow-born Shaukat Siddiqui (not my relative) aired on Pakistan's PTV. It portrayed the similar evil present in our society and it used to scare the hell out of me as a kid. Slumdog on occasion is painfully similar but offers more hope than that play did. And Mumbai, which has recently attracted worldwide attention for terror will similarly, one hopes, recover, overcome and prosper too. 

This movie is winning more awards every week here in the U.S. with 4 Golden Globe nominations already. But can it win the big one next year? We are talking an Oscar award or two here, maybe even for best picture? Time will tell but Slumdog certainly delivers quite a punch to the senses. Danny Boyle assisted by Loveleen Tandan could win for direction. Best actor and actress would be difficult, but the music by A.R. Rahman could be a strong contender. And the screenplay could win easily. But if the reviewer or critic can be really bold here, wouldn't it be great if an unknown kid by the name of Ayush Mahesh Khedekar (who plays Jamal at a very young age) won the Oscar for best supporting actor, even though we know the late Heath Ledger appears to have that one cornered?

(Slumdog is rated "R" for its strong content. Family viewer discretion is advised).