PHOTO ESSAY:
2008: Year in Review

Glimpses of some of the interesting developments in the year 2008. A Siliconeer photo essay.
---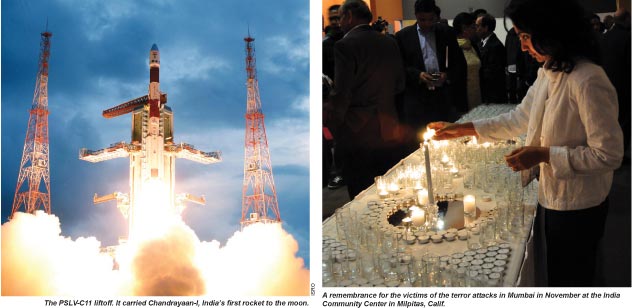 (Above, left): The PSLV-C11 liftoff. It carried Chandrayaan-I, India's first rocket to the moon. [PIB photo].

(Above, right): A remembrance for the victims of the terror attacks in Mumbai in November at the India Community Center in Milpitas, Calif.
---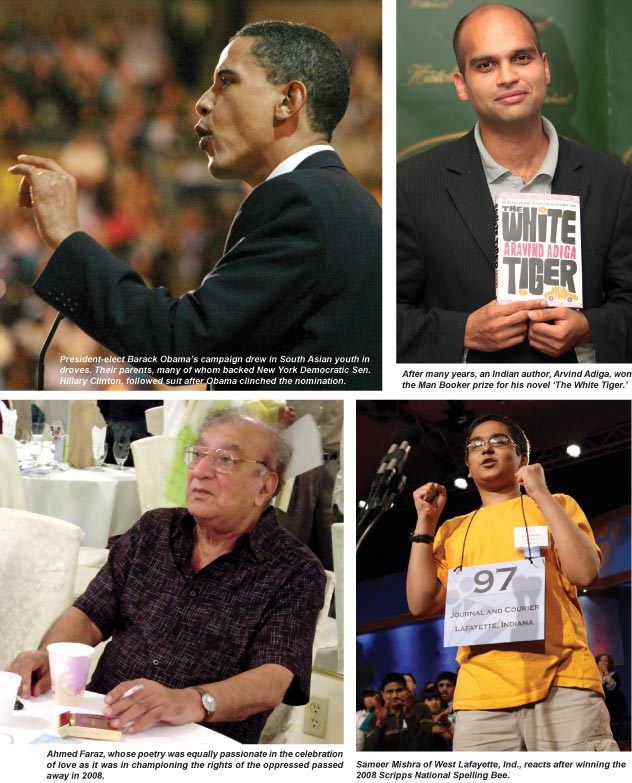 (Clockwise from top left):
President-elect Barack Obama's campaign drew in South Asian youth in droves. Their parents, many of whom backed New York Democratic Sen. Hillary Clinton, followed suit after Obama clinched the nomination;

After many years, an Indian author, Arvind Adiga, won the Man Booker prize for his novel 'The White Tiger';

Sameer Mishra of West Lafayette, Ind., reacts after winning the 2008 Scripps National Spelling Bee; and

Ahmed Faraz, whose poetry was equally passionate in the celebration of love as it was in championing the rights of the oppressed passed away in 2008.
---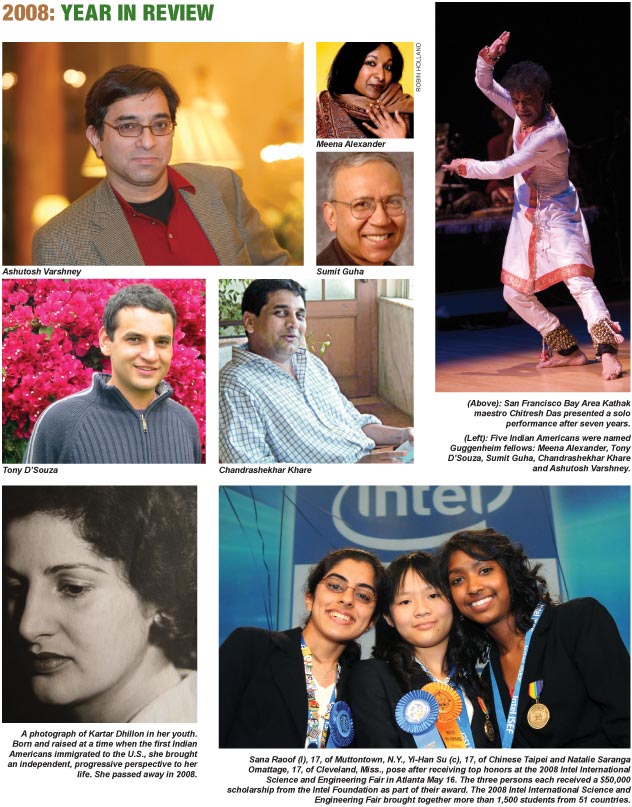 (Clockwise from top left):
Five Indian Americans were named Guggenheim fellows: Meena Alexander, Tony D'Souza, Sumit Guha, Chandrashekhar Khare and Ashutosh Varshney;

San Francisco Bay Area Kathak maestro Chitresh Das presented a solo performance after seven years;

Sana Raoof (l), 17, of Muttontown, N.Y., Yi-Han Su (c), 17, of Chinese Taipei and Natalie Saranga Omattage, 17, of Cleveland, Miss., pose after receiving top honors at the 2008 Intel International Science and Engineering Fair in Atlanta May 16. The three persons each received a $50,000 scholarship from the Intel Foundation as part of their award. The 2008 Intel International Science and Engineering Fair brought together more than 1,500 students from 51 countries; and

A photograph of Kartar Dhillon in her youth. Born and raised at a time when the first Indian Americans immigrated to the U.S., she brought an independent, progressive perspective to her life. She passed away in 2008.
---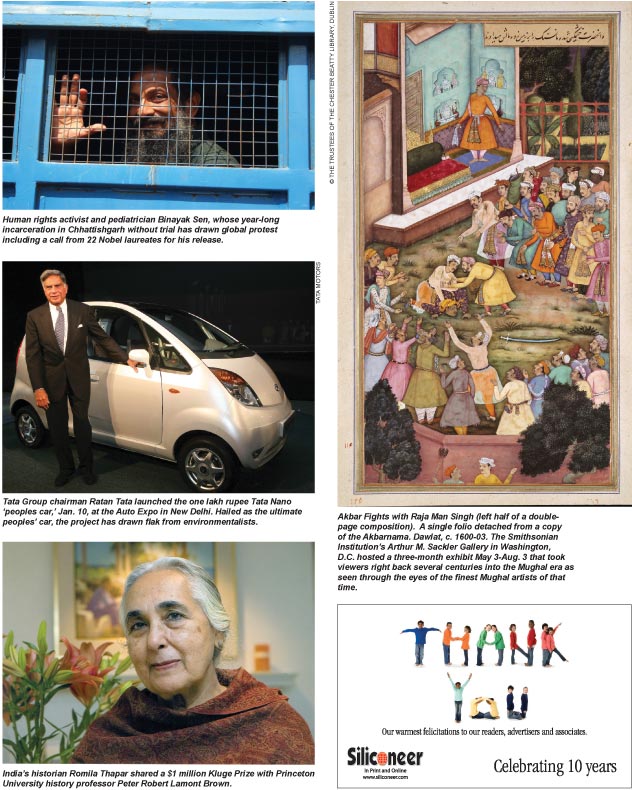 (Clockwise from top left):
Human rights activist and pediatrician Binayak Sen, whose year-long incarceration in Chhattishgarh without trial has drawn global protest including a call from 22 Nobel laureates for his release;

Akbar Fights with Raja Man Singh (left half of a double-page composition). A single folio detached from a copy of the Akbarnama. Dawlat, c. 1600-03. The Smithsonian Institution's Arthur M. Sackler Gallery in Washington, D.C. hosted a three-month exhibit May 3-Aug. 3 that took viewers right back several centuries into the Mughal era as seen through the eyes of the finest Mughal artists of that time [© THE TRUSTEES OF THE CHESTER BEATTY LIBRARY, DUBLIN];

India's historian Romila Thapar shared a $1 million Kluge Prize with Princeton University history professor Peter Robert Lamont Brown; and

Tata Group chairman Ratan Tata launched the one lakh rupee Tata Nano 'peoples car,' Jan. 10, at the Auto Expo in New Delhi. Hailed as the ultimate peoples' car, the project has drawn flak from environmentalists. [TATA MOTORS photo]