COMMUNITY:
Sharing the Grief: Fosa Vigil


Over 80 Indians, Pakistanis and other Americans held a joint vigil at San Francisco to commemorate the victims of the recent terror attacks in Mumbai. A Siliconeer report.
---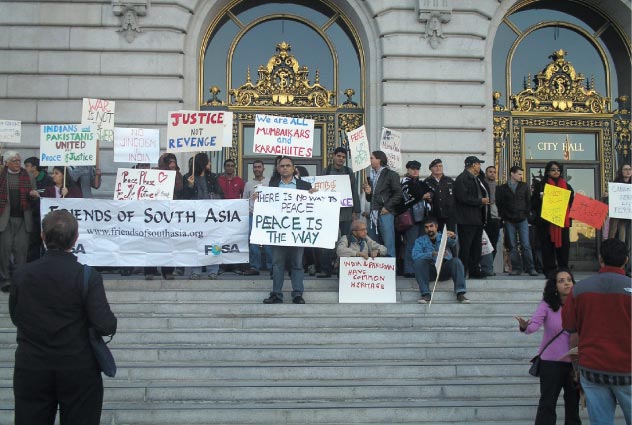 (Above): South Asian and other activists at a demonstration in San Francisco in memory of the victims of Mumbai terror attacks.

---
About 80 bay-area residents, including South Asian Americans of Indian and Pakistani descent, gathered on the steps of San Francisco's City Hall Dec. 6 to express their grief and commemorate the victims of the terror attack in Mumbai, according to a press release from Friends of South Asia. They also mourned the victims of recent ethnic violence, terrorism and war in the South Asian cities and regions of Peshawar, Karachi, New Delhi, Guwahati, Orissa, Islamabad and Bajaur.

Attendees, holding signs reading "Indians and Pakistanis United for Peace and Justice" and "We are all Mumbaikars and Karachiites," said that they want to send the message that in these challenging times it is critical that people from nations at odds with each other recognize each other's humanity, shun jingoistic nationalism, and work together for peace.

Yasmin Fatima, an Indian American FOSA member, urged the governments of Pakistan and India to address the root causes of violence in the region — poverty, inequality and injustice.

Ijaz Syed, a Pakistani American activist, expressed his concerns about the tense, almost warlike, state of affairs between Pakistan and India.

Brian Malovany, a local Jewish activist who has worked on issues of peace and justice in Israel and Palestine, spoke about lessons to be learnt from the heavy-handed nature of Israeli and U.S. responses to terrorism, and urged India and Pakistan to seek a measured approach instead.

Ramkumar Sridharan, a San Jose, Calif., resident, said that the people of South Asia were coming together everywhere, not just in San Francisco. He talked about a South Asia Peace Vigil being held in New York City the same evening, where attendees called for a need for peace.

Farrukh Shah Khan, president of the Pakistan American Cultural Center, called on Pakistan to work with India to resolve all open issues.

Hemang Kapasi, a community organizer with Asha for Education and a San Francisco resident who grew up in Mumbai, spoke about his witnessing the demolition of the Babri Mosque 16 years ago as a cultural tipping point in tearing apart the secular fabric of the multi-religious community in Mumbai.

This vigil was endorsed by a broad coalition of organizations, including FOSA, Alliance of South Asians Taking Action, UC Berkeley-based Association of South Asian Political Activists, South Asian Bar Association of Northern California, Jewish Voice for Peace (San Francisco/East Bay and South Bay chapters), Pakistan American Cultural Center, Pakistan Science and Engineering Foundation, Pakistani Tehreek-i-Insaf, Asian American Network against Abuse; Indian Muslim Relief and Charities, South Asia Disaster Relief Coordinators, ASHA for Education San Francisco chapter; South Bay Mobilization and the San Jose Peace and Justice Center.