COMMUNITY:
Celebrating Bangla Roots: BABA Celebrates Bijoy Dibosh


The Bay Area Bangladesh Association celebrated Bijoy Dibosh, the day marking the end of Bangladesh's liberation war in 1971, with a competition of pithas, a traditional sweet Bengali snack, and a cultural performance. A Siliconeer report.
---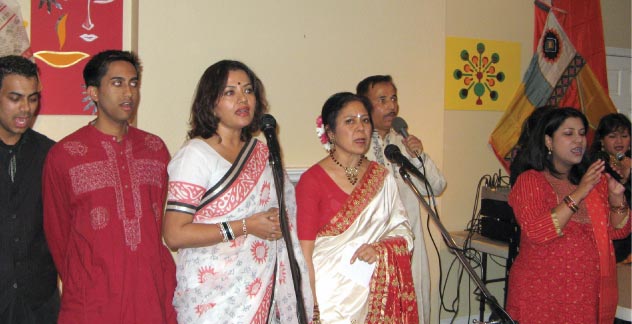 (Above): Bangladeshi Americans performing at a BABA event to mark Bangladesh's liberation in 1971.

---
The Bay Area Bangladesh decided to mark Bijoy Dibosh (Victory Day) in a unique, very Bengali way with a pitha competition.

For the non-Bengali uninitiated in the delectable delights of the pitha, it is a distinctive food item from the rich treasury of Bengali cuisine. It is a snack, usually but not always sweet, made with rice flour, or simply flour, and sugar or molasses (gur), sometimes using milk. Sometimes it is steamed, sometimes it is deep fried.

In fact, pithas come in an astonishing variety of shapes, sizes and tastes, and are closely associated with rural Bengali life and winter. Bengal, of which Bangladesh is a part, is a tropical region, so Bengali winters are gentler and more pleasant, and the winter seasons of hemanta and sheet bring with it the whiff of steamed bhapa pitha (steamed rice cakes with filling of molasses).
And so it was in the local clubhouse, where upwards of a few hundred people showed up braving the unusually cold spell. A wide array of pithas were on display.

---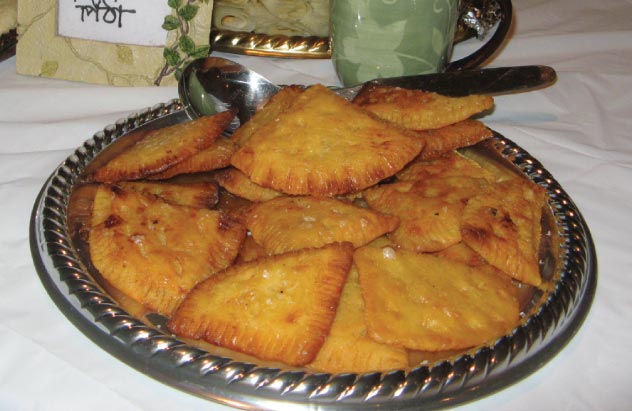 (Above): Plates of delicious 'pithas' or traditional sweet snacks vied for first place in a competition hosted by BABA.

---
Given the relatively short notice, the turnout was quite impressive. The proceedings, as is typical in a Bangladeshi gathering, were somewhat laid back, and sometimes trying to get a Bengali crowd organized is even more challenging than herding cats.

Nobody minded, though — because the laidback atmosphere is also part of the charm, anyway. The Bengalis are a garrulous lot — so attendees socialized with gusto amid all the eating of pithas and food for sale (excellent chicken biriyani — rarely is food sold in South Asian events so good).

Organizers had their work cut out as they tried to get the cultural performances started. A chorus performance, a few songs by children and adults, all enlivened the evening's proceedings.

Bijoy Dibosh marks Dec. 16, 1971, when the Pakistani forces in erstwhile East Pakistan under the command of Gen. A.A.K. Niazi surrendered to Gen. Jagjit Singh Arora, joint commander of the Indian and Mukti Bahini forces.

---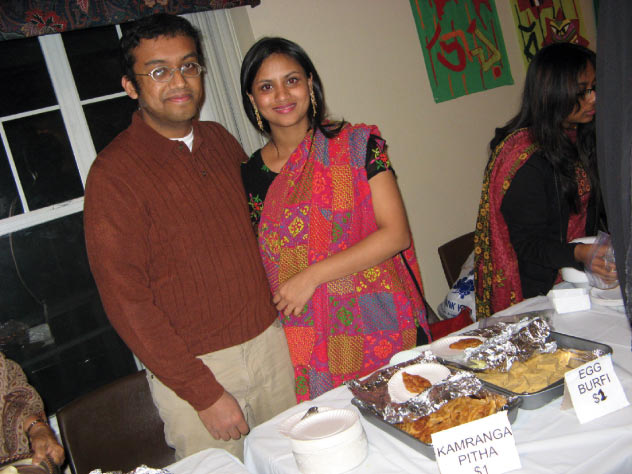 (Above): A proud couple stands in front of their 'pithas' at BABA's Bijoy Dibosh event.

---
Bangladesh had declared independence in March 26, 1971, but the Pakistani forces remained in control until Bijoy Dibosh. The nine-month-long period was a horrible ordeal for Bangladeshis. An estimated three million perished and 10 million sought refuge in neighboring India.

The war also created a stark polarization in Bangladesh. On one side were the Pakistanis and their Bengali supporters, all of whom were committed to the cause of a nationalism that drew inspiration from an Islamic identity and were determined to keep together the failed state of Pakistan which had fallen apart thanks to the refusal of its rulers to respect the democratic verdict. They unleashed one of the most egregious genocides in recent history.

On the other side was the secular, humanist and inclusive Bengali forces inspired by the composite Bengali tradition, who paid a terrible price, but triumphed in the end.