SUBCONTINENT:
A Pox on All Politicians!
Indians Vent Anger


The massive outpouring of grief and rage after the terror attacks in Mumbai have been accompanied by a strong dislike of politicians, writes Siddharth Srivastava.

---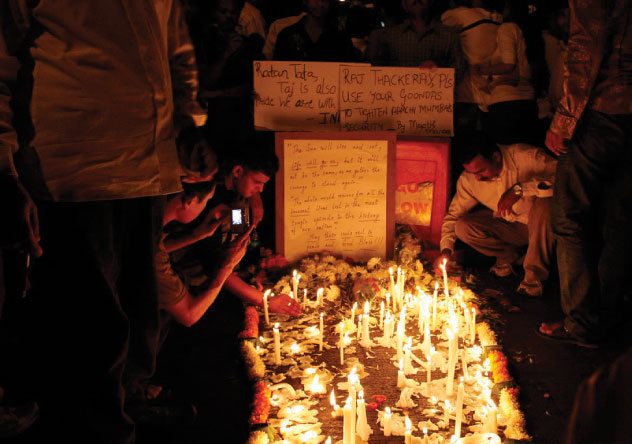 A public protest in Mumbai after the terror attacks in November 2008.
---
The public angst following the Mumbai terror attacks has included universal derision of politicians, seen as a class willing to stoop to any level to win votes, even using the militant strikes.  

The country has been united in cheering its security men who bravely killed the terrorists and rescued hostages.  

The nationalistic fervor has, however, focused on India's political leadership that fans religious, linguistic and caste divides to build vote banks, thus diluting the focus on governance, performance and importantly security.  

One of the first chain SMS messages that went out when the National Security Guards began the flushing operations at Nariman House, Taj and Trident hotels in Mumbai read:

"Where is Raj Thackeray? Tell him that 200 NSG commandos from Delhi (all North Indians) have been sent to fight the terrorists, so that he can sleep peacefully. Also tell him "YOUR MUMBAI" needs you fighting against the "REAL OUTSIDERS." 

Thackeray, a regional political leader of Maharashtra, has been leading a violent and vituperative campaign against North Indians settled in Mumbai as "outsiders" who he says are eating into jobs and livelihoods of the local Marathi population.  

Ironically, one of the casualties in taking out the militants was NSG commando Major Sandeep Unnikrishnan, who belonged to Kerala, a South Indian state.  

The South Indian community in Mumbai has also faced the ire of parochial politics played by Raj and earlier his uncle Bal Thackeray, leader of the Hindu militant outfit Shiv Sena. 

Meanwhile, Unnikrishnan's father shooed away Kerala chief minister V S Achuthanandan in Bangalore when he called on him to pay his condolences.  

Echoing the anger of most Indians, the dead commando's father shouted at the chief minister saying that his son belonged to the entire nation, not Kerala alone and politicians are not welcome to his house.  

However, the biggest snub was reserved for Narendra Modi, chief minister of Gujarat, belonging to the Hindu nationalist Bharatiya Janata Party.   

The widow of Mumbai Anti-Terrorist Squad chief Hemant Karkare, among the first security personnel to be shot dead in the Mumbai mayhem, refused a compensation of Rs. 10 million that Modi announced.   

Karkare was heading investigations that have looked at Hindu extremist elements plotting militant strikes against Muslims.  

An upright officer, Karkare had been disturbed by the politicization of the issue by the right-wing BJP, which had vehemently criticized the former ATS chief for kowtowing to political masters in the Congress Party. 

The Congress Party is criticized for being soft on Muslims, a community that it seeks to cultivate. 

Indeed, Indian political groups have been severely castigating security forces' anti-terror actions to curry favor with their vote banks.  

For example, the Uttar Pradesh-based regional Samajwadi Party, which gives outside support to the ruling Congress coalition, disparaged recent action by the Delhi Police against Muslim youth suspected to be involved in terrorist activities.  

Inspector M.L. Sharma lost his life, while his family has been seething at accusations of a fake encounter.  

While nobody argues that police actions are always above board, the fact remains that India's increasingly polarized politics means not much thought being given to merits of such efforts, with narrow sectarian aims taking precedence.    

Individuals in Internet blogs, national TV channels and the print media have been spewing venom against the laxity of the political leadership to address India's security situation, given the repeated terror attacks.  

The visits of Prime Minister Manmohan Singh, Congress President Sonia Gandhi and BJP leader opposition L.K. Advani to Mumbai was criticized for diverting the attention of security agencies involved in tackling the terrorists holed up at that time with hostages.

Bickering even during a time of tragedy, Manmohan and Advani could not agree to travel to Mumbai together to present a bipartisan political front against terror to victims and nation.  

One TV anchor pointed at sundry politicians hanging about like "pests" around the scenes of terror attacks seeking out journalists for bytes in the glare of cameras.  

Several politicians with lesser security detail such as Gopinath Munde were heckled and chased away by angry onlookers.   

Deputy chief minister of Maharashtra R.R. Patil did no good by calling India's worst terrorist attack as an "an untoward incident like this can happen in such a big city like Mumbai." Following a furor, Patil has resigned. 

Perhaps sensing the mood of the country that is soon headed for general elections, Manmohan has sought to fix responsibility via a political purge at the top, firing federal Home Minister Shivraj Patil and Maharashtra Chief Minister Vilasrao Deshmukh. 

In an act of nonchalance, Deshmukh visited the terror stricken sites accompanied by his Bollywood actor son and a prominent director known to make violent films. Though vehemently denied, it does appear that information was being gathered for a forthcoming movie.     

"I want to tell you that Congress will not indulge in politicizing of terrorism. I wish all parties should join hands to help fight terrorism," Manmohan told an election rally. "Whichever religion we belong to, whatever is our language and whatever our customs and practices, we are first Hindustanis," he said.  

The government is under pressure and its actions are too little too late. 

Armed jehadi terrorists, believed to belong to the Pakistan-based Lashkar-e-Taiba, managed to sneak into Mumbai via sea that is patrolled by the Navy, coast guard, customs and the Border Security Force in Gujarat where they probably loaded the weapons.

The latest Mumbai attacks follow the many militant strikes that have dotted cities across India (Bangalore, Delhi, Mumbai, Guwahati, Ahmedabad,  Jaipur) over the past few years.  

People no longer buy the argument that points all fingers and responsibility at Pakistan. It is known that Pakistan is the fountain of terrorism that will take some time to sort out. The Mumbai terrorists were trained there and launched their deadly operation from Karachi.  

Though Islamabad has been quick to distance itself from the Mumbai attacks, Pakistan is in a precarious political state with the incumbent government appears to lack the will, inclination or ability to take on the entrenched terror infrastructure that multiplies.  

The country has been vacillating between pleading helplessness in dealing with militancy to seeking international leverage that troops involved in the western front fighting the Taliban will have to be re-deployed in the eastern borders, should India turn belligerent. 

The question is: Till global terrorism is sorted, should Indians continue to be butchered?