TRIBUTE:
Requiem for A Progressive: I.K. Shukla


Prof. I.K. Shukla, an indefatigable champion of human rights, a progressive thinker, died recently in California. Tributes by Shamsul Islam, Neelima Sharma and Soumitra Bose, who knew him and admired him.
---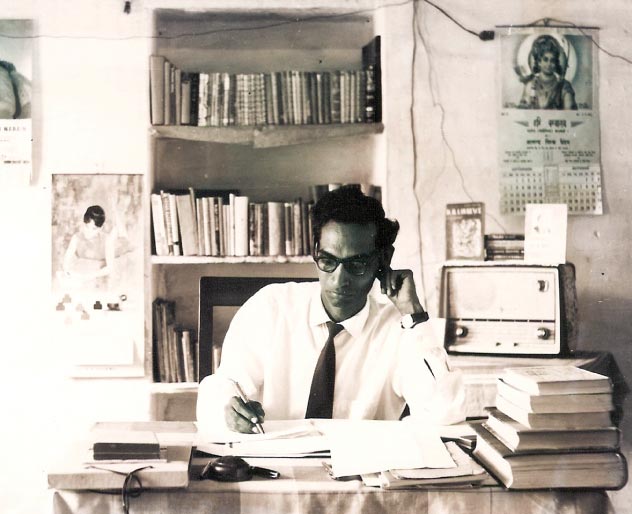 (Above): I.K. Shukla in his study room in Varanasi, circa 1962.

---
Shankar Excerpts from two tributes that appeared in India's Mainstream journal.

Shuklaji. By Shamsul Islam, Neelima Sharma. Our beloved thinker I.K. Shukla Saheb is no more. He breathed his last in San Francisco on October 17. All his friends and admirers knew about his deteriorating health problems but his everyday Internet postings showed no sign of his sickness. His last posting that we received was on September 13 in which he protested against the spying (by the IB) of the SAHMAT's activates in Delhi.



Indu Kant Shukla (1928-2008)

During his high school years in Allahabad, he took part in a Congress rally. Indira Gandhi also was there. All were arrested. He was considered a rebel in his conservative Brahmin family. He had to leave his birth home after the arrest. Although he was the oldest son of the family and inherited a lot of property left everything and never really went back, except for an emergency in the family or loss..

Always a very fragile child since his childhood, his asthma was a constant problem. Even though he often studied outside on the road under the street lamps he got a first class in M.A. in English literature from Banaras Hindu University. Nobody had won a first class in English in the university for 10 years till then.

Teaching throughout his life; journalism has been his passion.

"Babuji was an extremely private; khuddar person," according to his daughter Aarati Mishra. "Never complained! But he could never compromise with anything against his beliefs. Couldn't tolerate corruption; lies; double standards; office politics. Could never flatter anyone to get ahead in his life. Therefore, he kept on resigning from one job after the other."

He was arrested in Manipur, Imphal, where he was teaching English as an associate professor in the Jawaharlal University branch. Shukla had written an article about the condition of Manipur and requested the central government for president's rule. One of his friends snitched and his letter was censored. His house was surrounded by police men at around 2:00 a.m.. They turned the whole place upside down and arrested him.

After appeals from his family, he was released and able to reach Delhi safely. But soon he again wrote against Prime Minister Indira Gandhi and the emergency. As his arrest was imminent, at his wife's request, he left the country.

His early years in the U.S. were difficult and lonely for him and his family until he eventually got a Green Card. Regardless of his personal circumstances, he never relented in speaking out without fear against bigotry, injustice, cant and social and economic oppression.


His death is an irreparable loss to the cause of justice, democracy, equality. We have lost a great fighter who waged relentless struggle against the forces of fascism, intolerance and repression not only in India but the world over.

His pen was mightier than the sword when it came to challenging the fascist elements. His in-depth knowledge of Sanskrit and Buddhist texts, his mastery over English, Hindi and Bengali languages and familiarity with Urdu made him a unique thinker.

The most appropriate homage to him would be to preserve his scattered writings and publish the same. Last month he sent a manuscript to us which contained the Hindi translation of the well-known Urdu poet, Habeeb Jalib's poetry against autocracy. We hope to publish the same as a tribute to him.

I.K. Shuklaji is dead but his writings will always be with us to dispel the darkness of bigotry and intolerance enveloping around us.

Comrade Shukla. By Soumitra Bose. Was IKS really a Communist? I don't know! Rather I would never be interested to know! I found in him a Communist more than any self-avowed card holder member and media-dazzling leader. I found in him an ardent Gandhian, much more than any living Gandhian these days. I found in him a better rational humanist than any of the few M.N. Royists that we get these days. IKS was very anti-Stalin and still never fell short of appreciating Stalin's contributions. He was more an ardent follower of Mao while concomitantly criticizing Mao in the most incisive terms, than any of the normal Mao Thought followers. He was more erudite than the Trotskyites and Althusserists and Gramscians that we find in our daily activism. Prof Shukla was an activist, immensely erudite and the keenest analyst I have ever seen.

A son of the soil from U.P., Prof. Shukla was more Bengali than those I meet these days in any part of Bengal. His knowledge of Sanskrit, Hindi, Urdu, Bangla was so deep and voluminous that he could go as a professor in any of these languages and literatures. Prof Shukla's write-ups were read by those who knew him so avidly as equally for their literary value as they were for their political and social significance.

IKS is an Indian and an American and a Bengali, an Asian and most so a proletarian at heart and deed. He chose to live in Long Beach in the ship worker neighborhood near the ocean front. He frequented every congregation of the ship workers or the protesting workers. This was his duty. Almost single handedly he started organizing like minded people in the suburbs of Los Angeles to fight against Hindu communalism, Muslim fundamentalism, racism, anti-worker jingoism and anti-Asian madness. A dhoti-clad Shukla was quite often found strolling and promenading on the ocean side park discussing politics with some African-American or Latino comrades or some Indian comrades. He was revered all around.

IKS could chant Sanskrit slokas in the different styles as he could recite Meghnadbadh Kavya, and that he could do better than the Sanyasis of the religious organizations. His knowledge of Indian scriptures was only paralleled by his deep insight into Torah, Bible and of course the Holy Quran. I know incidents where Muslims used to call him on religious and scholarly bahes [debates] and they were all bewildered by his wisdom.

IKS was a regular writer in Frontier and in Mainstream and in many magazines. His articles were published in Liberation and in other partisan political mouthpieces. He was a conscious political animal, one who always would fight actively for justice and right and for the producing people.

I do not cherish to remember him in the past tense. I would like to think about him still and always ever as my comrade, my guide, my leader. I would like to see him as a continuing fighter for the cause of the Indian revolution, for the cause of a world free of exploitation and a world of conscious humanity. Prof. Shukla lives and he will live with us in every battle we fight in the future for the cause of the liberation of humankind.

Hasta la Siempre, Comrade Shukla ! We will fight along with you!