COMMUNITY:
Recognition for Service: Dr. Bhupinder Bhandari Honored


A San Francisco Bay Area gastroenterologist has been recognized by the California assembly majority leader for his service to the community. A Siliconeer report.
---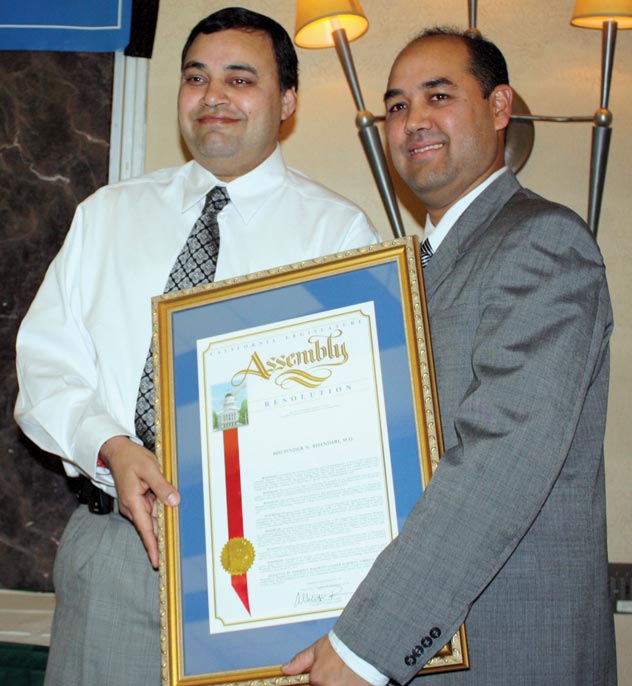 (Above): Dr. Bhupinder Bhandari (l) after receiving the Unity Award from California Assembly Majority Leader Albert Torrico. [SILICONEER photo]

---
Dr. Bhupinder Bhandari was recognized by California Assembly Majority Leader Albert Torrico Dec. 11 at the State of the Assembly District Address and Awards Ceremony in Newark, Calif.

Bhandari was given the Unity Award by Torrico.

At the ceremony Torrico recognized contributions of citizens in the Assembly District who have demonstrated exceptional leadership and generosity in their service to the community.

Bhandari specializes in internal medicine and gastroenterology and is a member of the American College of Physicians, the American College of Gastroenterology and Royal College of Physicians.

He has donated many hours of patient care to the community at the Hindu Temple and Cultural Center and the Sikh Temple of Fremont. "I've truly enjoyed doing it," he said. "I think I have many blessings by sharing what I have, providing care and volunteer services.

Bhandari also works to spread his spirit and philosophy of giving back among his colleagues. Many doctors and health care providers assist patients with him during his free programs, helping to expand the services.

Bhandari has screened people for osteoporosis and then helped to advise people on how to take care of their bone health. He and other health care professionals have also donated their time to screen for blood pressure and diabetes, tested cholesterol levels, and provided basic vaccinations, such as for the flu.

Bhandari is also a medical staff member at Washington Hospital in Fremont, and St. Rose Hospital and Eden Hospital in Hayward. In July 2007, he became the chief-of-staff elect of Washington Hospital.

While treating patients in his private practice, Dr. Bhandari places emphasizes on the social outlook. He consistently serves patients who are underinsured or on state-sponsored programs, never excluding people who have a lower ability to pay.

"I feel very blessed that I have the ability and the stamina and the inclination and the energy to make my services available to this segment of our community, who are deserving but who don't always have the sources to pay," he said.

As chair of the health care division of the Federation of the Indo-American associations of Northern California, Bhandari helps coordinate an annual health fair in August. About 60 to 70 health care providers, including doctors and therapists attend the fair held in Fremont providing a variety of health services, including eye screening, hearing tests, cholesterol check, and blood pressure counseling.

"I personally think that when I service [my patients], I get a great opportunity for self enhancement. I feel like a better person," he said.

Other honorees at the event were Local Heroes — the Reed family of Fremont, Paddy Iyer of Union City, Harold Colon of Newark, Cossette Sun of Castro Valley, Ed Mullins of Hayward, Ray Maglalang of Milpitas, and John McWilliams of Pleasanton; Community Partner Local Hero — Centro de Servicios; and Non-profit of the Year — Eden Housing.