TAMIL CINEMA:
Top Quality: Abhiyum Naanum

Cast: Prakashraj, Trisha, Aishwarya, Ganesh Venkatraman, "Talaivasal" Vijay and "Nizhalgal" Ravi
Music: Vidyasagar
Direction: Radhamohan

---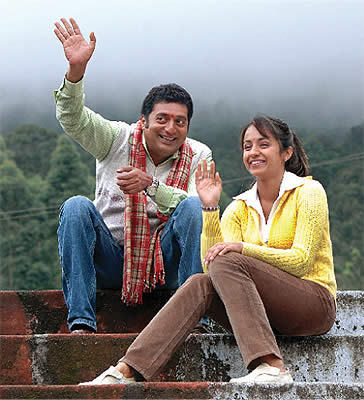 Abhiyum Naanum is another soul-stirring effort from the director who warmed our hearts with Mozhi. The film deals with a particular phase of life of a father.

The film's strength, as in Radhamohan's previous movies, is its screenplay and the precision-perfect dialogues. The marriage-related sequences are entertaining and the scenes where Ravi is moved by the hotel's atmosphere are high in emotional content. The way Abhi celebrates her father's birthday is marvelous.

Prakashraj's character and his struggle to cope with the growth of his daughter have been captured nicely. Equally nice is the characterization of his wife who goes about her job of keeping his emotion under control.

Prakashraj, as a doting father, is the actual hero and the actor has proved his caliber once again with an outstanding performance. It's almost unthinkable to even visualize any other actor in Prakashraj's shoes for such a compelling performance.

Trisha, as daughter, is a revelation. From despair to anxiety, the whole gamut of emotions she is able to generate is amazing. Kudos to Radhamohan for being daring enough to attempt to bring out to the fore the actress inside Trisha.

Aishwarya, who plays Trisha's mother, has done her role admirably. Her performance matches that of Trisha's and Prakashraj's. Newcomer Ganesh Venkatraman from Mumbai, who plays Trisha's boyfriend, has done a decent job.

The film has its share of flaws. In the second half, the film drags a bit. Also the too-good-to-believe sequences make the narrative less convincing. However, the performances of the lead actors and the touching scenes save the day.

Debutant cinematographer Preethi has done a marvelous job in capturing the sequences. Vidyasagar's music matches the mood of the film.

Radhamohan's efforts in putting on view the various traits of the human relationship in a beautiful and powerful manner deserves special appreciation.

Don't miss it if you want to watch a quality film.

— Courtesy Chennai Online.